December 1st, 2016
Each week we'll be posting a photograph from University Archives that shows a scene from KU's past. We've also scanned more than 31,400 images from KU's University Archives and made them available online; be sure to check them out!
This week's photograph highlights a student protest that took place at KU on this date in 1972.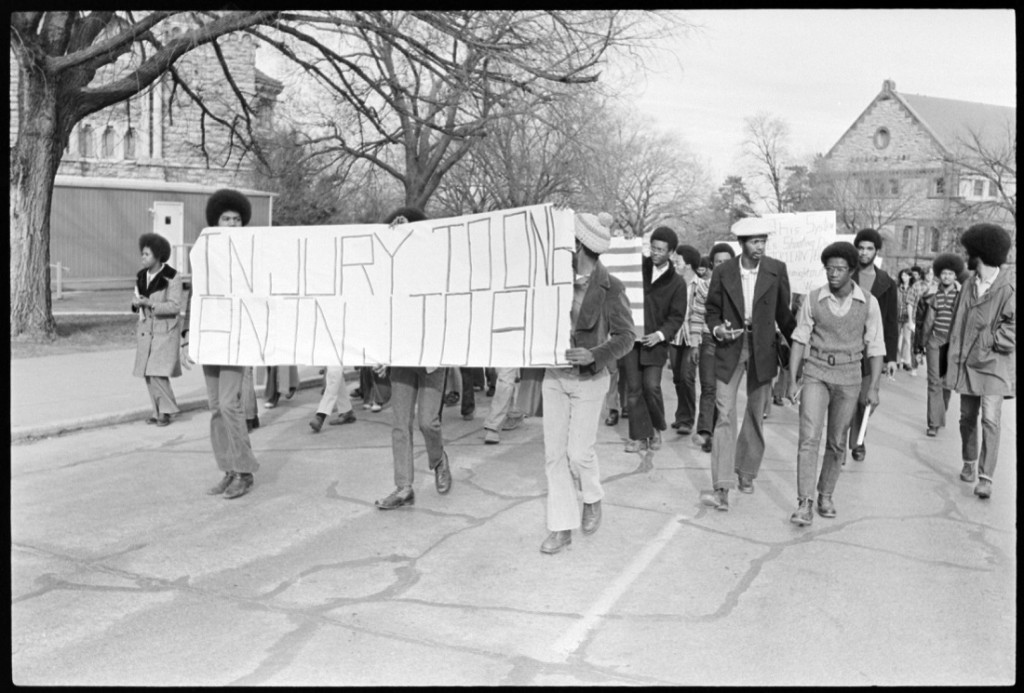 Students carrying a sign reading "injury to one, an inj[ury] to all" during a protest,
December 1, 1972. Dyche (left) and Spooner (right) halls can be seen in the background.
Lawrence Journal-World Photo Collection, University Archives Photos.
Call Number: RG LJW 71/18 1972: Student Activities: Student Protests (Photos).
Click image to enlarge (redirect to Spencer's digital collections).
An article about the Friday protest appeared in the University Daily Kansan the following Monday, December 4th. (Only a portion is included here.)
Two University of Kansas black student leaders urged blacks at a rally Friday to stand together against "white oppression and racism."
Mickey Dean, Sandersville, Ga., junior and president of the Black Student Union (BSU), and Ron Washington, acting assistant director of the Supportive Educational Services (SES), spoke to the predominantly black crowd of 300 in front of Strong Hall.
The rally, a memorial for two black students [Denver Smith and Leonard Brown] killed at Southern University [in Baton Rouge, Louisiana] Nov. 17 [sic], followed a march from the Kansas Union. The rally and the march were sponsored by the BSU…
The rally, which was called at the request of black student groups at Southern U., would let people of Lawrence know what blacks are thinking, Dean said.
Caitlin Donnelly
Head of Public Services
Melissa Kleinschmidt and Abbey Ulrich
Public Services Student Assistants