January 15th, 2015
Each week we'll be posting a photograph from University Archives that shows a scene from KU's past. We've also scanned more than 1,700 images from KU's University Archives and made them available online; be sure to check them out!
We're sharing this week's photograph in honor of Martin Luther King, Jr. Day, which will be celebrated next Monday. By 1986, seventeen states had official King holidays. However, January 20th of that year – the date of the KU march shown in the picture below – marked the first nationally-observed holiday commemorating Dr. King's birthday.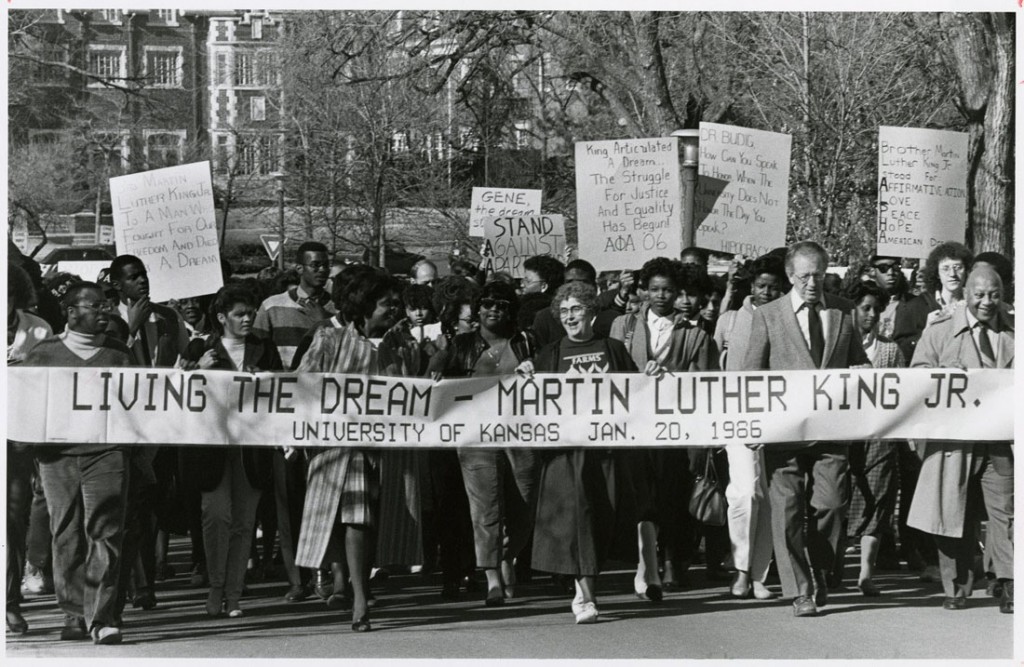 Martin Luther King, Jr. Day march, 1986. University Archives Photos.
Call Number: RG 71/18 1986 Prints: Student Activities: Student Protests (Photos).
Click image to enlarge (redirect to Spencer's digital collections).
For more information about the history of the holiday's creation, see the article in the online King Encyclopedia, provided by the Martin Luther King, Jr. Research and Education Institute at Stanford University (1). Don Wolfensberger's essay "The Martin Luther King, Jr. Holiday: The Long Struggle in Congress," presented for a 2008 seminar at the Woodrow Wilson International Center for Scholars, provides more a detailed history.
(1) The original version of this article linked to the King Center's chronology of the "Making of the King Holiday." That URL is no longer accurate and, as of this update in February 2022, the page could not be found.
Caitlin Donnelly
Head of Public Services
Brian Nomura
Public Services Student Assistant