December 1st, 2023
Check the blog each Friday for a new "That's Distinctive!" post. I created the series because I genuinely believe there is something in our collections for everyone, whether you're writing a paper or just want to have a look. "That's Distinctive!" will provide a more lighthearted glimpse into the diverse and unique materials at Spencer – including items that many people may not realize the library holds. If you have suggested topics for a future item feature or questions about the collections, feel free to leave a comment at the bottom of this page.
This week on That's Distinctive! I am sharing a book that many of you might know: The Adventures of Tom Sawyer by Mark Twain. The book, also known simply as Tom Sawyer, was published in 1876. The book follows a young boy, Tom Sawyer, through mischievous adventures in the small fictional town of St. Petersburg, Missouri, along the Mississippi River. Involved with Tom's shenanigans is his pal Huckleberry Finn (The Adventures of Huckleberry Finn). Writing for Encyclopedia Britannica, Amy Tikkanen notes that "together with The Adventures of Huckleberry Finn, The Adventures of Tom Sawyer changed the course of children's literature in the United States as well as of American literature generally, presenting the first deeply felt portrayal of boyhood." According to Wikipedia, the book has also been followed by a slew of adaptations including films, theatricals, ballets, comic books, video games, and more.
Mark Twain, whose real name was Samuel Langhorne Clemens, was an American author who grew up in Hannibal, Missouri (the town St. Petersburg is modeled after). A biography of Twain on the Goodreads website notes that he "achieved great success as a writer and public speaker. His wit and satire earned praise from critics and peers, and he was a friend to presidents, artists, industrialists, and European royalty."
The book housed at the library is a first edition, second printing published in 1876. A copy of the book can be accessed at the library or online through HathiTrust.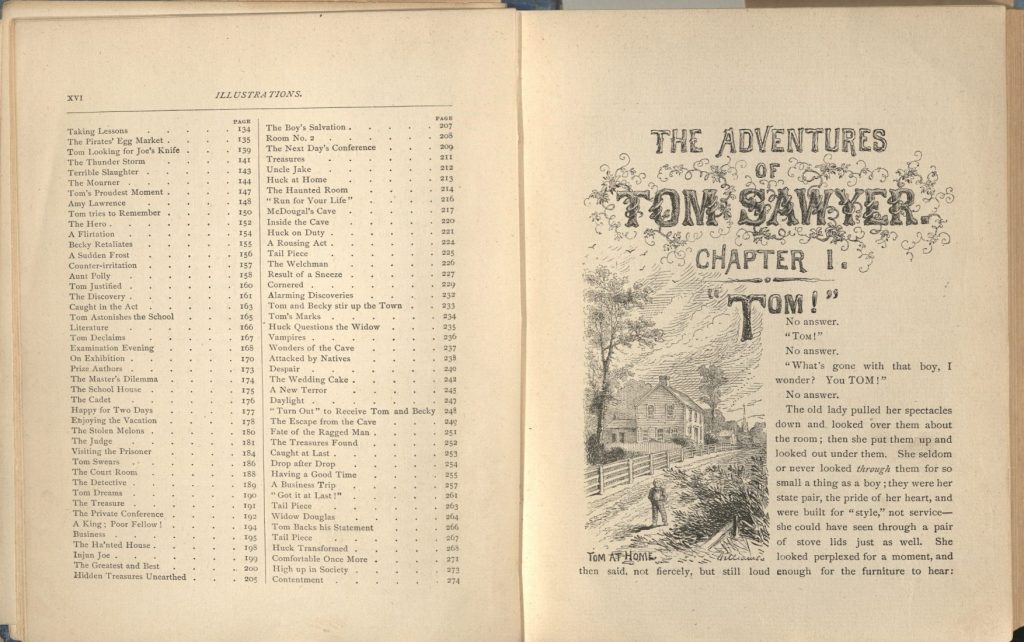 Tiffany McIntosh
Public Services