July 9th, 2018
In honor of the centennial of World War I, this is the second series in which we follow the experiences of one American soldier: twenty-five year old Milo H. Main, whose letters are held in Spencer's Kansas Collection. Each Monday we'll post a new entry featuring selected letters from Milo to his family from that following week, one hundred years after he wrote them.
Milo Hugh Main was born in or near Pittsfield, Illinois, on November 21, 1892 to William and Rose Ella Henry Main. The family moved to Argonia, Sumner County, Kansas, in 1901. After his mother died in 1906, Milo remained in Argonia with his father and his two sisters Gladys (b. 1890) and June (b. 1899). His youngest sister Fern (b. 1905) was sent to live with relatives in Illinois.
As Milo reported to the Kansas State Historical Society in 1919, after graduating from high school he worked as a store clerk. He resigned in July 1917 and took a position at Standard Oil Company, possibly co-managing a gas station in Argonia.
Milo entered into military service on September 21, 1917. He served as a wagoner – a person who drives a wagon or transports goods by wagon – in Battery F, 130th Field Artillery. He was stationed at Camp Funston (September-October 1917) and Camp Doniphan (October 1917-May 1918). On May 19, 1918, he boarded the ship Ceramic in New York City and departed for Europe.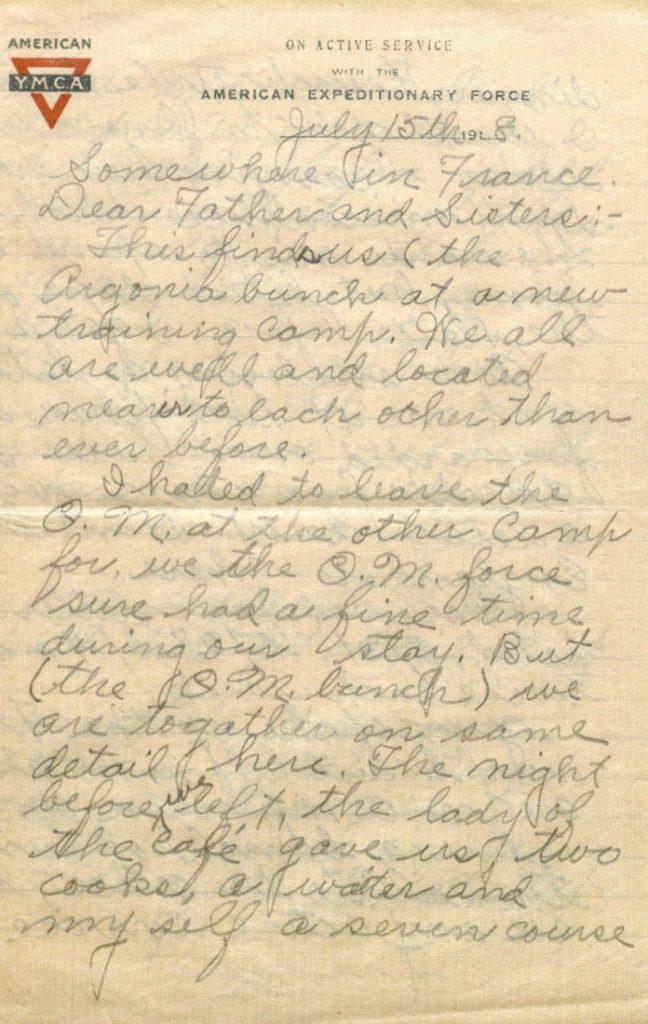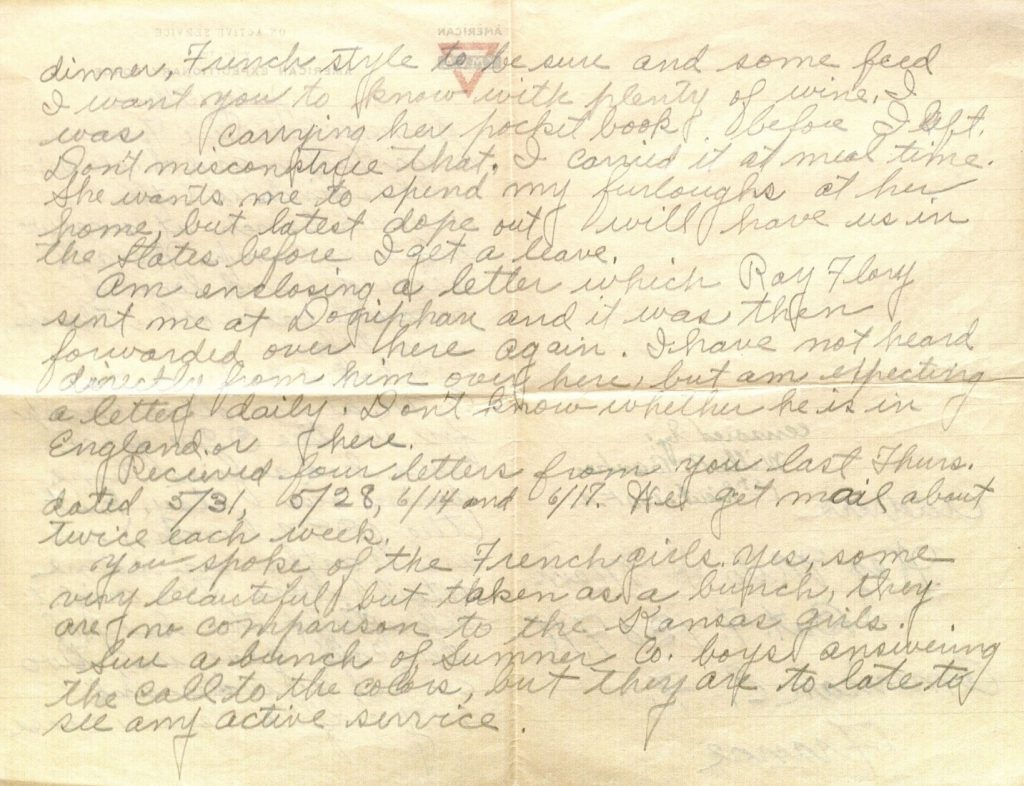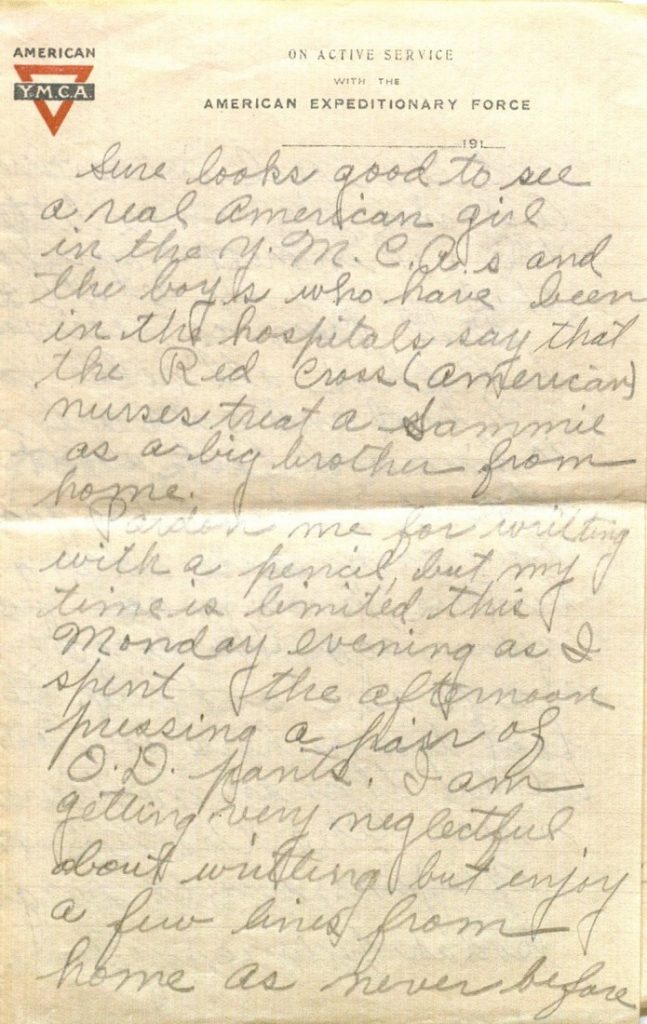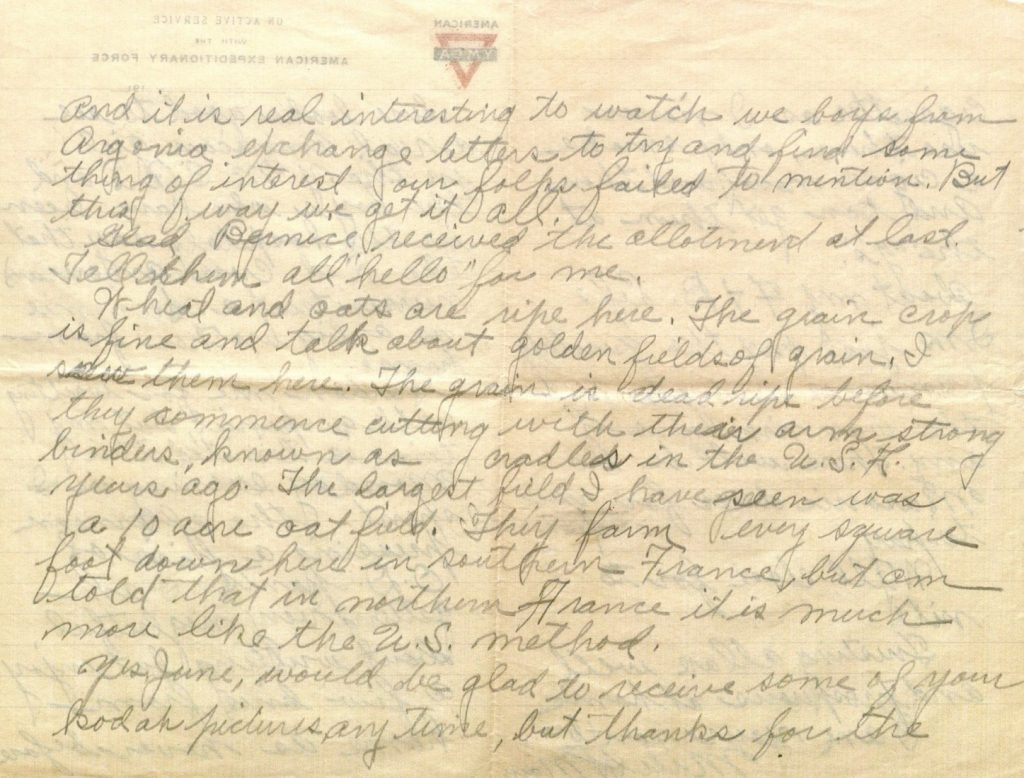 July 15th 1918.
Somewhere in France.
Dear Father and Sisters:-
This finds us (the Argonia bunch at a new training camp. We all are well and located nearer to each other than ever before.
I hated to leave the O.M. at the other camp for, we the O.M. force sure had a fine time during our stay. But (the O.M. bunch) we are together on same detail here. The night before we left, the lady of the café gave us, two cooks, a waiter and my self a seven course dinner, French style to be sure and some feed I want you to know with plenty of wine. I was carrying her pocket book before I left. Don't misconstrue that. I carried it at meal time. She wants me to spend my furloughs at her home, but latest dope [inside information] out will have us in the States before I get a leave.
Am enclosing a letter which Ray Flory* sent me at Doniphan and it was then forwarded over here again. I have not heard directly from him over here, but am expecting a letter daily. Don't know whether he is in England or here.
Received four letter from you last Thurs. dated 5/31, 5/28, 6/14, and 6/17. We get mail about twice each week.
You spoke of the French girls. Yes, some very beautiful but taken as a bunch, they are no comparison to the Kansas girls.
Sure a bunch of Sumner Co. boys answering the call to the colors, but they are to late to see any active service.
Sure looks good to see a real American girl in the Y.M.C.A.s and the boys who have been in the hospitals say that the Red Cross (American) nurses treat a Sammie** as a big brother from home.
Pardon me for writing with a pencil, but my time is limited this Monday evening as I spent the afternoon pressing a pair of O.D. [olive drab] pants. I am getting very neglectful about writing but enjoy a few lines from home as never before and it is real interesting to watch we boys from Argonia exchange letters to try and find some thing of interest our folks failed to mention. But this way we get it all.
Glad Bernice received the allotment at last. Tell them all "hello" for me.
Wheat and oats are ripe here. The grain crop is fine and talk about golden fields of grain. I saw them here. The grain is dead ripe before they commence cutting with their arm strong binders known as cradles in the U.S.A. years ago. The largest field I have seen was a 10 acre oat field. They farm every square foot down here in southern France, but am told that in northern France it is much more like the U.S. method.
Yes, June [Milo's sister], would be glad to receive some of your kodak pictures, any time, but thanks for the cigarettes as I never use them, only smoke a cigar now and then. And can get them at the Y's'.
About my F. & B. Life Ins. just pay the quarterly premiums and extend the war risk loans if any. There will be no Masonic dues for you to pay.
Will close for to nite.
Trusting all are well and prosperous at home
I am your son & bro.,
Milo H. Main
*Milo mentioned Ray Flory in his June 2nd letter. Biographical information about him can be found in that blog post.
**"Sammie" or "Sammy" was British slang for a U.S. soldier in World War I; it was a reference to Uncle Sam.
Meredith Huff
Public Services
Emma Piazza
Public Services Student Assistant