February 11th, 2019
In honor of the centennial of World War I, this is the second series in which we follow the experiences of one American soldier: twenty-five year old Milo H. Main, whose letters are held in Spencer's Kansas Collection. On Mondays we'll post a new entry featuring selected letters from Milo to his family from that following week, one hundred years after he wrote them.
Milo Hugh Main was born in or near Pittsfield, Illinois, on November 21, 1892 to William and Rose Ella Henry Main. The family moved to Argonia, Sumner County, Kansas, in 1901. After his mother died in 1906, Milo remained in Argonia with his father and his two sisters Gladys (b. 1890) and June (b. 1899). His youngest sister Fern (b. 1905) was sent to live with relatives in Illinois.
As Milo reported to the Kansas State Historical Society in 1919, after graduating from high school he worked as a store clerk. He resigned in July 1917 and took a position at Standard Oil Company, possibly co-managing a gas station in Argonia.
Milo entered into military service on September 21, 1917. He served as a wagoner – a person who drives a wagon or transports goods by wagon – in Battery F, 130th Field Artillery. He was stationed at Camp Funston (September-October 1917) and Camp Doniphan (October 1917-May 1918). On May 19, 1918, he boarded the ship Ceramic in New York City and departed for Europe.
In this week's letter, Milo discusses rainy winter weather, an upcoming review (i.e. formal military inspection), and souvenirs for his family. "Say Father," he writes, "how would you like a pair of wooden shoes to wear around the house? Sure a trick, the way these French go in and out of their wooden foot wear."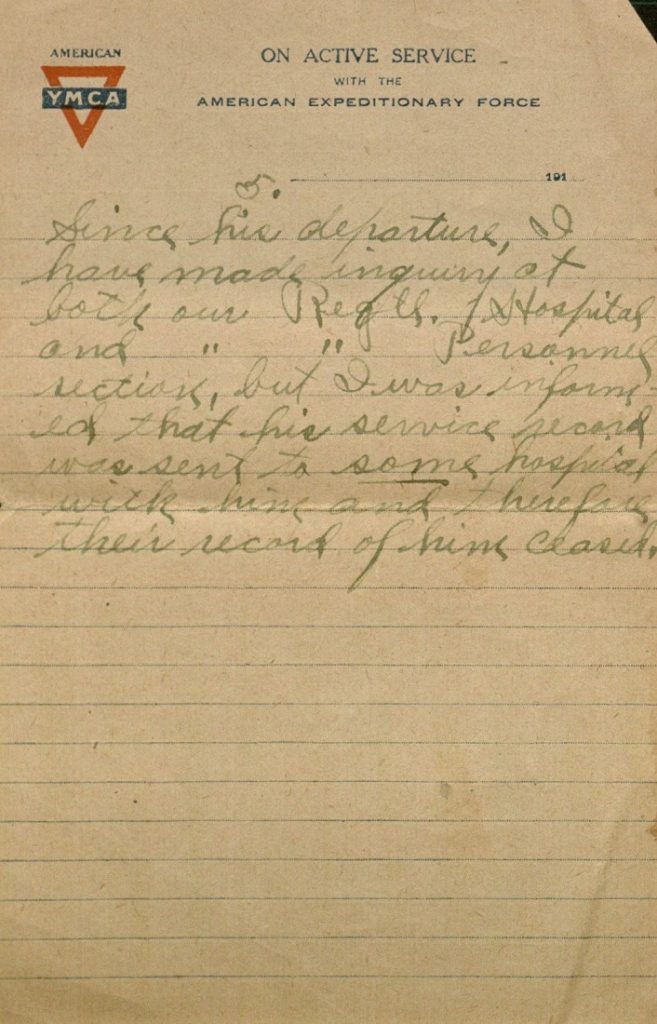 2/16/19
Ernecourt, France.
Dear Father:- This is Sunday afternoon in a little village in France. The day is dark and rainy, but very warm for this time of the winter. Practically all the snow has melted now. This is my day off duty so am wandering about in hip-rubber boots when I venture out side. But have passed most of the day teasing a little French girl here.
Our division passes in review before Pres. General Pershing and Prince of Wales to-morrow. Date set for last Friday for review, but was postponed on account of General Pershing's aide's death.
Say Father how would you like a pair of wooden shoes to wear around the house? Sure a trick, the way these French go in and out of their wooden foot wear.
Got up early this morning, 9:30. We had American issue ham and French eggs. Eggs are 7 francs per doz. or about $1.40. It puts the flavour into them too. French can buy them for about ¼ that price. But Oh! you Yanks, we Frogs for your francs!
Don't know a thing about our future Army life to-day. The review may bring orders.
Am feeling fine save I need a little exercise, I remain
Your son,
Milo H. Main.
Bat F. 130 F.A.
c/o Regtl. Mess.
P.S. Letter from you under date of Jan 14th just received. As to Geo. Devin (1) the last account I had of him was at Rupt, when I went on the Front near Verdun and he was at the said small town, then a rear-echelon. He had just returned from the Front having gone up with a team on one of our pieces or guns. He was there on Oct, 17th when I went up. He was complaining about severe pain in right side, and was taken from there to hospital shortly there after. Since his departure, I have made inquiry at both our Regtl. [Regimental] Hospital and [our Rgtl.] Personnel section, but I was informed that his service record was sent to some hospital with him and therefore their record of him ceased.
(1) Milo previously mentioned George Franklin Devins in his letter of December 24, 1918; additional biographical information about him can be found in that blog post. George served with Milo in Battery F, 130th Field Artillery. In late 1918, he was apparently in the hospital suffering from shell shock received from a high-explosive shell during the Battle of the Argonne Forest. According to U.S. Army Transport Service passenger lists, George sailed from Brest, France, on January 24, 1919, aboard the Vermont.
Meredith Huff
Public Services
Emma Piazza
Public Services Student Assistant