World War I Letters of Milo H. Main: December 3-9, 1918
In honor of the centennial of World War I, this is the second series in which we follow the experiences of one American soldier: twenty-five year old Milo H. Main, whose letters are held in Spencer's Kansas Collection. On Mondays we'll post a new entry featuring selected letters from Milo to his family from that following week, one hundred years after he wrote them.
Milo Hugh Main was born in or near Pittsfield, Illinois, on November 21, 1892 to William and Rose Ella Henry Main. The family moved to Argonia, Sumner County, Kansas, in 1901. After his mother died in 1906, Milo remained in Argonia with his father and his two sisters Gladys (b. 1890) and June (b. 1899). His youngest sister Fern (b. 1905) was sent to live with relatives in Illinois.
As Milo reported to the Kansas State Historical Society in 1919, after graduating from high school he worked as a store clerk. He resigned in July 1917 and took a position at Standard Oil Company, possibly co-managing a gas station in Argonia.
Milo entered into military service on September 21, 1917. He served as a wagoner – a person who drives a wagon or transports goods by wagon – in Battery F, 130th Field Artillery. He was stationed at Camp Funston (September-October 1917) and Camp Doniphan (October 1917-May 1918). On May 19, 1918, he boarded the ship Ceramic in New York City and departed for Europe.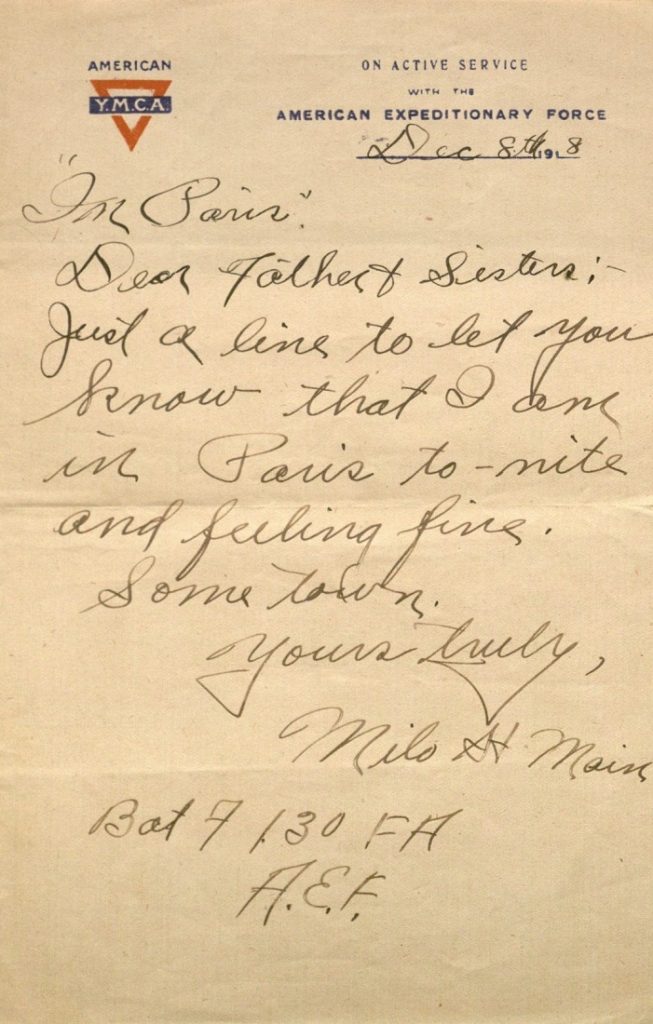 Dec 8th, 1918
"In Paris."
Dear Father & Sisters:-
Just a line to let you know that I am in Paris to-nite and feeling fine. Some town.
Yours truly,
Milo H. Main
Bat 7 130 FA
A.E.F.
Meredith Huff
Public Services
Emma Piazza
Public Services Student Assistant
Tags: correspondence, Emma Piazza, Kansas Collection, Meredith Huff, Milo H. Main, World War I