February 10th, 2023
Check the blog each Friday for a new "That's Distinctive!" post. I created the series because I genuinely believe there is something in our collections for everyone, whether you're writing a paper or just want to have a look. "That's Distinctive!" will provide a more lighthearted glimpse into the diverse and unique materials at Spencer – including items that many people may not realize the library holds. If you have suggested topics for a future item feature or questions about the collections, feel free to leave a comment at the bottom of this page.
This week we celebrate Abraham Lincoln's upcoming 214th birthday. In 1861, Lincoln became the 16th president of the United States. Born on February 12, 1809, Lincoln knew a life of struggle before making it into the Illinois legislature. After gaining a national reputation, Lincoln became the Republican nominee in the 1860 presidential race. In 1863 he signed the Emancipation Proclamation freeing all enslaved individuals in the Confederacy. Lincoln won re-election in 1864, but was assassinated at Ford's Theatre in Washington on April 14, 1864.
This week in honor of Abraham Lincoln's 214th birthday on February 12, I am sharing an original document with Lincoln's signature. The letter is written to George Hoge and is dated October 11, 1860. The contents of the letter were written by Lincoln's secretary, but the signature is his own. The library houses many books and manuscripts written about Lincoln along with letters addressed to him, all of which can be found in our finding aids and the KU Libraries online catalog.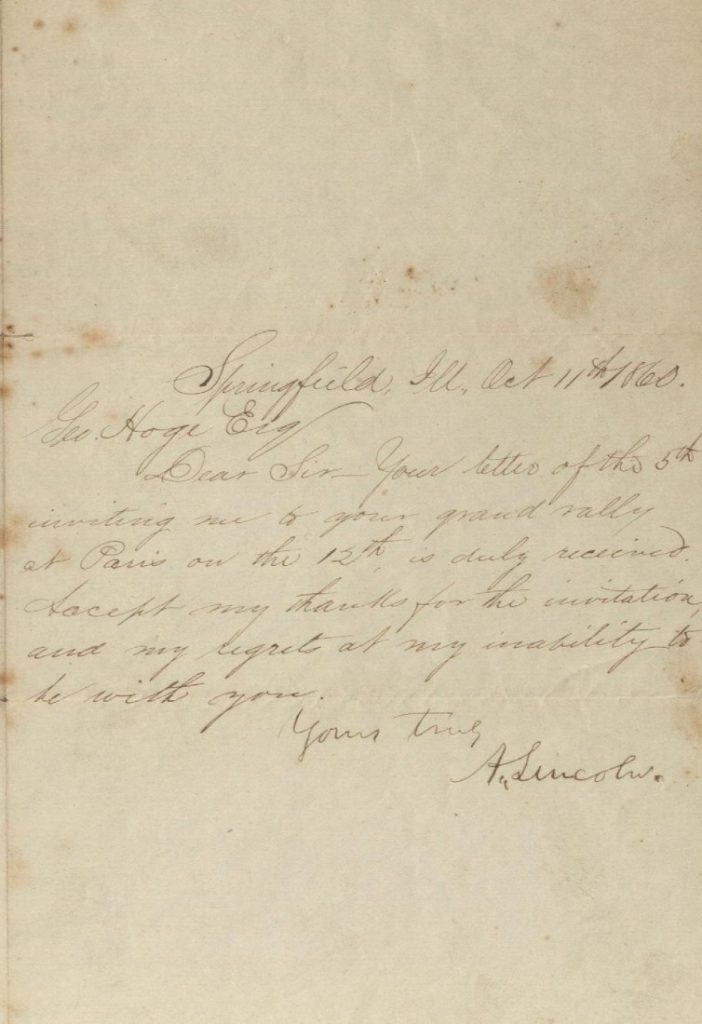 The letter reads as follows:
Springfield, Ill, Oct 11th 1860.
Geo. Hoge Esq
Dear Sir – Your letter of the 5th inviting me to your grand rally at Paris on the 12th is duly received. Accept my thanks for the invitation, and my regrets at my inability to be with you.
Yours truly,
A. Lincoln
Tiffany McIntosh
Public Services