December 18th, 2017
In honor of the centennial of World War I, we're going to follow the experiences of one American soldier: nineteen-year-old Forrest W. Bassett, whose letters are held in Spencer's Kansas Collection. Each Monday we'll post a new entry, which will feature Bassett's letters to thirteen-year-old Ava Marie Shaw from that following week, one hundred years after he wrote them.
Forrest W. Bassett was born in Beloit, Wisconsin, on December 21, 1897 to Daniel F. and Ida V. Bassett. On July 20, 1917 he was sworn into military service at Jefferson Barracks near St. Louis, Missouri. Soon after, he was transferred to Fort Leavenworth, Kansas, for training as a radio operator in Company A of the U. S. Signal Corps' 6th Field Battalion.
Ava Marie Shaw was born in Chicago, Illinois, on October 12, 1903 to Robert and Esther Shaw. Both of Marie's parents – and her three older siblings – were born in Wisconsin. By 1910 the family was living in Woodstock, Illinois, northwest of Chicago. By 1917 they were in Beloit.
Frequently mentioned in the letters are Forrest's older half-sister Blanche Treadway (born 1883), who had married Arthur Poquette in 1904, and Marie's older sister Ethel (born 1896).
A highlight in the letter includes Forrest's description of an injury he sustained when a horse he was cleaning slipped and stepped on his foot ("it stung for awhile but my foot was so cold that I didn't feel it after a minute or two").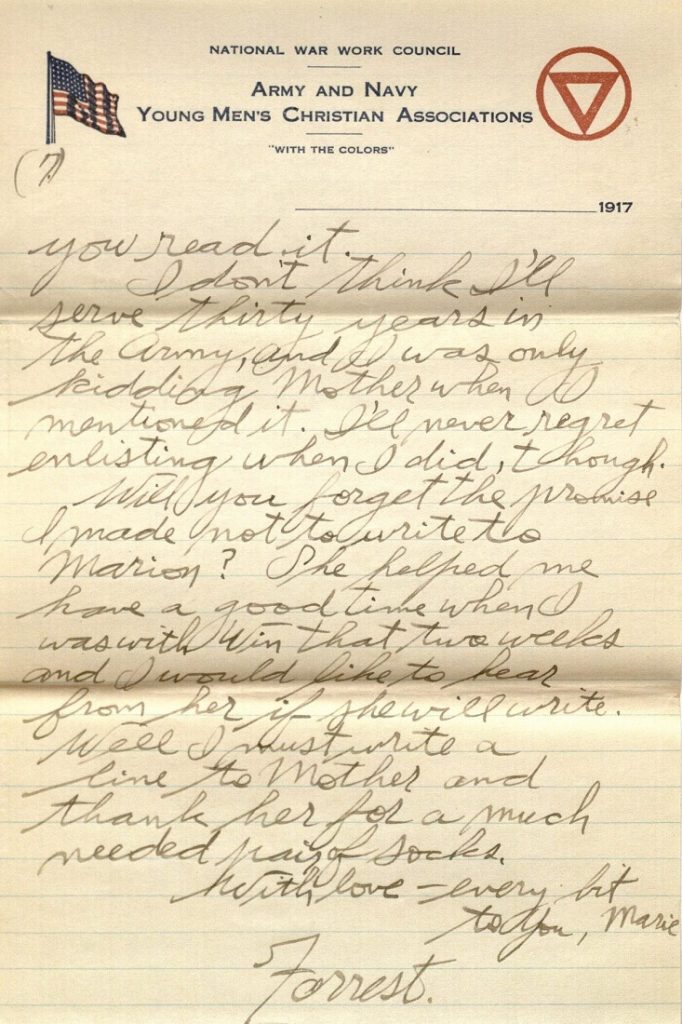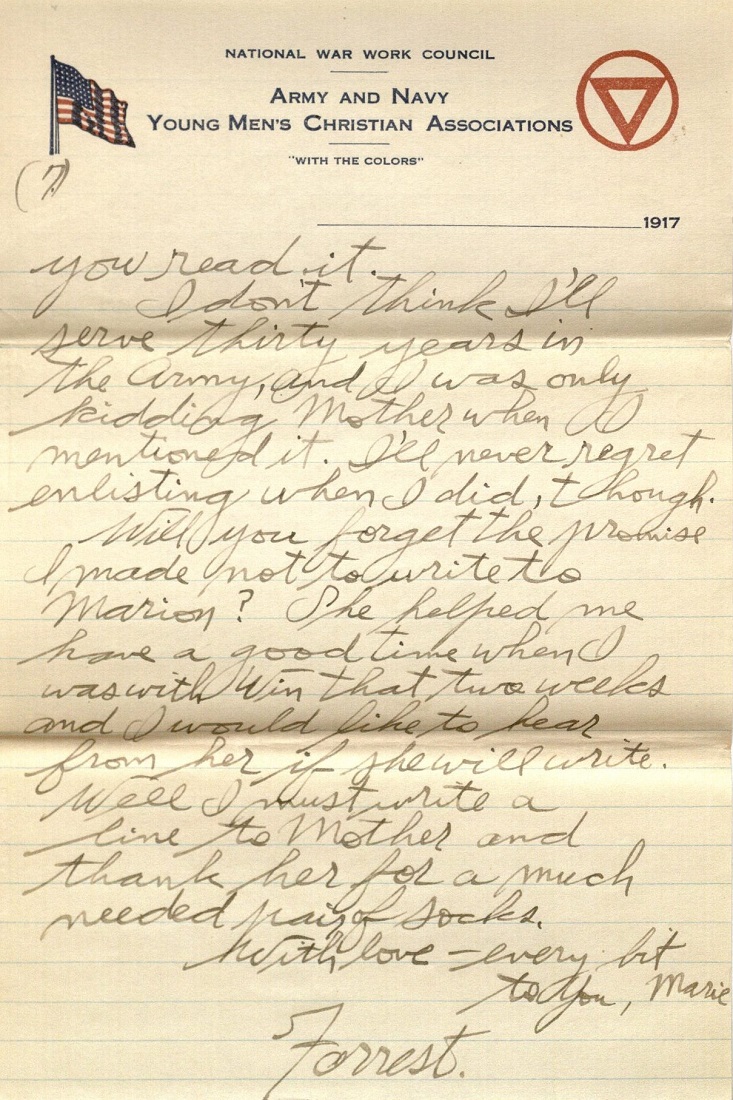 Sunday Dec. 16, 1917
Dear Marie,
I got the pictures O.K. and liked them all of you, Mother and Blanche but thought the one of Mother and I was the only one, good of me. Don't think I'll have any more of myself for awhile yet. Am on the lookout for the fudge now. Sure am glad that your throat is getting better now. I am taking a turn at being a little out of luck. Thursday I was cleaning the frog of No. 30's rear hoof. I had his hind leg over my knee and was working with the hoof pick when he slipped on the smoothe brick paving. I let him go quick so as to save a fall and the point of his shoe fell square on the top of my foot. It stung for awhile but my foot was so cold that I didn't feel it after a minute or two. This was about 8:30. We didn't ride because it was too bitter cold, but worked around the barracks. During the first period in the afternoon we had heliograph practise. The instrument was set up to catch the sun coming in the window so we could read it inside the barracks. Well my feet started to thaw out and my left one felt pretty stiff and ached. At the end of the period – 2:00 P.M. – I took off my shoe. The toe of the sock was red and a little skin came with it as I took it off. My foot was a little swollen and sure felt sore. I went up to the hospital with another fellow with frozen ears, in a cycle-car and got fixed up. Saturday morning it was swollen so I couldn't get my shoe on at all so had to cut a couple slits in my tennis slipper. I worked in the kitchen until 4:30 P.M. keeping the K.P. and at night I managed to get my shoe on so caught a car to town. This morning the swelling had nearly gone but was worse where the skin slipped.
This is the first good day we've had for a long time but I had to stick around the barrack.
Tomorrow the company is going to have mounted drill with the radio field sets loaded on the pack-mules. We have been issued a lot more stuff – grain bags to carry on horse for his feed in the field and saddle blankets. We also have the aparejos, the mule's "saddle," on which the wireless apparatus is packed.
The Co.'s D and E of the 410th B'n (telegraph) are all packed up to go to Texas. I wish we were going for it sure is cold around this woods.
George Stock is here for a few weeks longer. He is going to take his four days home Christmas. I wish I could be with you again, then. You sure was the sweetest and most lovable little sweetheart Thanksgiving and I will never forget it. Marie, every bit of my love is for you – but you must not forget what I told you when we were on the couch. If I – without the intention of marrying you – am going too far in showing you how much I care – for I really do – just as much as a young man can, – I want you to tell me. Marie, you are the most perfect girl I have ever seen and I respect you above all others.
I could never forgive myself if I ever have wronged you, or ever do wrong you in any way. Don't ever allow anyone to think, or speak, of you and I as being more than good friends.
If you ever get any more letters from me that are mutilated in any way, or show any fire or water marks, please return them to me, envelope and all, after you read it.
I don't think I'll serve thirty years in the Army, and I was only kidding Mother when I mentioned it. I'll never regret enlisting when I did, though.
Will you forget the promise I made not to write to Marion? She helped me have a good time when I was with Win that two weeks and I would like to hear from her if she will write. Well I must write a line to Mother and thank her for a much needed pair of socks.
With love – every bit to you, Marie
Forrest.
Meredith Huff
Public Services
Emma Piazza
Public Services Student Assistant