May 12th, 2016
Each week we'll be posting a photograph from University Archives that shows a scene from KU's past. We've also scanned more than 27,000 images from KU's University Archives and made them available online; be sure to check them out!
It's finals week at KU, which means that most students will soon be leaving campus for the summer, many heading home. We selected today's photograph with this in mind; it comes from a scrapbook created by former KU student Mayrea Noyes, which we highlighted previously for Valentine's Day.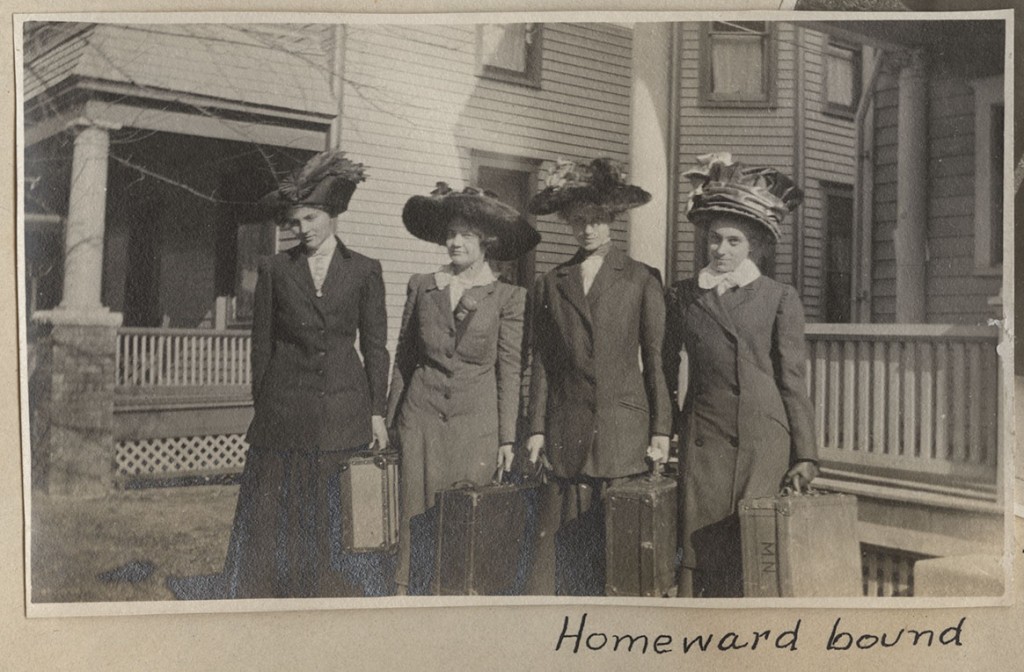 Mayrea Noyes with friends in a photograph she captioned "Homeward Bound."
It may have been taken during the fall semester, 1910. Based on another photo
in the scrapbook and information from the KU Student Directory, the girls may have been
standing at 1414 Tennessee, where Mayrea lived during the 1910-1911 academic year.
Mayrea Noyes Scrapbook, University Archives. Call Number: SB 71/99 Noyes. Click image to enlarge.
Caitlin Donnelly
Head of Public Services
Melissa Kleinschmidt, Megan Sims, and Abbey Ulrich
Public Services Student Assistants