Throwback Thursday: Valentine Edition
Each week we'll be posting a photograph from University Archives that shows a scene from KU's past. We've also scanned more than 21,700 images from KU's University Archives and made them available online; be sure to check them out!
Some of my favorites items in University Archives are scrapbooks created by former KU students. Most date from the early twentieth century and include items like photographs, programs for concerts and other events, tickets, dance cards, newspaper clippings, and holiday cards. A scrapbook created by KU alumna Mayrea Noyes contains the very clever valentine shown below.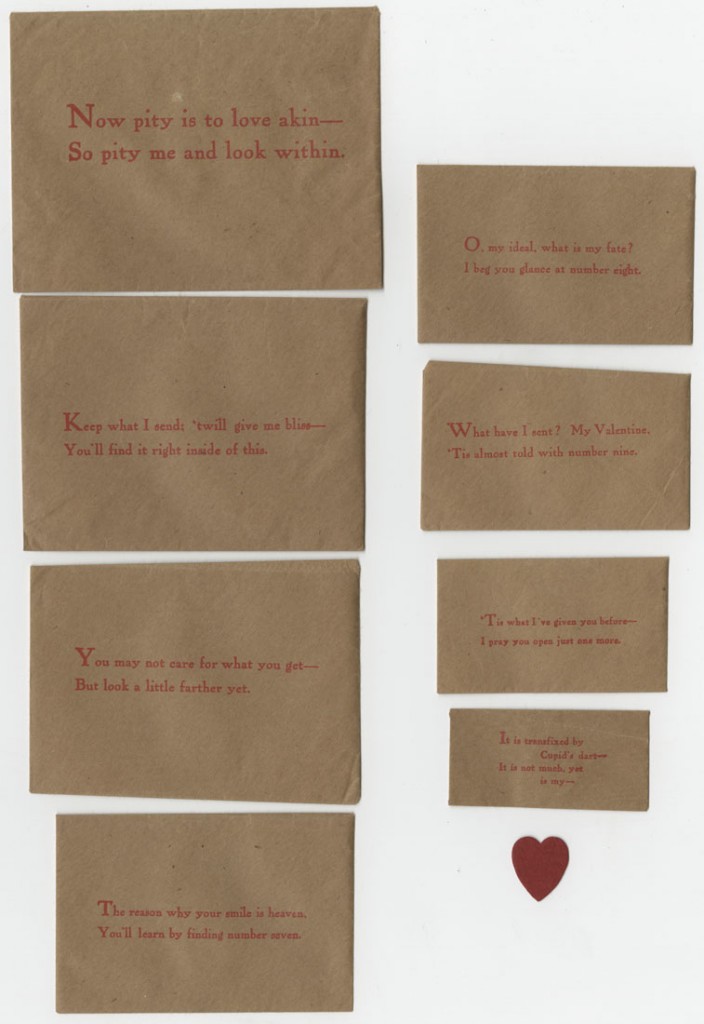 KU senior Mayrea Noyes received this valentine from an
unknown admirer in 1911. It's a series of nested envelopes, displayed here
in two columns, the last one opening to reveal a tiny red paper heart.
Mayrea Noyes Scrapbook, University Archives.
Call number: SB 71/99 Noyes. Click image to enlarge.
Mayrea Noyes was born in New York on May 4, 1889 to parents Ellis Bradford (1848-1924) and Elsie Jefferis (1859-1922) Noyes. She had two sisters, Elmira Elsie (1882-1961) and Aline (1892-1956). Mayrea's father, a long-time civil engineer, graduated from KU in 1874, one of three students in the university's second graduating class. Thus, even though Mayrea grew up in Portsmouth, Virginia, she attended the University of Kansas, graduating with a bachelor's degree from the College of Liberal Arts and Sciences in 1911. She returned to KU the following year and earned a university teacher's diploma. Mayrea later attended summer classes at Columbia University (1913) and Virginia Polytechnic Institute (1921).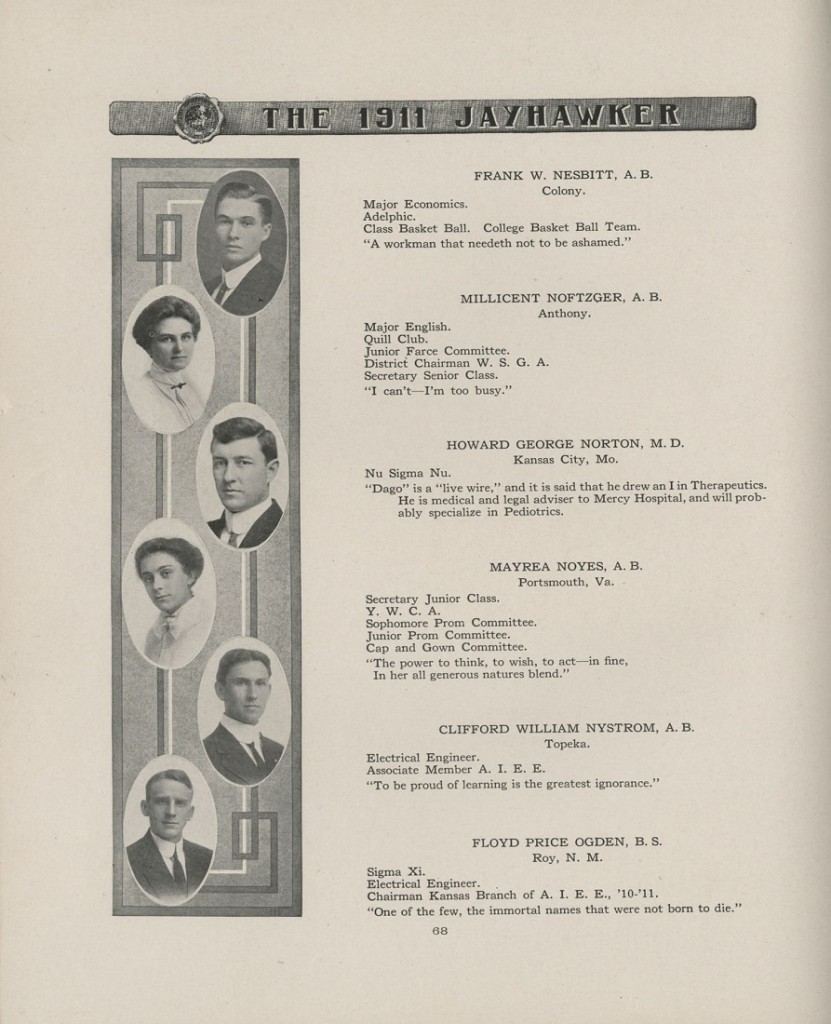 Mayrea's senior picture in the 1911 Jayhawker. University Archives.
Call Number: LD 2697 .J3 1911. Click image to enlarge.
Mayrea had a long career as a teacher at Maury High School in Norfolk, Virginia. After she died suddenly of a heart attack on December 2, 1954, the school's yearbook printed a memorial to her: "Coming to Maury in 1914 she was one of its first home economics teachers and did much to build up that department, serving there until her retirement in 1949. In addition to her teaching she spent many hours counseling students with their personal problems and is remembered by many for her sympathetic attention and sound advice" (85).
Caitlin Donnelly
Head of Public Services
Melissa Kleinschmidt, Megan Sims, and Abbey Ulrich
Public Services Student Assistants
Tags: Abbey Ulrich, Caitlin Donnelly, Jayhawker, KU History, Mayrea Noyes, Megan Sims, Melissa Kleinschmidt, Scrapbook, Students, Throwback Thursday, University Archives, University history, University of Kansas, Valentine, Valentine's Day, Yearbooks