June 19th, 2015
Many archival collections at Spencer Research Library contain letters exchanged between fathers and their children. In honor of Father's Day on Sunday, we're sharing several items from our collection of Leo W. Zahner, Jr.'s World War II letters, housed in the Kansas Collection.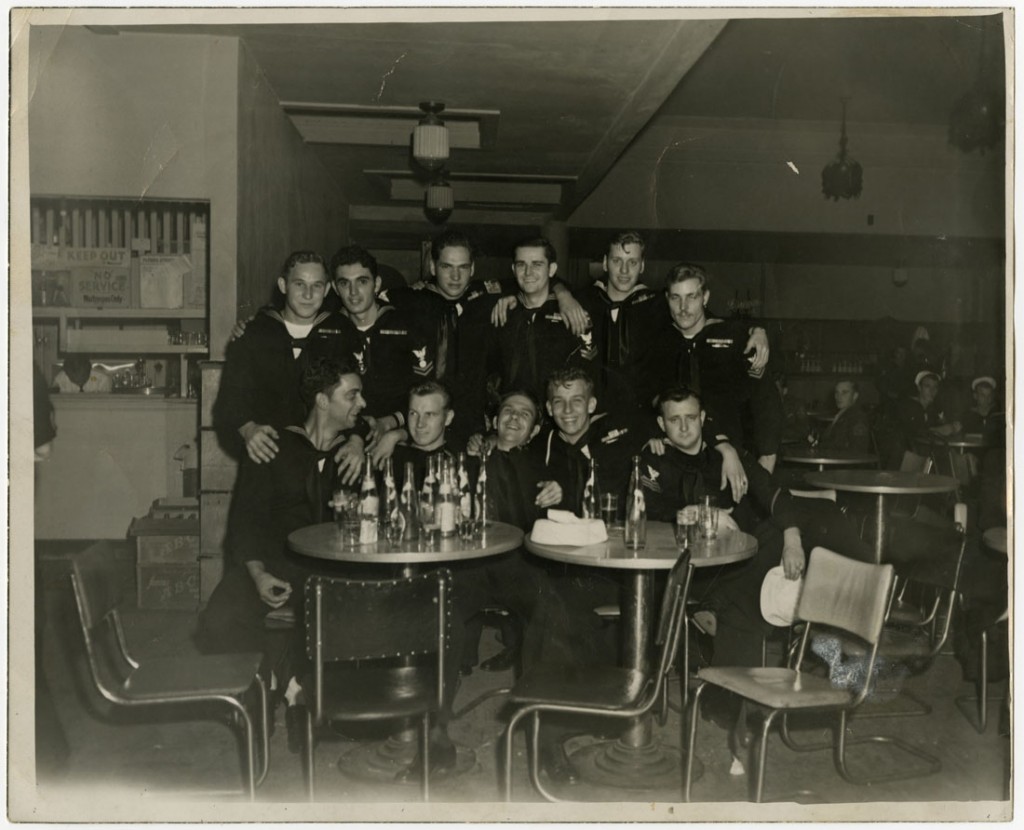 Leo W. Zahner, Jr. and other sailors at the College Inn, San Diego, California,
January 1946. Leo is the second from the right, seated in the front row.
Leo Zahner, Jr. World War II Letters. Call Number: RH MS-P 1079.
Click image to enlarge.
Zahner (1925-2007) was a lifelong resident of Kansas City, Missouri. He joined the Navy during World War II, receiving training from August to November 1943 at the U.S. Naval Training Station at Farragut, Idaho. In late November, he was transferred to the Navy's metalsmith school at Great Lakes, Illinois, where he was hospitalized with scarlet fever in December 1943. In the summer of 1944, he shipped overseas, where he served on a tank landing ship at U.S. combat zones in New Guinea and the Philippines. He returned to the U.S. mainland in December 1945 and was discharged from service in March 1946.
The Zahner collection contains three items specifically related to Father's Day. One is a letter he wrote to his father to celebrate the holiday in 1945; the other two items (a card and a souvenir handkerchief) are undated, and a cursory examination of the collection didn't reveal when Leo sent them to his father.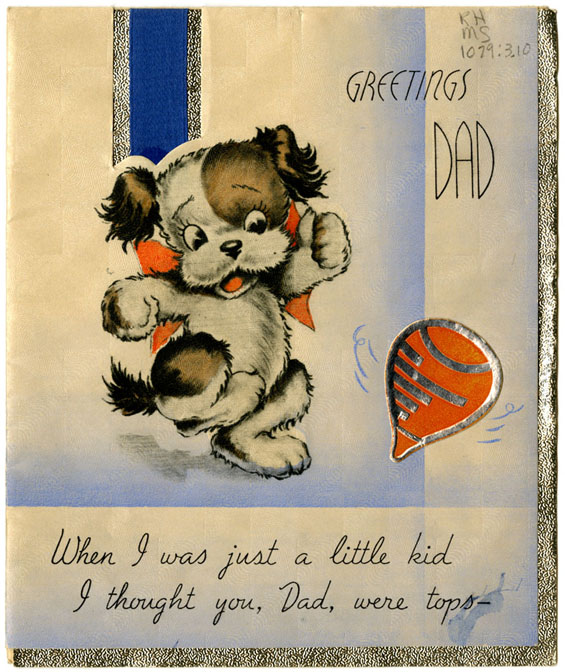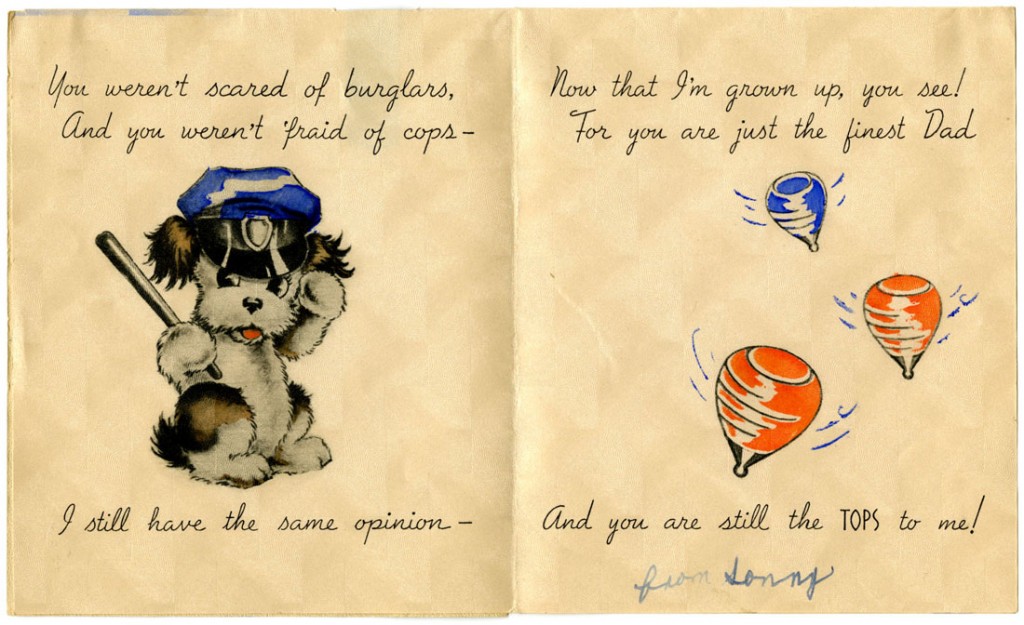 Father's Day card, circa 1940-1946. Leo Zahner, Jr. World War II Letters.
Call Number: RH MS 1079. Click images to enlarge.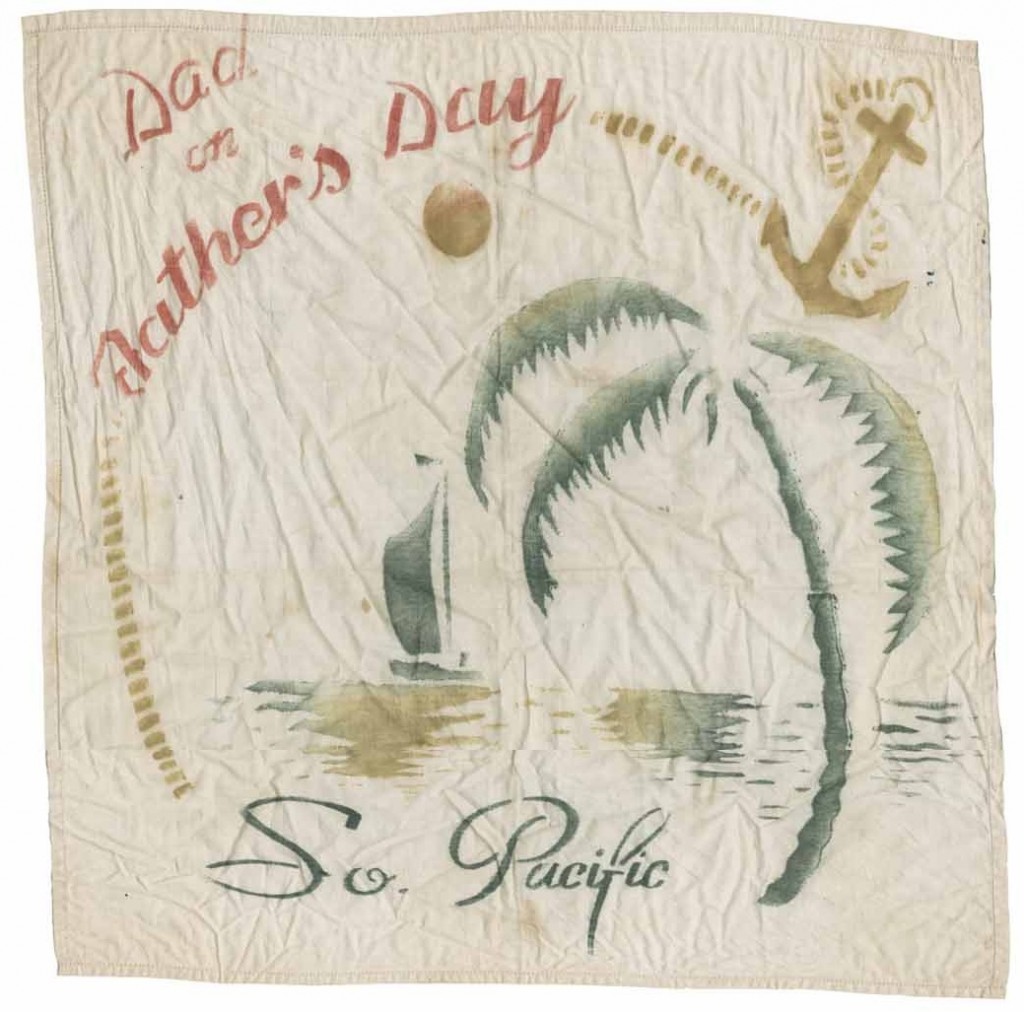 Painted souvenir handkerchief from the South Pacific, circa 1944-1945.
Leo Zahner, Jr. World War II Letters. Call Number: RH MS Q270. Click image to enlarge.
Letter, Leo W. Zahner, Jr. to his father, June 17, 1945. Leo Zahner, Jr. World War II Letters.
Call Number: RH MS 1079. Click images to enlarge. Transcription below.
June 17, 1945
Fathers Day.
Dear Dad;
Well its Fathers Day again and I'm still over here. Hope every thing is going fine with you.
The war looks like it's going pretty good in general and looks better at [our?] end too.
I wish you could get a letter off to me. its been a long time and you ought [owe] me a couple.
Mother keeps me pretty well up on the shop [the family business in Kansas City, A. Zahner Sheet Metal Company] lately. I hear Russell White is working for you Hows his friend Billy. There ought to be a lot of the old men come back
The 1st Lieutenant just call me up I've got to [go?] he wants me to fill out requestion for our supplies here in the C & R. He's our offer of Deck [officer on deck?]. were under [illegible]. I've got them all made out now so I can finish this letter to you. I take care of every thing we need down here. Its a pretty good job thank goodness it don't happen very often. He try to get me [illegible] but [i]s having lots of trouble. If I get 3/r [3rd?] in at most couple of months I have a good chance of getting 2/nd, but I settle for third. ha. ha. before going home. It would make a lot of difference after I get off this tub.
I've got all the gear to gather for Mellott to run off a batch of icecream. We had a pretty good snack last night Red and Ed did a little [illegible] for batch. So I had [break and the fire?] pot. The hot plates busted. I do the biggest part of the cooking.
We got turkey for chow today it was pretty good except the hide was about 1/2 thick with pen [illegible] like welding rod.
This is the first holiday weve had in three weeks. I sleep till noon. There was no church. It was felt good to sleep that late.
I've got a pretty nice job tomorrow a making a couple of brass covers for front of some big lights. [diagram] I like that kind of work.
Well Dad hope you had a happy fathers Day. Well write me soon now so Ill have something write back about.
Hope to see you before fathers Day again. About the end of this year. I hope I've counted my chickens right before the hatch.
Your Son
Junior.
Caitlin Donnelly
Head of Public Services