May 10th, 2013
This week's blog post comes from Museum Studies Graduate Student and Conservation Student Assistant Jami Roskamp.
There are always hidden treasures in the Archives; however, the containers they are kept in can be far from the treasure chests that these gems deserve.  One of the many interesting items that can be found in the University of Kansas Archives is a collection of plaster masks (call number: 22/12) originally from the Art Department Sculpture Studio.  Several of these plaster masks capture the likenesses of past chancellors and students.  Initially some of these masks were housed in cardboard boxes and wrapped in newsprint, while others were placed in file boxes that did not adequately accommodate the object's size. 
The challenge: how to rehouse fragile plaster masks (some of which were in pieces)
Under the supervision of Whitney Baker, Conservator for KU Libraries, I was tasked with providing the plaster masks with more suitable forms of housing to extend preservation and accommodate their ranging sizes.  I conducted an item condition report on each of the masks–recording measurements for size, material, and damage, if the object had any–prior to rehousing the masks in new containers.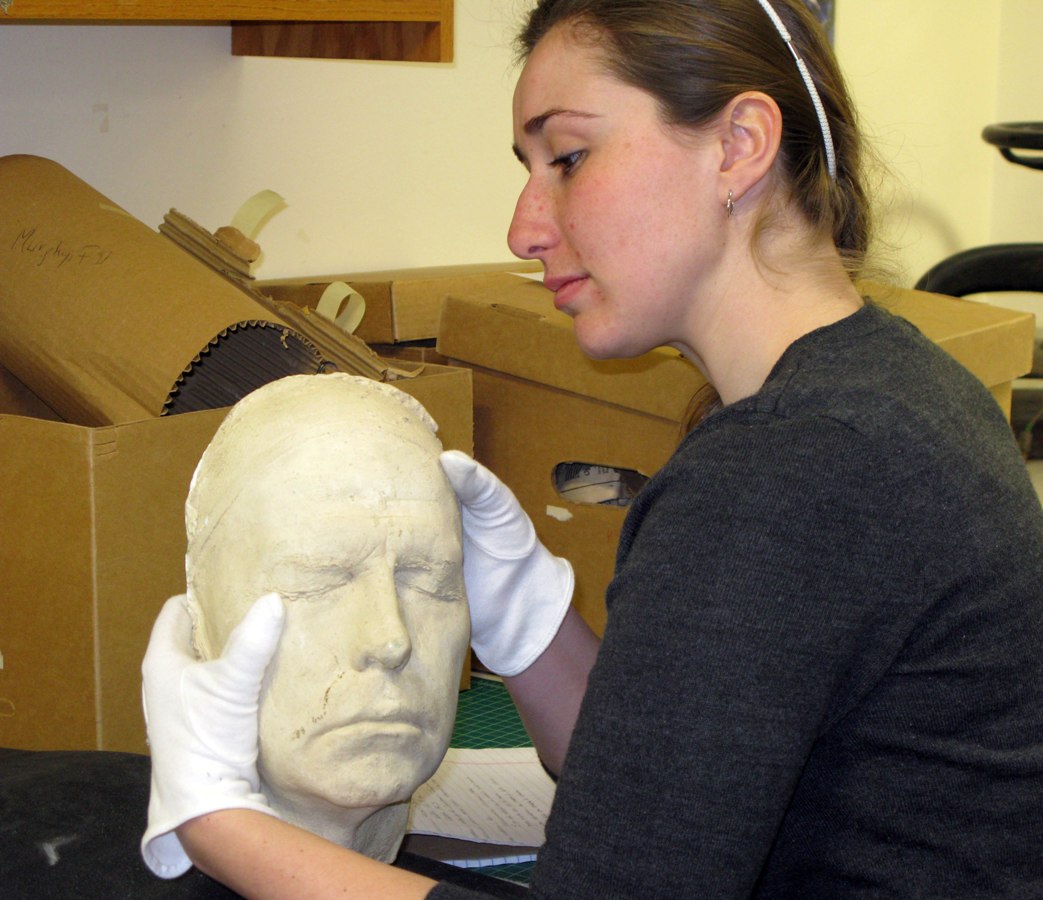 Jami Roskamp examines a plaster mask in order to determine how best to rehouse it.
For the rehousing of the masks, they were placed in archival quality boxes that were padded with Ethafoam so the objects would be securely stored.  A few of the masks were in more fragile condition and needed to have further padding created for them to secure their pieces.  Now the plaster masks are placed in spacious new storage containers that effectively house and preserve them so that they will be protected for future Jayhawks to view.
New housings for plaster masks: (left)  fragmented mask by or of "Nelson" and (right) mask of former KU Chancellor Franklin D. Murphy.
Jami Roskamp
Museum Studies Graduate Student and Conservation Student Assistant