January 9th, 2018
Victory Mail, commonly called V-Mail, was a process developed in 1942 to more efficiently transport the immense amount of correspondence being generated between military personnel and their families during World War II. The system was a cooperated effort between the U.S. Postal Service and the military, intended to preserve precious cargo space for essential military personnel, equipment, and supplies by reducing the volume and weight of the mail.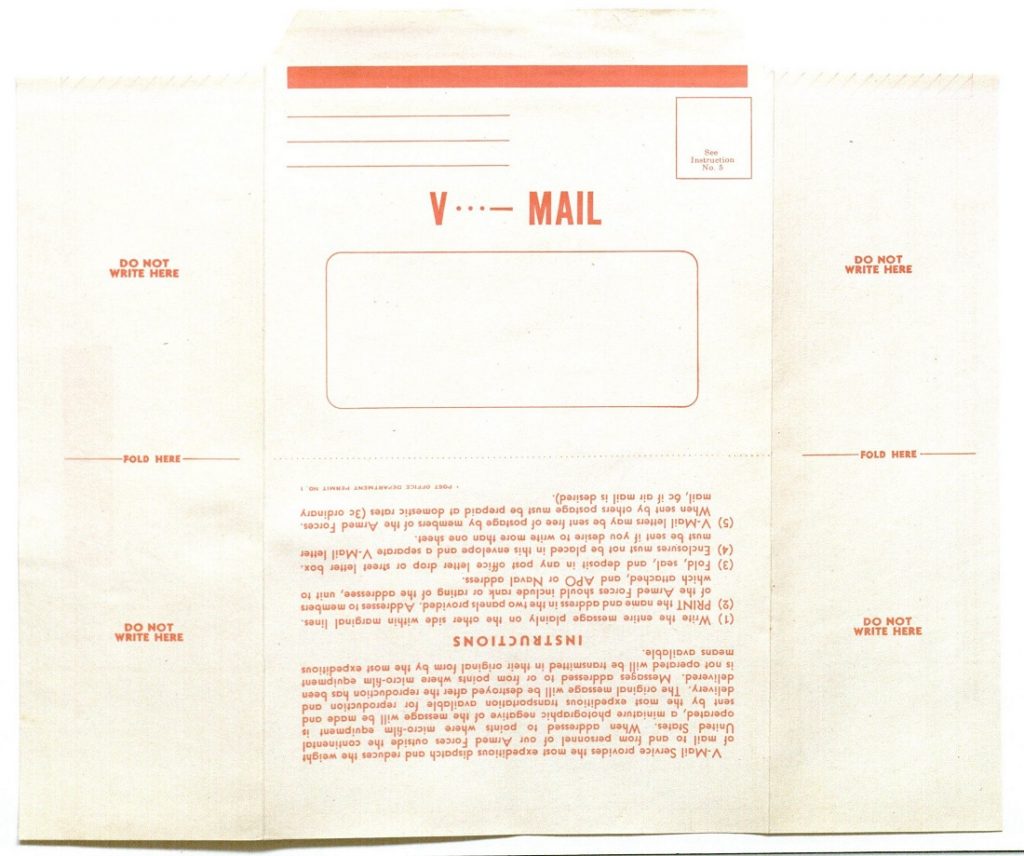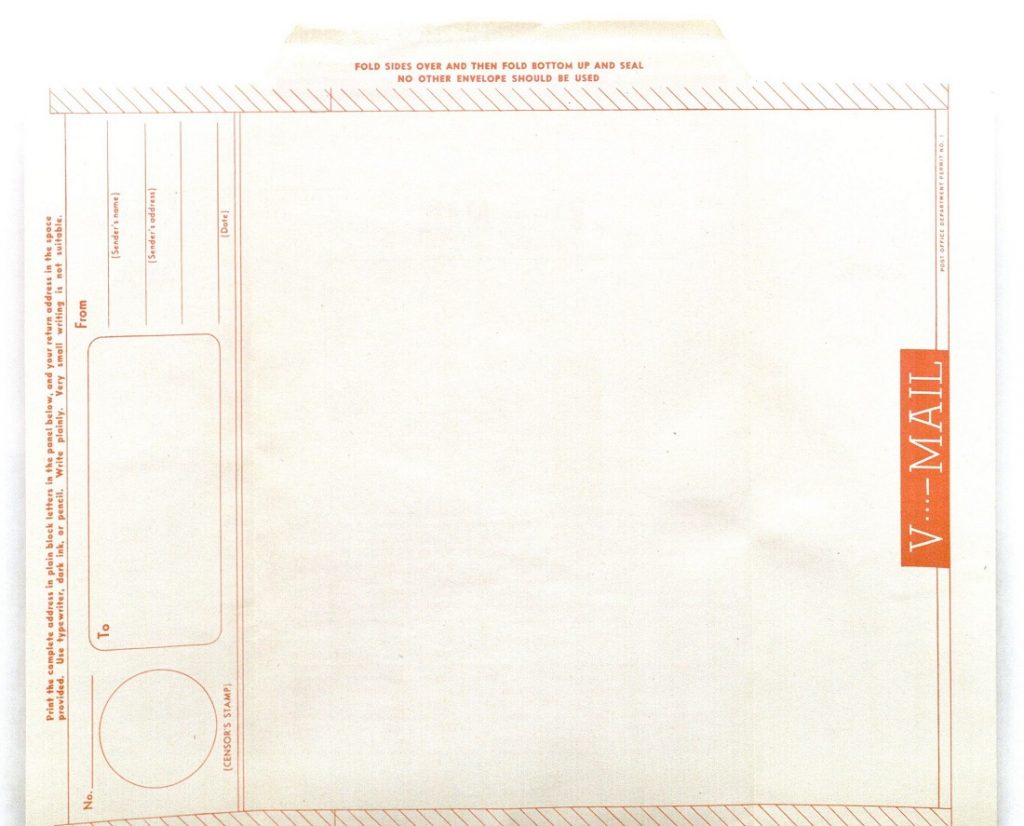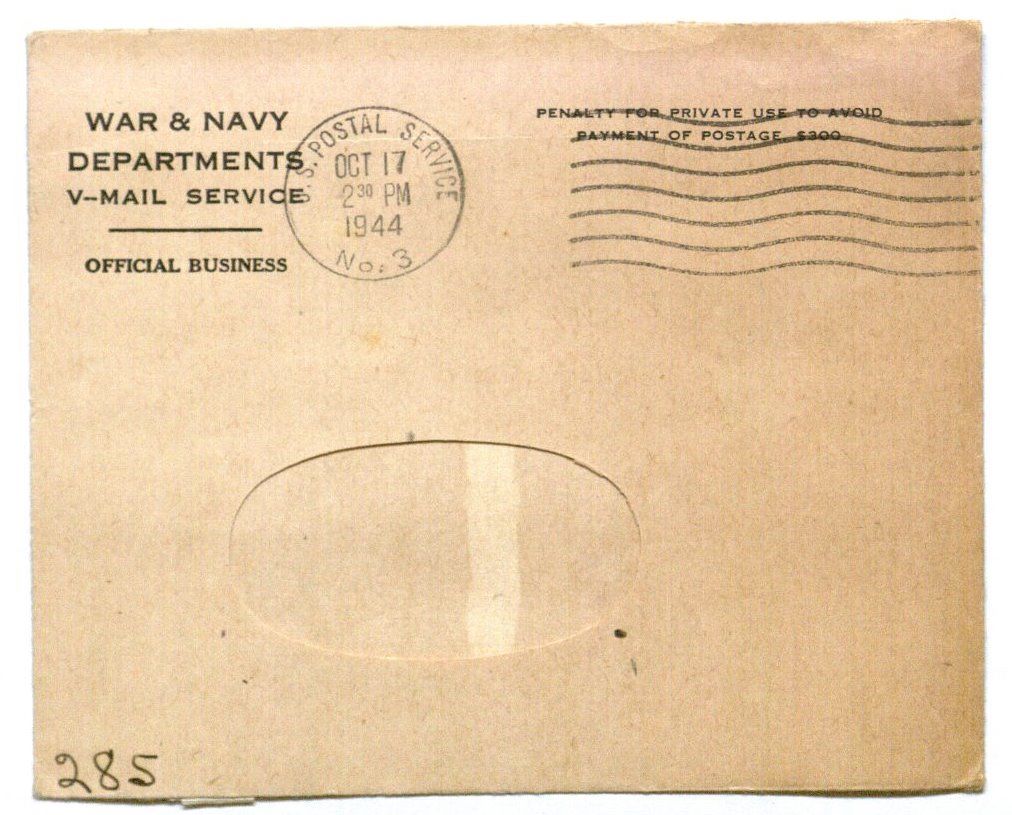 Blank v-mail sheets and envelope.
Personal collection of Kathy Lafferty. Click images to enlarge.
A V-Mail letter started out as a single sheet of pre-printed stationery that served as both letter and envelope. The use of V-Mail was voluntary for both military personnel and those on the home front, but its use was encouraged by all branches of the U.S. military as a way to support the war effort. Correspondents were instructed to write only within the space provided, using dark ink or a heavy pencil, then to fold and seal the paper along the lines indicated, forming an envelope. V-Mail was mailed along with normal U.S. mail. Post office staff separated out the V-Mail and sent it to V-Mail stations for filming, using equipment provided by Eastman Kodak. In the U.S., these stations were located in New York, San Francisco, and Chicago, while a network of V-Mail stations throughout Europe and the Pacific handled V-Mail written by those serving overseas. Letters written by military personnel were censored for classified intelligence before filming. Once filmed, reels of microfilm were created, each capable of holding approximately 1,700 letters. The reels of microfilm were then mailed. Once the microfilm reached a V-Mail station, it was developed, and each four-by-five inch printed letter was folded and placed into a window envelope for mailing to the recipient. Members of the military who were serving overseas could mail V-Mail, as well as all other mail, for free under an Act of Congress in March 1942.
Shown here are examples of V-Mail from a few of the manuscript collections housed in Kenneth Spencer Research Library.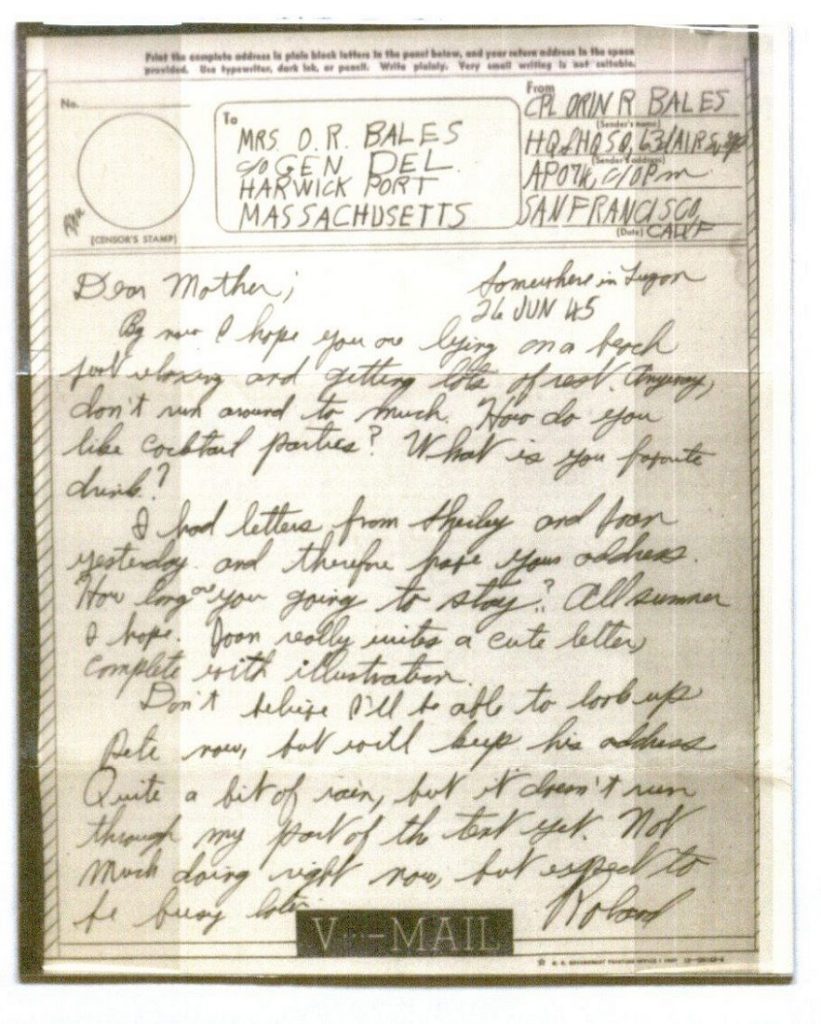 V-Mail letter from Orin Roland Bales to his mother,
June 26, 1945. Bales Family Papers.
Call Number: RH MS 952. Click image to enlarge.
Orin Roland Bales (1919-2010) was born and raised in Lawrence, Kansas. He earned a bachelor's degree from the Kansas State Teachers College in Emporia (1940) and a master's degree from the University of Kansas (1942). From 1942 to 1945 he served in the U.S. Army Air Forces' 63rd Air Service Group, stationed primarily in the Philippines, where Luzon is the largest island. After the war he owned businesses in Emporia, Kansas, and Fairfield Bay, Arkansas.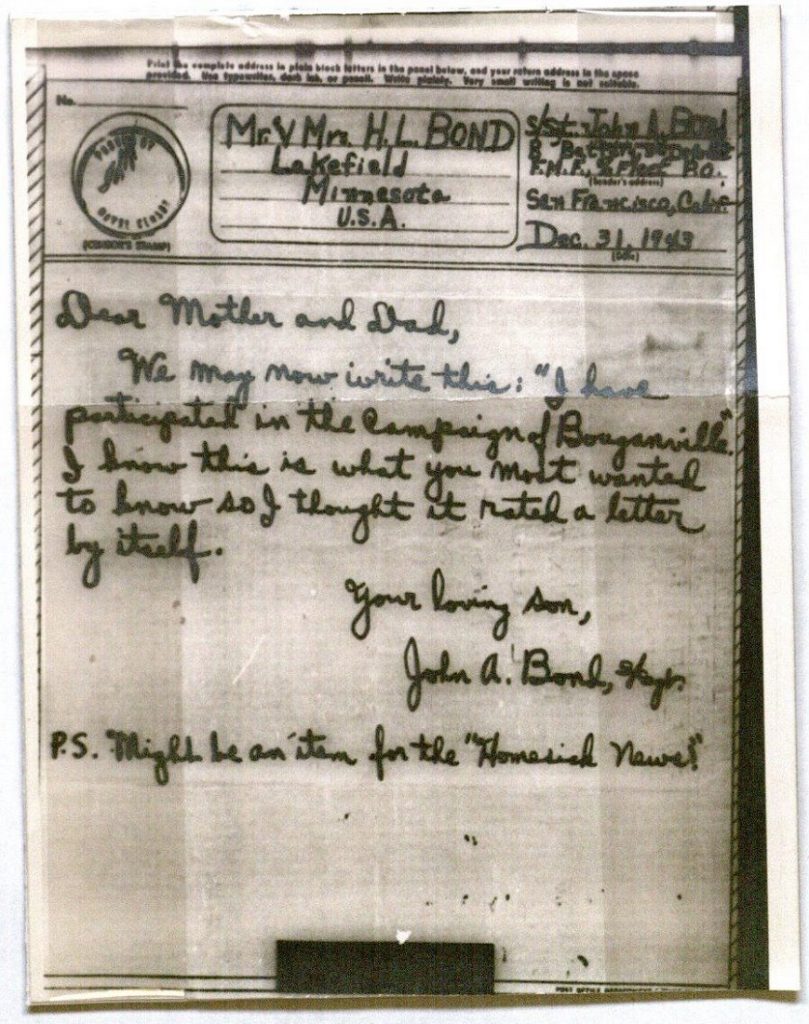 V-Mail letter from John Avery Bond to his parents,
December 31, 1943. Papers of John A. Bond.
Call Number: RH MS 1272. Click image to enlarge.
John Avery Bond (1919-2016) was born in Minneapolis, Minnesota. He served in the U.S. Marine Corps from 1942 to 1946, serving in the Pacific, French New Caledonia, New Zealand, Guadalcanal, and Bougainville. At Bougainville, Bond monitored radar for information about Japanese position changes and potential attacks. Back in the United States, he taught electronics to Navy sailors and worked at the U.S. Marine Corps Rehabilitation Office, advising discharged Marines of their rights and opportunities as veterans. After the war he graduated from the University of Chicago with a masters degree in social science, and then earned his Ph.D. in political science. Dr. Bond taught at Hillsdale College, the University of Minnesota, the University of Southern Illinois, North Dakota State University, and the University of Southern Colorado.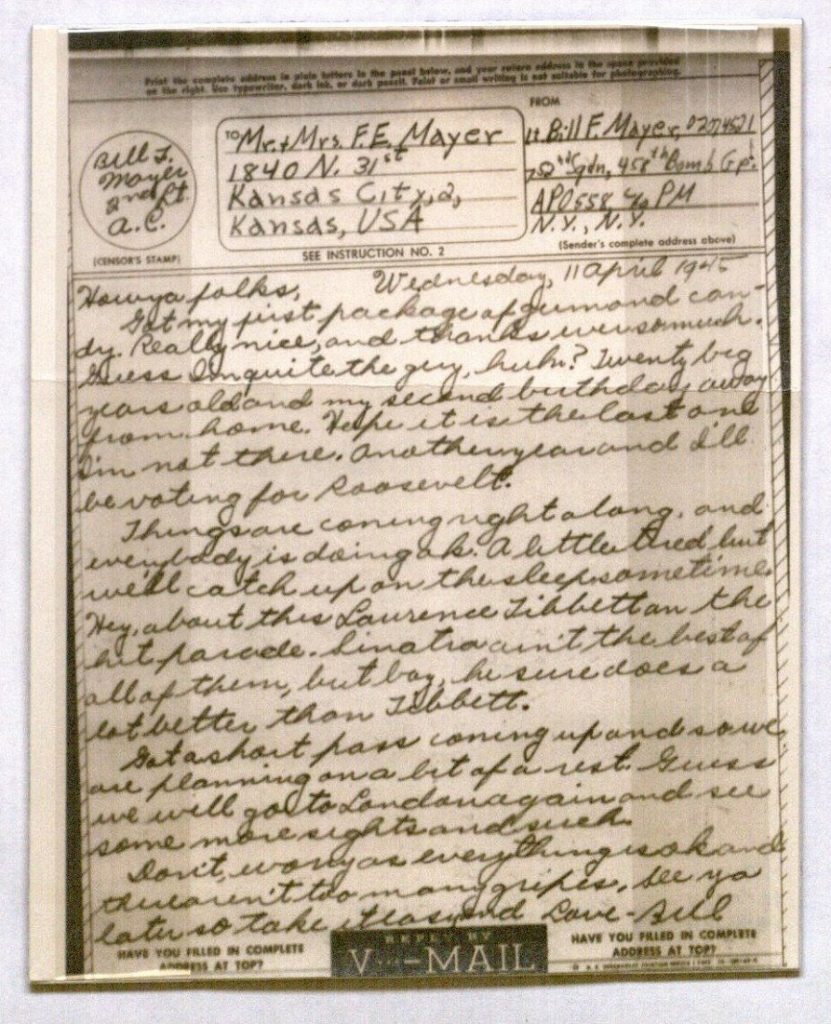 V-Mail letter from Bill F. Mayer to his parents,
April 11, 1945. Bill Mayer Correspondence.
Call Number: RH MS 1386. Click image to enlarge.
Bill F. Mayer (1925-2014) was born in Kansas City, Kansas, in 1925. After graduating from Wyandotte High School in 1943, he served in the Army Air Forces as a navigator on B-24 bombers during World War II, flying missions over the European Theater of Operations. After his Army service, he earned a bachelor's degree in journalism from the University of Kansas. He worked at the Lawrence Journal World newspaper for sixty years.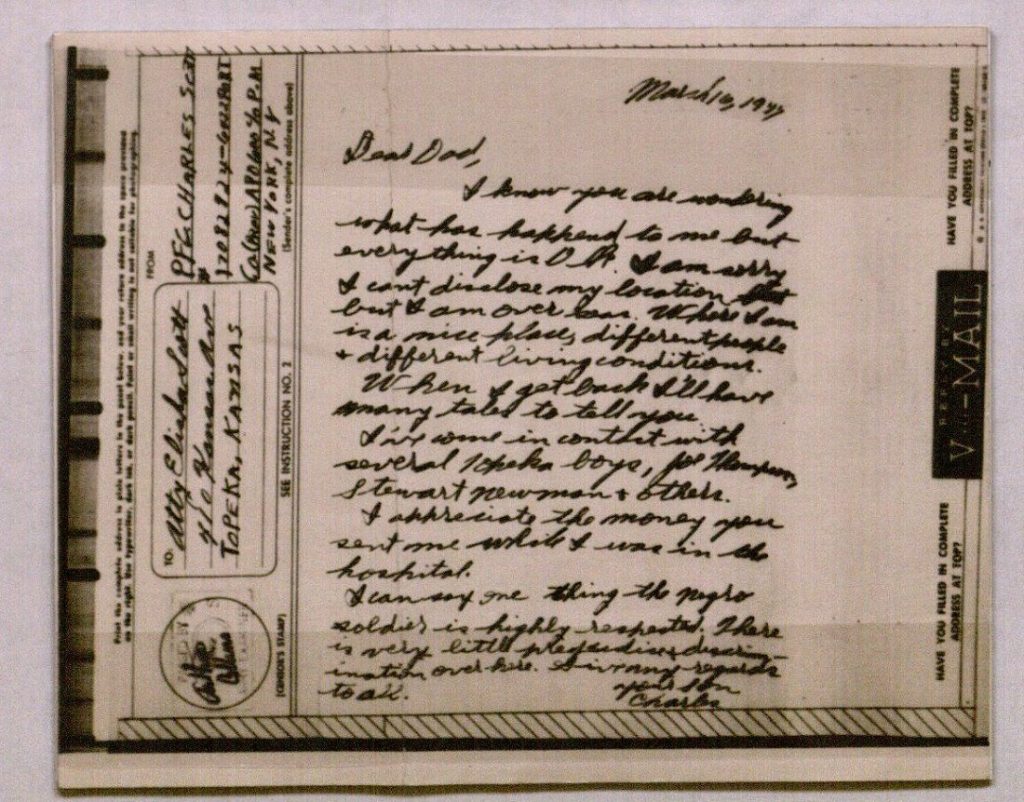 V-Mail letter from Charles S. Scott to his father, March 16, 1944.
Charles S. Scott Papers. Call Number: RH MS 1145. Click image to enlarge.
Charles S. Scott, Sr. (1921-1989) was born in Topeka, Kansas. During World War II, he served with the United States Army's 2nd Calvary Division and the Red Ball Express Transportation Unit. Following the war, he earned a law degree from Washburn University in 1948 and his Juris Doctorate in 1970. In 1954, Scott was one of the plaintiffs' attorneys in the landmark Brown v. Board of Education case, which ended legal segregation in public schools.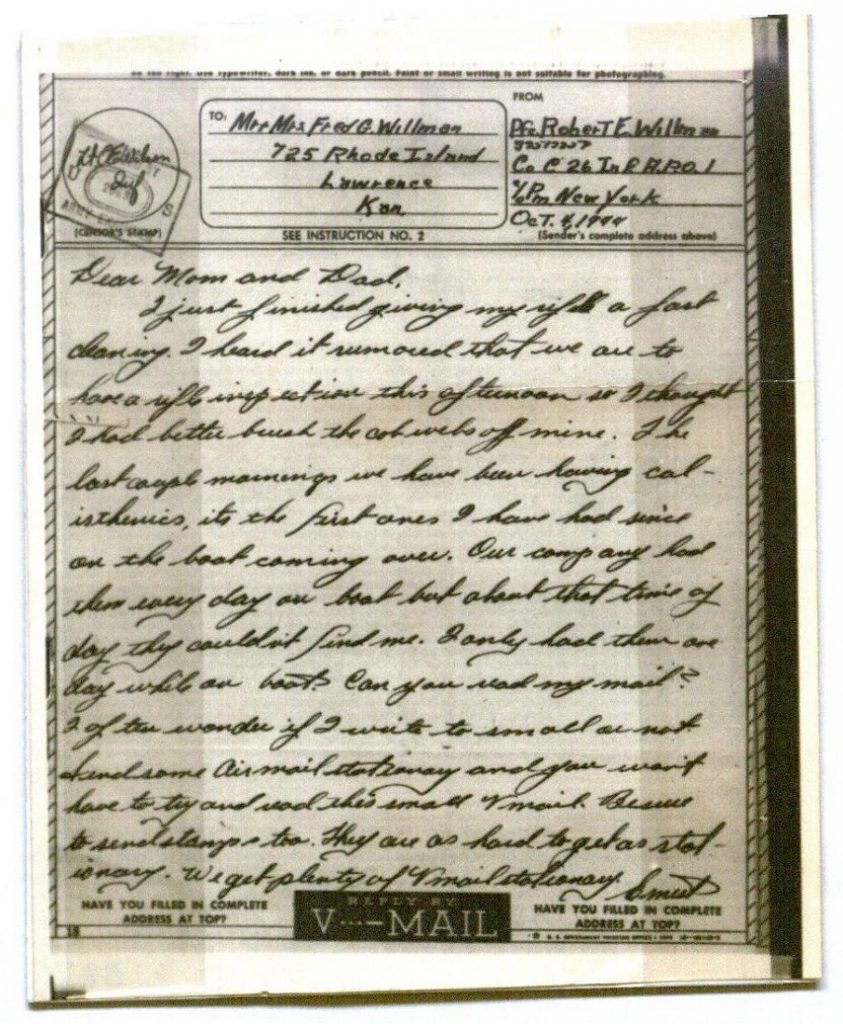 V-Mail letter from Robert Ernest Willman to his parents,
October 4, 1944. Robert Ernest Willman World War II Letters.
Call Number: RH MS 946. Click image to enlarge.
Robert Ernest Willman (1923-1978) was born in Lawrence, Kansas. He was inducted into the Army in 1943 at Fort Leavenworth, Kansas, with the rank of Private. He was sent overseas in August 1944, serving in France, Belgium, Czechoslovakia, and Germany with Company C of the First Division's First Battalion, 26th Infantry. Willman was wounded in the Battle of Hürtgen Forest near Aachen, Germany, and was awarded the Purple Heart. He returned to active duty in May 1945 and served with American occupation forces at Fürth, Germany, guarding prisoners of war who had served in Hitler's SS forces. In February 1946 Willman suffered injuries in a jeep accident and was hospitalized at Nürnberg, Germany, returning to the U.S. in May 1946 for hospitalization and recuperation.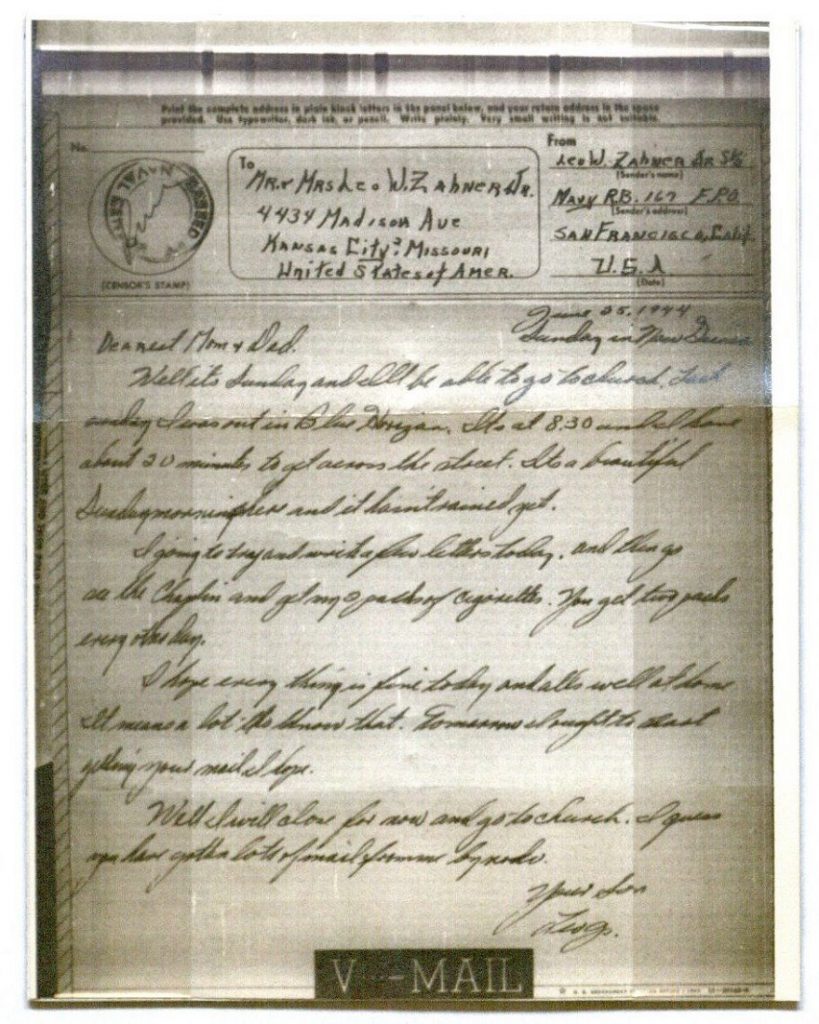 V-Mail letter from Leo William Zahner, Jr. to his parents,
June 25, 1944. Leo Zahner, Jr. World War II Letters.
Call Number: RH MS 1079. Click image to enlarge.
Leo William Zahner, Jr. (1925-2007) was born in Kansas City, Missouri. He joined the Navy in 1943, receiving training in the Navy's metalsmith school. He shipped overseas in 1944, serving on a tank landing ship in combat zones in New Guinea and the Philippines. After the war, Leo joined his father in the family business, the Zahner Sheet Metal Company. Under Leo Jr.'s influence, the company applied its metal work to architecture, earning awards and a global reputation for innovative and visually striking building design. In 1989, Leo was awarded the National Sheet Metal Contractor of the Year. In 2000, he received the National AFL-CIO Labor – Management Award.
Kathy Lafferty
Public Services