Riddle Me This…
Did you know that the Kenneth Spencer Research Library has a KU-themed Monopoly game or a memory game created by Mark Twain?  Come see the diversity of the Spencer Library's collections presented in a new exhibition entitled "Riddle Me This: A History of Games and Puzzles."
"Riddle Me This" exhibition. Right: Gavitt's Stock Exchange (G-S-E).
Topeka, Kan.: W.W. Gavitt Printing and Publishing Co., 1903. Call number: RH E615
Created by a group of five Museum Studies students, this exhibit explores the history of board games, card games, puzzles, and word games, progressing from games for the affluent and educated to popular games of chance and challenge.  Not only can you examine the collection items on display, you can sit down to piece together the Death Star, play a game of hopscotch, or challenge a friend to checkers and chess.  Opened on May 3rd, this exhibit will be up through the summer.  Come see what the Spencer Research Library has to offer!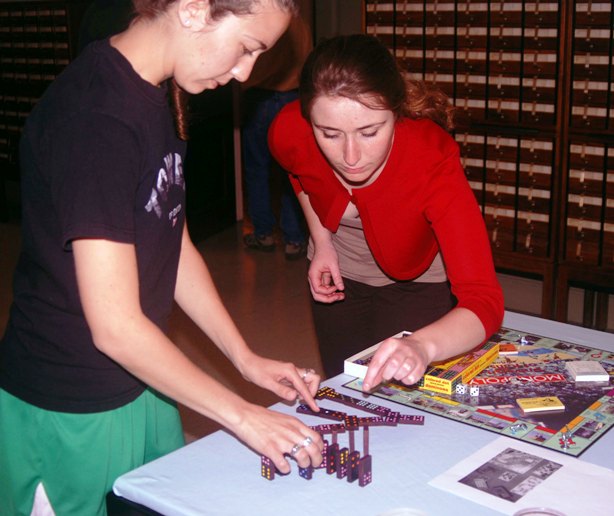 Museum Studies graduate students Megan Perez and Jami
Roskamp mounting dominoes in the display case
Please click here for more information about the exhibition.
Post and exhibition by Gillian Armstrong, Melissa Doebele, Megan Perez, Jami Roskamp and Ashley Sharratt,
Museum Studies graduate students in MUSE 703 (Instructor: Bruce Scherting)
Tags: Ashley Sharratt, board games, cards, exhibition, Gavitt's Stock Exchange, Gillian Armstrong, Jami Roskamp, Megan Perez, Melissa Doebele, puzzles, word games