February 3rd, 2023
Check the blog each Friday for a new "That's Distinctive!" post. I created the series because I genuinely believe there is something in our collections for everyone, whether you're writing a paper or just want to have a look. "That's Distinctive!" will provide a more lighthearted glimpse into the diverse and unique materials at Spencer – including items that many people may not realize the library holds. If you have suggested topics for a future item feature or questions about the collections, feel free to leave a comment at the bottom of this page.
This week "That's Distinctive!" celebrates Langston Hughes, whose 122nd birthday was on February 1st. (Several years ago, former Kansas Poet Laureate and Washburn University English Professor Eric McHenry discovered that Hughes was likely born in 1901 and not 1902, as had long been thought. McHenry's discovery was covered by The New York Times in 2018.) An African American poet and social activist born in Joplin, Missouri, Hughes was "one of the earliest innovators of the literary art form called jazz poetry [and] is best known as a leader of the Harlem Renaissance" (per the Wikipedia article about him). In addition to poetry, Hughes wrote non-fiction, plays, and short stories, and he even had a column in The Chicago Defender.
In honor of Hughes's birthday, this week I am highlighting a small taste of the poems in his book The Dream Keeper and Other Poems. As you can see, some pages in the book include sketches in addition to the poems.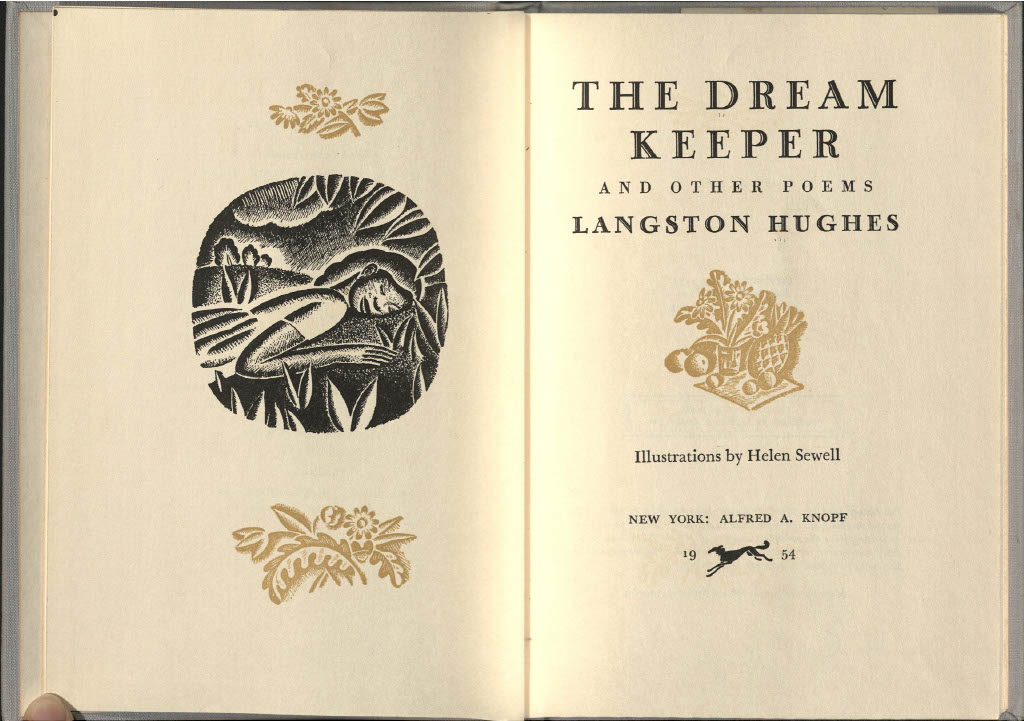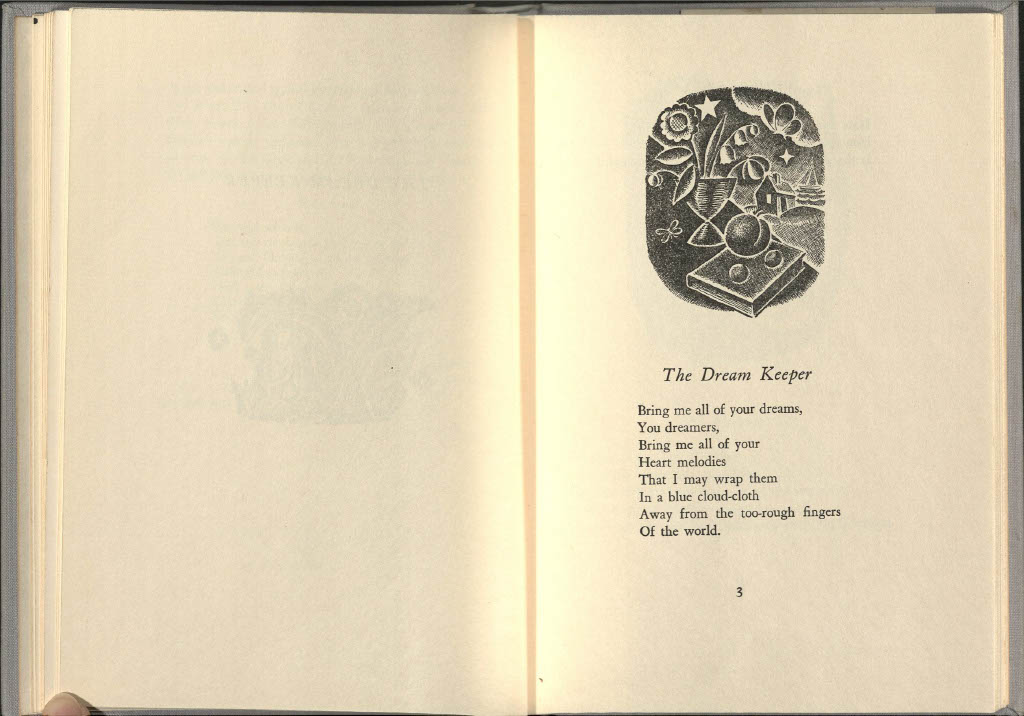 Along with this book, Spencer also holds many other books and manuscripts by Hughes; The Life of Langston Hughes, a biography by Arnold Rampersad (Call Number: RH C7898); and some photos. You can find all of these sources by searching the KU Libraries online catalog and Spencer's finding aids. You can also view an online exhibit on Hughes curated by former Kansas Collection Curator Sherry Williams.
Though he was born in Missouri, Hughes often claimed to be a Kansan because he grew up in the Lawrence and Topeka areas. Over the years, Lawrence has shown its appreciation for Hughes with a number of plaques around town and an elementary school named in his honor, as well as a library in one of his childhood schools (Pinckney Elementary). Other landmarks connected to Hughes in Lawrence include the church he attended, the library he frequented, and the graves of his grandparents. Hughes later returned to Lawrence and spoke on KU's campus three times: in 1932, 1958, and 1965. Visitors to Spencer's North Gallery can listen to a selection of audio clips from his 1965 visit, which include Hughes reading his poetry and sharing some of his reminiscences about his youth in Kansas.
Tiffany McIntosh
Public Services