July 13th, 2015
One of my favorite group of objects that has come to Conservation Services for housing is the Zodiac Club peanut doll collection, housed in the Kansas Collection. As the name implies, it is a series of dolls made from shelled peanuts for heads, with wire bodies and intricate, period-appropriate dress.
The Zodiac Club was founded as women's studying group, organized on February 5, 1878, by nine women from the Lawrence, KS area. Over the years the club met in members' homes every Tuesday to read and discuss items relating to "cultural improvement."
In 1943, when the Zodiac Club celebrated its 65th anniversary, twelve dolls were made to represent the original members of the Zodiac Club. The dolls are made of a frame of covered wire with peanuts for faces and dressed in costumes from the 1870s. Besides the dolls, the collection includes miniature period furniture, as well as leather-bound books, a tea service, spinning wheel, tintype photographs, needlepoint, and braid rug.
Left: Zodiac Club doll collection before housing. Right: Examples of the other items housed with the dolls.
Kansas Collection, call number RH MS Q61.
All the dolls, furniture, and other items were wrapped in paper towels and placed together in a box, making it difficult to tell what was in the box and to access particular items. A museum studies student intern was assigned to rehouse the collection into a more usable form.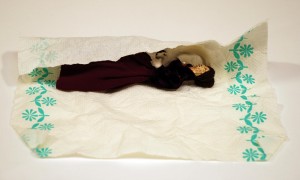 Peanut-headed doll wrapped in paper towel. Note the fine detail in the costume.
Kansas Collection, call number RH MS Q61.
I asked her to create a housing that would keep the dolls and the other items in one box. She devised an ingenious two-tray system: the furniture and other items that are less frequently accessed are on the bottom layer, and the dolls are in a removable tray on top. Featured on the outside and inside of the box is a diagram that indicates how everything fits in the housing. Now the peanut ladies will be better protected and more easily displayed for many years to come.
Left: Top tray with dolls and housing guide. Right: Bottom tray with furniture and other items.
Kansas Collection, call number RH MS Q61.
Whitney Baker
Head, Conservation Services