December 21st, 2015
Enclosures play a very important role in the preservation of library collections by protecting fragile items from dust and fluctuations in environmental conditions, and by enabling safe and easy handling of heavy, oversized, or awkward objects. Whenever possible, standard-sized prefabricated archival enclosures are used; shelving like containers with like makes efficient use of shelf space and contributes to ease of access and retrieval. However, in all libraries and archives, especially a large academic library with very diverse collections, there are always exceptional items that do not fit into standard enclosures, and that is where we in Conservation Services are called upon to create custom-made housings.
Recently, two very large items in need of improved housings came to our attention. The first is an undated (likely 19th century) Japanese map mounted on a scroll. The primary support – the paper on which the map is drawn – is cracked in many places and is too fragile to withstand being rolled and unrolled, so the scroll must be stored flat. It had been stored in a folder inside a map case drawer, but this situation was problematic: the rods at either end of the scroll created an uneven surface and placed pressure on other objects stored in the drawer, the folder holding the scroll was not strong enough to support its unevenly distributed weight, and the folder could not be easily handled by just one person.
To create a more stable and user-friendly housing for the scroll, I started with a basic, easily customizable template for an archival corrugated clamshell box, or what we often refer to as a "pizza box." A pizza box is cut and folded from a single piece of board; in this case, I had to use 4 foot by 6 foot sheet of board! After I measured, cut out, and folded up the box, I allowed it to sit overnight surrounded by weights to help set the box walls at a nice right angle.
Top: The box after cutting out – nearly 5 feet wide and looking very much like an actual pizza box.
Bottom: Setting the assembled box overnight. Click images to enlarge
The next step was to modify the interior of the box with something that would support the fragile scroll and accommodate the bulky rods at its ends. Using archival foam sheets, I fitted out the tray of the box with channels at either end that the rods can sink into, allowing the fragile surface of the scroll to lie flat. This box achieves a goal I always have in mind when creating housings for fragile objects: it allows the object to be viewed unobstructed without having to be handled, reducing stress on the object without significantly diminishing the user's experience of it.
Left: Foam inserts, affixed to the box with hot melt glue. Right: The scroll in its completed housing. Call number Orbis Maps 2:204. Click images to enlarge
The second oversize item is an 18th century map printed by Giovanni Battista Piranesi; the map is beautifully printed on several sheets of heavy paper attached to one another to form a very large single sheet – nearly 3 feet wide and over 4 feet long. At 53 inches, the map is too large to fit into the largest map cases (48 inches wide) in the special collections stacks, so a place will be found for it among the oversized flat shelving, where it will need a custom enclosure to protect it.
This housing is another modification of two basic enclosures – a portfolio and a four-flap wrapper – and again uses that extra-large 4 x 6 foot archival corrugated board. To begin, I pieced together sheets of 20 point board to form a simple (though giant-sized) four-flap wrapper for the print. I then built a corrugated portfolio into which the four-flap is adhered. The portfolio has a cloth spine for durability and four woven tie closures.
The portfolio with inner four-flap closed (left) and opened (right). Call number N23. Click images to enlarge.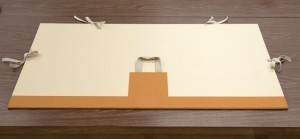 The completed portfolio. Click image to enlarge.
When making any custom enclosure, especially oversize ones, it's important to consider how the housing will perform in all the stages of an item's use, not only in storage but during retrieval as well. To ensure that this portfolio can be easily transported by a single person, I added a fabric handle to the front cover; despite its bulk, the portfolio is quite light and can be held comfortably at one's side, leaving the other hand free to open doors and such.
Constructing custom enclosures is one of my favorite conservation problem-solving challenges. I enjoy pulling together and re-imagining elements of basic enclosure designs to devise just the right housing for every object that crosses my bench.
Angela Andres
Special Collections Conservator
Conservation Services