January 26th, 2017
Each week we'll be posting a photograph from University Archives that shows a scene from KU's past. We've also scanned more than 34,500 images from KU's University Archives and made them available online; be sure to check them out!
Happy birthday, Kansas! Kansas Day is this Sunday, January 29th, and we're celebrating with a fun photograph from the 1954 Kansas Relays Parade.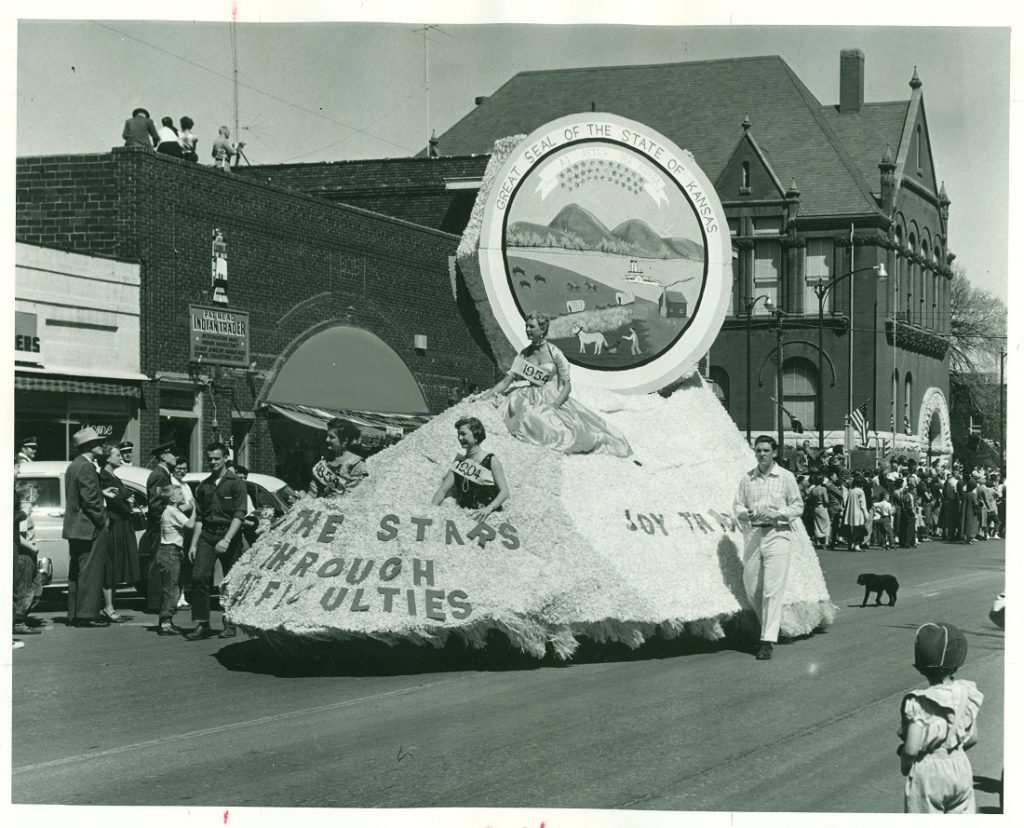 A Kansas-themed float in the Kansas Relays Parade, 1954. The year marked
the 100th anniversary of the Kansas-Nebraska Act, which established
Kansas Territory. University Archives Photos. Call Number: RG 71/2 1954 Prints:
Student Activities: Kansas Relays (Photos). Click image to enlarge.
The picture was taken on Massachusetts Street just south of Eleventh. The Watkins Museum of History is prominent in the background; the building originally housed the J. B. Watkins Land Mortgage Company and the Watkins National Bank, and it served as Lawrence's City Hall from 1929 to 1970.
Be sure to also check out last year's Kansas Day image: a photograph of girls in sunflower costumes in the 1949 Kansas Relays Parade.
Caitlin Donnelly
Head of Public Services
Melissa Kleinschmidt and Abbey Ulrich
Public Services Student Assistants