September 15th, 2023
Check the blog each Friday for a new "That's Distinctive!" post. I created the series because I genuinely believe there is something in our collections for everyone, whether you're writing a paper or just want to have a look. "That's Distinctive!" will provide a more lighthearted glimpse into the diverse and unique materials at Spencer – including items that many people may not realize the library holds. If you have suggested topics for a future item feature or questions about the collections, feel free to leave a comment at the bottom of this page.
As summer begins to fade into the sunset and fall quickly approaches, harvest time will soon be in full swing. Agricultural practices were developed about 12,000 years ago with the domestication of crops and animals as humans shifted away from hunting and gathering practices to sedentary lifestyles. Agriculture in Kansas predates the state's inception. Today, family-owned farms are the backbone of Kansas agriculture, making up about 64% of total farms. Kansas is a leading state in wheat, grain sorghum, and beef production. In addition to those crops, corn and soybeans are some of the most abundant crops grown in the state. Douglas County alone holds over 230,000 acres of farmland. Need more information on Kansas agriculture? The Kansas Department of Agriculture provides many statistics on the state's involvement. There is even an interactive map to learn about each county's agricultural contribution to the economy. Not quite sure what harvest time entails? The Iowa Farm Bureau offers great information on the great lengths farmers go to in order to ensure their crops are well cared for.
In honor of harvest time and our hard-working farmers, this week I am sharing a Kansas farmer's diary. The 160-page diary tracks the anonymous farmer's daily activities around their property in Winfield, Kansas, and offers insight into the complex processes of owning a farmstead between 1884 and 1899. A transcription of the pages shown here is provided below the photos. The numbers at the beginning of each line are dates; the quotation marks stand for "ditto," or a repeat of the line above.
The library houses many personal libraries from everyday individuals in all stages of life. Items like this are irreplaceable and offer just a peak into what life was like in the past. You can find a previous That's Distinctive! post covering the diary of Maude Egbert.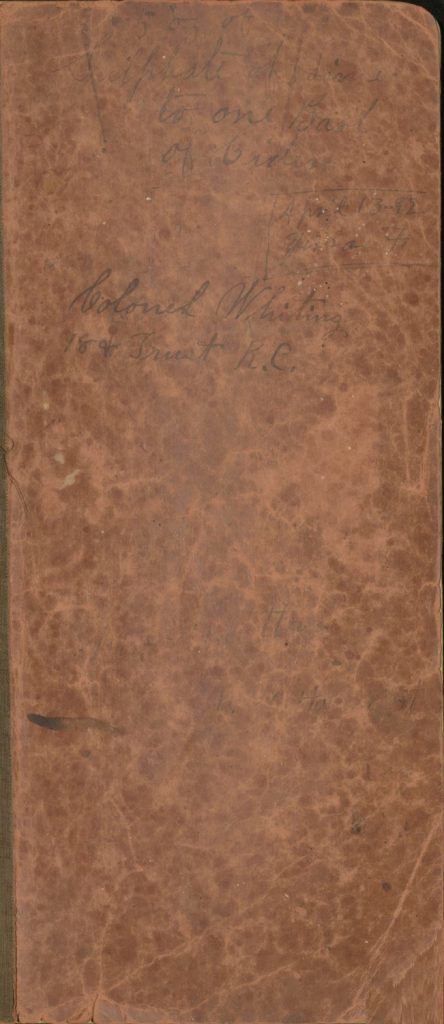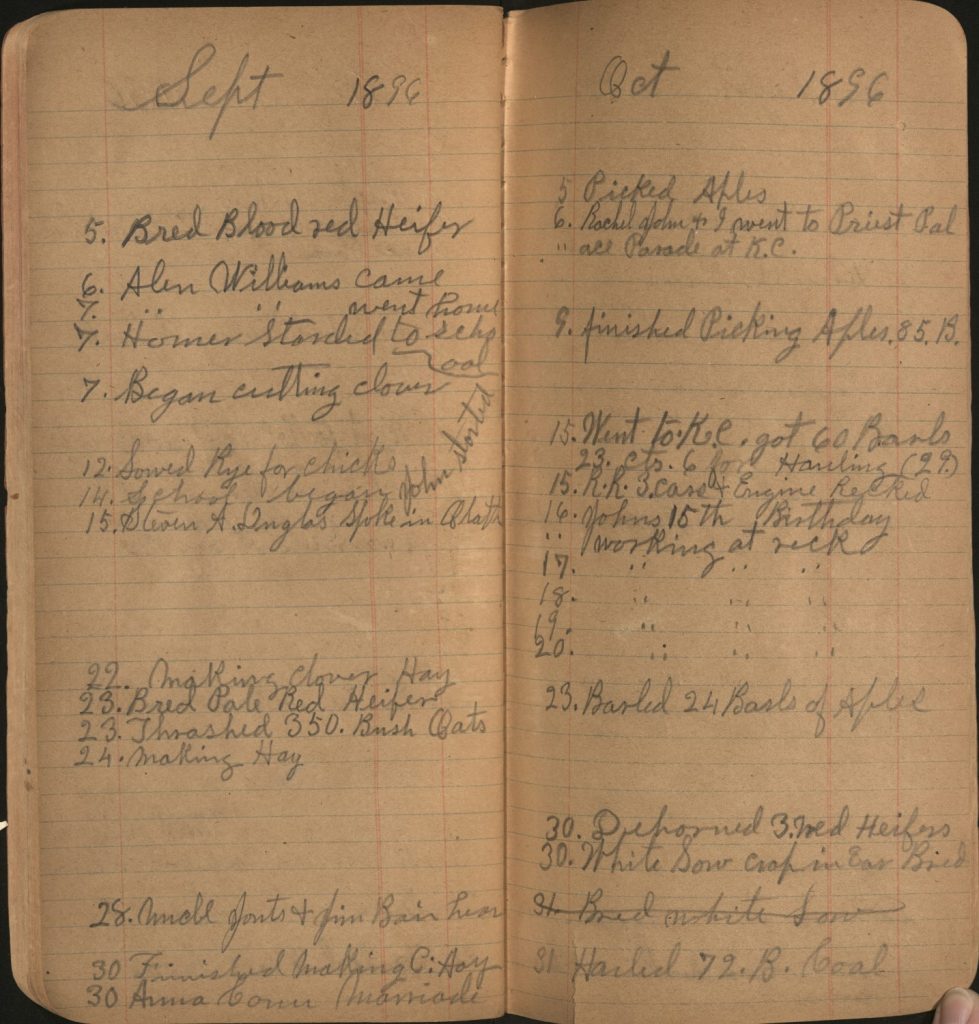 Sept 1896
5. Bred Blood red Heifer
6. Alen Williams came
7. " " went home
7. Homer [Started] to school
7. Began cutting clover
12. Sowed Rye for chicks
14. School began John started
15. Steven A. Douglas [son of Illinois Senator Stephen A. Douglas] Spoke in Olatha (1)
22. Making clover Hay
23. Bred Pale Red Heifer
23. Thrashed 350 Bush Oats
24. Making Hay
28. Uncle [Jonts] & Jim Bain hear
30. Finished making C: Hay
30. Anna [Conn] marriade
Oct 1896
5. Picked Aples
6. Rachel John & I went to Priest Pal
ace parade in K.C.
9. finished Picking Aples. 85. B.
15. Went to K.C. got 60 Barls
23. cts. 6 for Hauling (29.)
15 R.R. 3 cars & Engine Recked
16. Johns 15th Birthday
" working at reck
17. " " "
18. " " "
19. " " "
20. " " "
23. Barled 24 Barls of Aples
30. Dehorned 3. red Heifers
30. White Sow crop in Ear Bred
31. Bred white Sow
31. Hauled 72. B. Coal
(1) The September 17, 1896, issue of the Olathe News reported extensively on this event under the headline "A Rousing Rip-Roaring Republican Rally! All of Johnson County Out on Parade Arrayed in the Royal Color of the Sunflower and the Goldenrod!"
Tiffany McIntosh
Public Services