Throwback Thursday: Reading Edition
Each week we'll be posting a photograph from University Archives that shows a scene from KU's past. We've also scanned more than 34,800 images from KU's University Archives and made them available online; be sure to check them out!
It's National Read a Book Day, and a visit to Spencer Research Library is a great way to celebrate! Our collections have something for everyone: books in various genres covering a wide range of topics, places, and time periods. Or, bring your own book to the library and find a quiet spot to read. You might enjoy the coziness of the antique furnishings in the Spencer lounge or, like the student in this week's photo, you might prefer the grandeur of the North Gallery, with its glass-enclosed book stacks and spectacular campus views.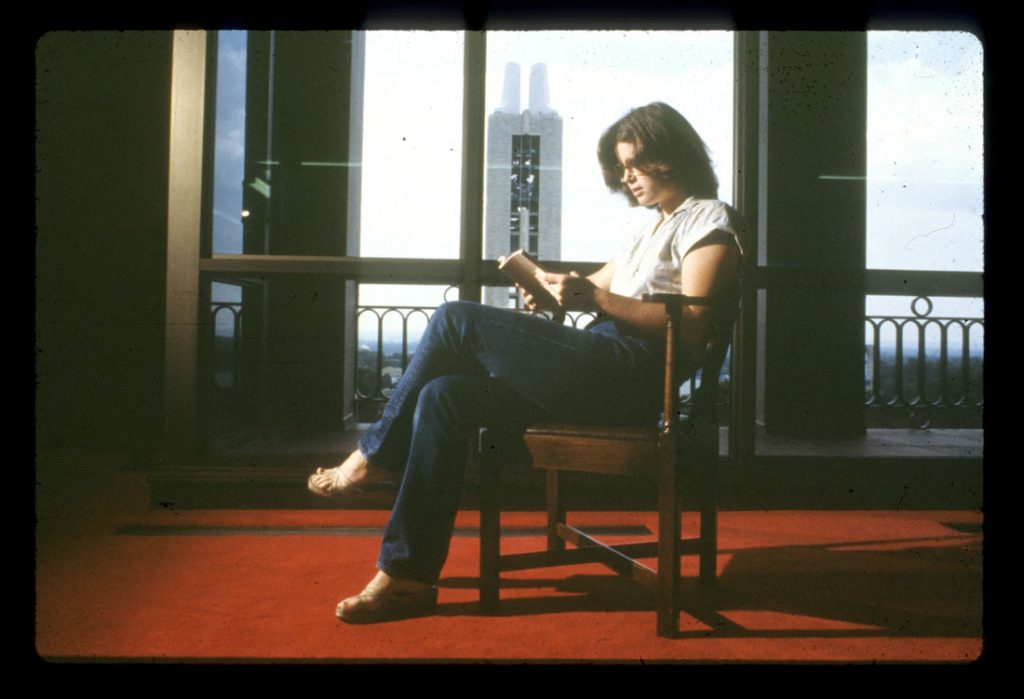 A library student assistant reading a book in Spencer's North Gallery, 1970s.
University Archives Photos. Call Number: RG 32/37 1970s Slides: University of Kansas Libraries:
Special Collections (Photos). Click image to enlarge (redirect to Spencer's digital Collections).
Caitlin Donnelly
Head of Public Services
Tags: Caitlin Donnelly, Campanile, Kenneth Spencer Research Library, KU History, KU Libraries, Memorial Carillon and Campanile, North Gallery, photographs, Students, Throwback Thursday, University Archives, University history, University of Kansas