Genealogy Hunts in Processing
Manuscripts processing staff try to provide contextual information when creating finding aids to help researchers discover what we have in our collections. Some of the most important contextual information we can provide concerns biographical information for individuals (e.g. when a person was born, what s/he did during his/her life, and whether s/he had children) or administrative information for organizations, businesses, and government agencies (e.g. when an organization was created, what its function was, and what happened to it – did it merge with another organization or fade into obscurity, or is it still going strong). Without that kind of information, it can be difficult for a researcher to evaluate a collection and determine whether or not it is of interest to their research.
When we're lucky, we're provided this information in the collection itself or in material provided by the donor when the curator picks up the collection. Sometimes, though, the donor doesn't necessarily have information about a collection—maybe its something they found in their house or something a family member gave them years ago and for which they never got the story.
In these situations, processing can be a detective game of following clues and performing dogged research.
Take, for example, the Hungate family papers. We had very little information in the accession file about this collection; the accession itself was called "Housemother in Kansas." (Accessioning in the cultural heritage domain is the act of transferring ownership from one owner to another—i.e. from a donor to the cultural institution, such as Spencer Research Library.)
Upon review, it was found that this collection is a mix of textual and photographic material, the photographs dating back to what I suspect are the 1860s up to 1958, and the textual materials mostly dating from 1945 to 1947.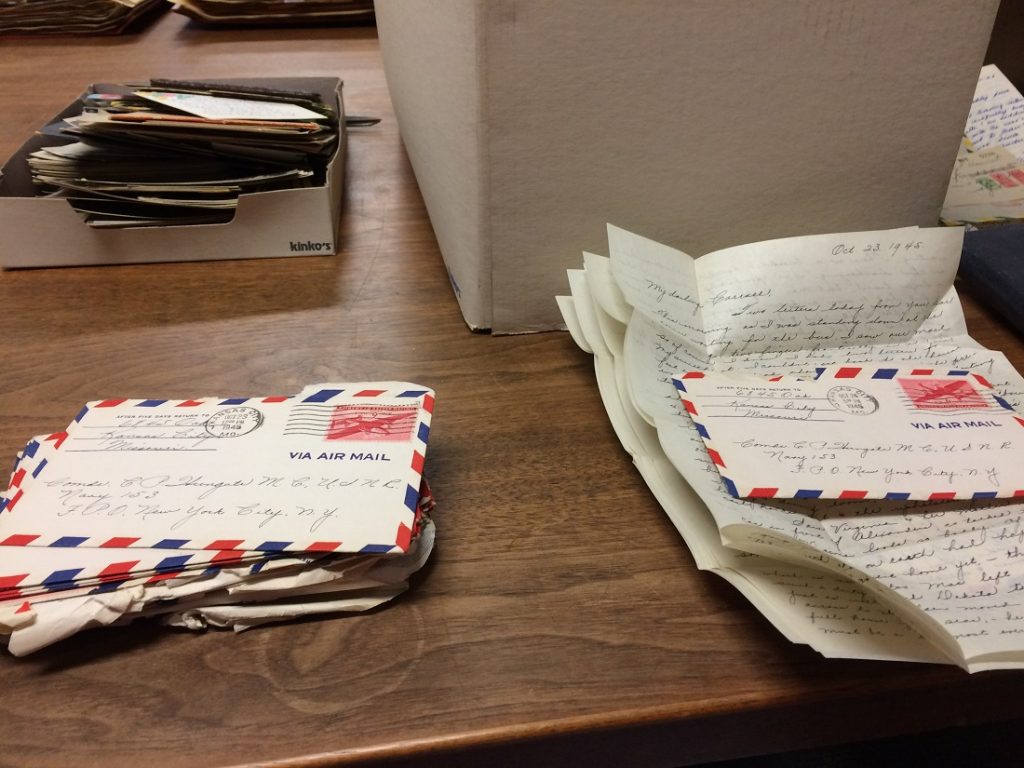 Hungate family letters during processing.
Call Number: RH MS 1420. Click image to enlarge.
It was immediately obvious why the collection was initially called "Housemother in Kansas": on top of the stacked material in the box was a scrapbook for Ida B. Patterson's retirement as a house mother at Goffe House at the Kansas City Art Institute in Kansas City, Missouri. Nearby was a marriage certificate (shown below) for Ida B. Devaney to Frank P. Patterson in Harrisonville, Cass County, Missouri.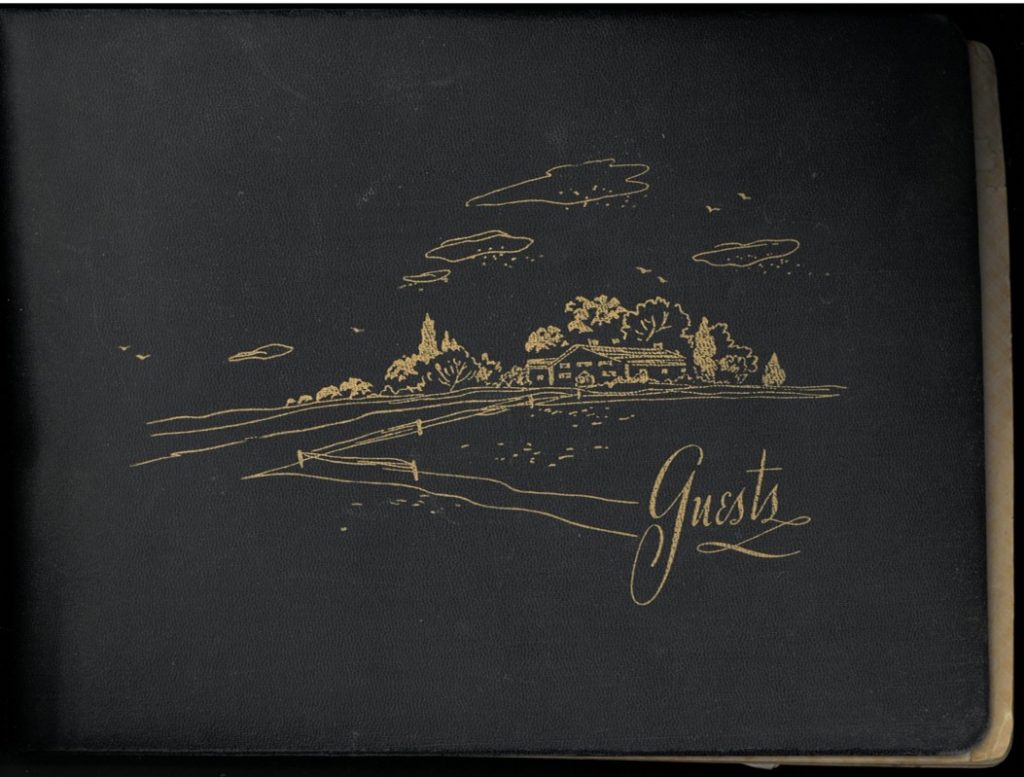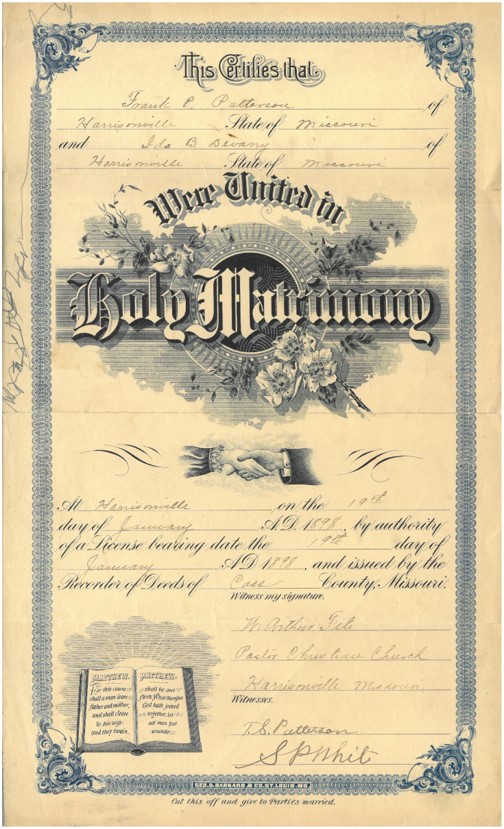 The inside first page to the guest book (cover shown, top) states it was for
"Mother, when she left Art Institute as house mother 1950," with some items inside
addressed to Mrs. Patterson. Call Number: RH MS 1420. Click images to enlarge.
However, the bulk of the collection was Hungate family material, much of which were photographs that were remarkably well identified, including late 19th century cabinet cards.
The front (left) and back (right) of a photograph of James Gunther Hungate and his wife Essie Smith Hungate,
one of several identified family photos in the collection. Call Number: RH MS 1420. Click images to enlarge.
The majority of the correspondence in the collection was to Dr. Carroll Paul Hungate, a medical doctor serving in the Naval Reserves in Rio de Janeiro, Brazil, in 1945, or to his daughter Mary Agnes Hungate from Brazilian penpals. By quickly skimming some of the letters and reading the backs of some of the identified photographs, I was able to start piecing together family connections.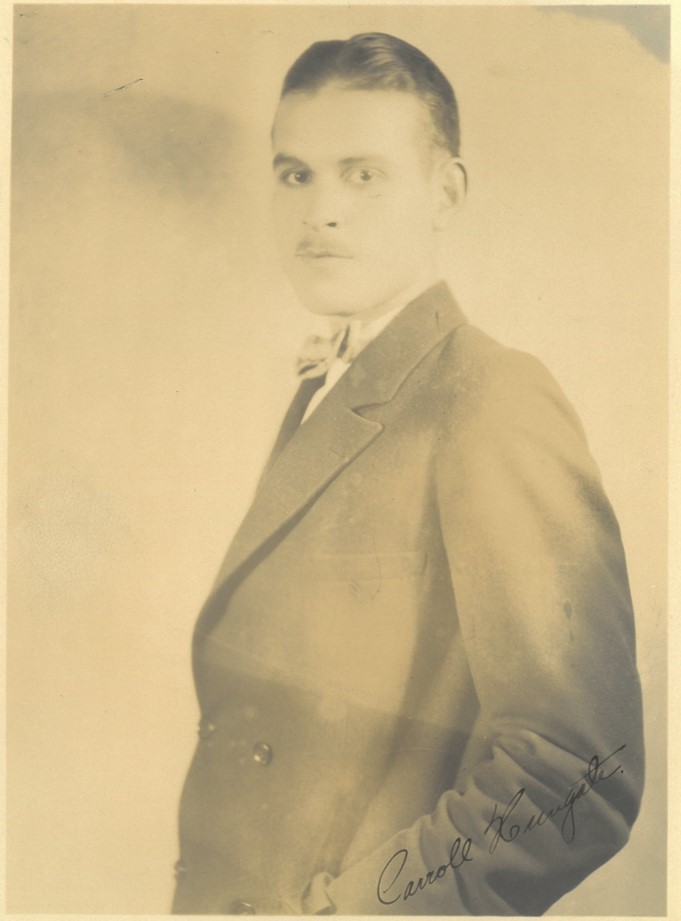 Caroll Paul Hungate.
Call Number: RH MS 1420. Click image to enlarge.
Both Mary Agnes Hungate (writing to her husband "my darling Carroll") and her daughters Mary Agnes and Annabel (writing to their father "Daddy") several times mentioned going to the lake with the Pattersons. In one letter, Mary Agnes Sr. mentioned that Donald Patterson called, telling her "Aunt Maude" had died of cancer.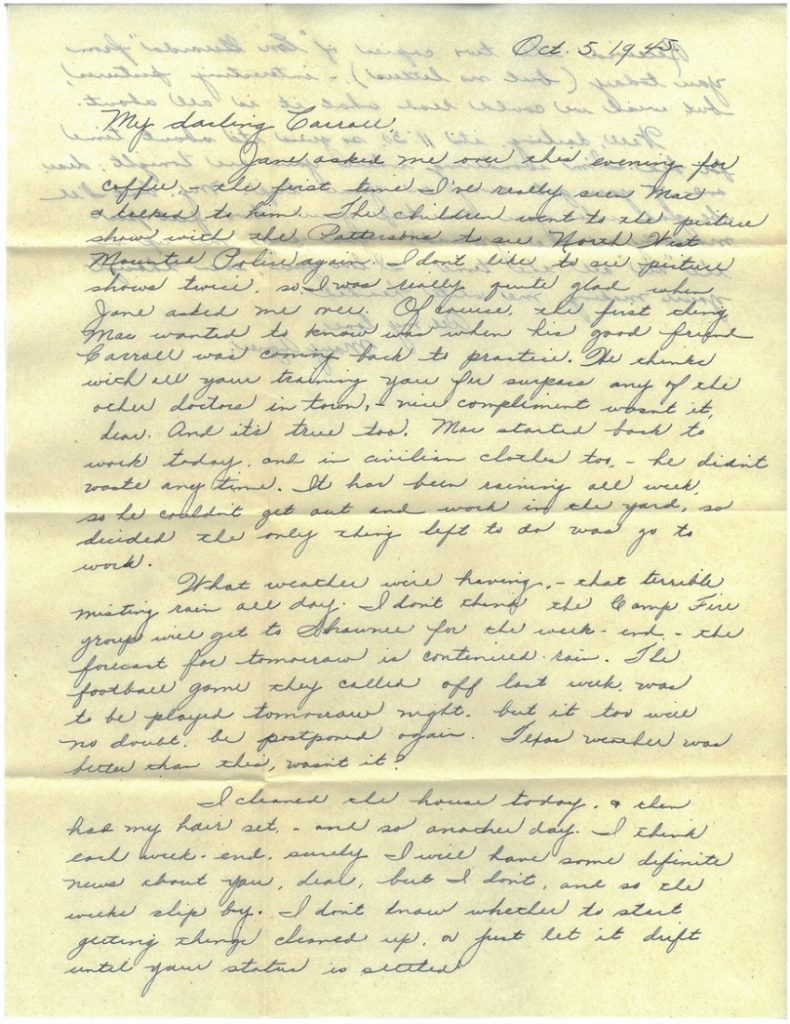 A letter from Mary Agnes Hungate to her husband Carroll, writing
about the children going to the movies with the Pattersons, October 5, 1945.
Call Number: RH MS 1420. Click image to enlarge.
The clues in the collection itself led to online researches on genealogical websites. HeritageQuest (available for free through KU Libraries), Find a Grave, and other websites all aided in tracking down Hungate and Patterson family members. I finally discovered the connection between these two families: Ida B. Patterson was Mary Agnes (Patterson) Hungate's mother. Ida's husband Frank died in 1908, after they had been married for just ten years. According to the 1910 U.S. census, the widowed Ida was left to care for her two children, Howard and his younger sister Mary Agnes.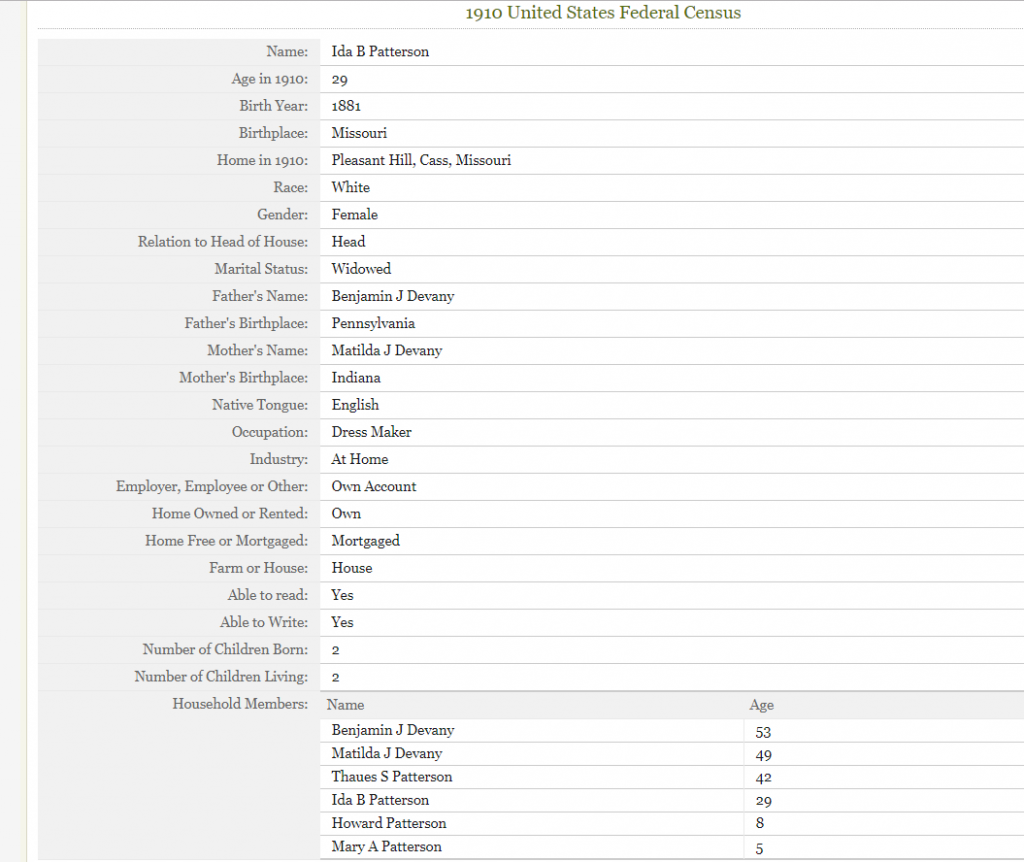 A screenshot of the transcribed entry for Ida B. Patterson in the
1910 United States federal census. From Ancestry.com. Click image to enlarge.
Sometimes, processing detective work pays off.
Pro Tip
If you reside in Kansas and want to look up information in Kansas newspapers prior to 1923—even later for some content—including birth announcements and obituaries, you can go to the Kansas Historical Society's website, provide your name, date of birth, and Kansas driver's license number, and have free access to thousands of images of digitized Kansas newspapers on Newspapers.com. Very helpful when confirming birth dates found in other sources!
Marcella Huggard
Archives and Manuscripts Processing Coordinator
Tags: Genealogy, Hungate family, Hungate family papers, Kansas Collection, Marcella Huggard, Processing