Celebrating the New Conservation Lab
Earlier this summer, the Conservation Services Department completed a move from its former location in the basement of Watson Library to a new facility on the second floor of Spencer Research Library. After years of wishing and hoping, months of dreaming and planning, and some intense weeks of packing, hauling, unpacking, and arranging, we opened our doors to the new space in late July.
Working in this space has been everything we hoped it would be, and more. Here we are better situated to care for Spencer collections, while still providing service to all other campus libraries. Shortly after we opened, we held an open house for our Libraries colleagues. We were delighted that more than 50 people came to view the new space and share in our excitement. We three conservators – Whitney, Roberta, and myself – took turns offering tours of the lab to visitors. For those who were unable to attend, here is a quick look at some of what we love about this new lab.
Our new height-adjustable, wheeled workbenches and tables offer more flexibility to accommodate many types of treatments and projects – and even meetings, tours, and other activities. Each staff member can also configure their benches to the height and arrangement that is most comfortable for them.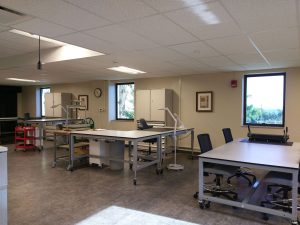 Adjustable workbenches and tables on casters in the new conservation lab (with windows!). Click image to enlarge.
We have a quarantine room for isolating and treating items affected by mold or pests. In addition to ample shelf space and our existing sub-zero freezer, this room houses a new biosafety cabinet which will allow us to mitigate the risks of handling and cleaning these vulnerable collection materials.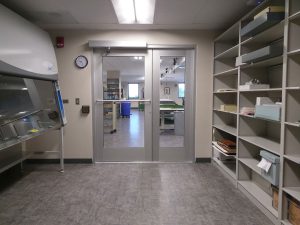 Inside the quarantine room: biosafety cabinet at left, shelving at right. Click image to enlarge.
The new wet lab will soon be equipped with a large sink in which we can treat oversize items, or do the messy work of preparing repair materials – such as lining cloth or paper – in a space that is easily cleaned up.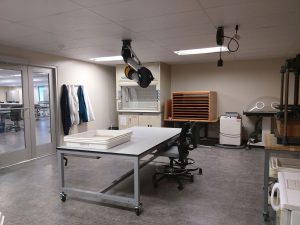 Wet treatment lab, for wet or messy work. Click image to enlarge.
We also have a dedicated area for photodocumentation just a few steps from our benches. This makes it so easy to quickly snap photographs of items before and after treatment.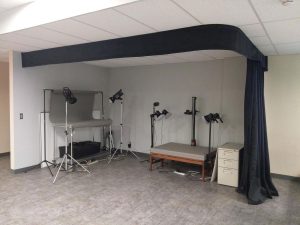 Photodocumentation area, with two different setups and a handy blackout curtain. Click image to enlarge.
A centrally located student work area is well placed to access all of the equipment and supplies. Like the staff workbenches, the students' tables and chairs are on casters and are height-adjustable.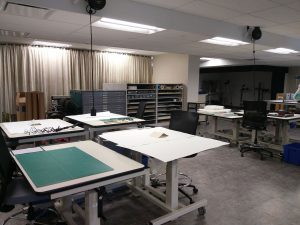 Two groups of four student work tables occupy the center of the lab. Click image to enlarge.
We couldn't be more pleased to be continuing our work caring for KU Libraries collections in this beautiful new conservation lab.