Throwback Thursday: Beat Oklahoma Edition
Each week we'll be posting a photograph from University Archives that shows a scene from KU's past. We've also scanned more than 9,800 images from KU's University Archives and made them available online; be sure to check them out!
This Saturday's Homecoming game will be against Oklahoma, so this week's photo – taken by well-known Lawrence photographer Duke D'Ambra – captures the Jayhawks' dramatic win over the Sooners in the 1946 game at Memorial Stadium.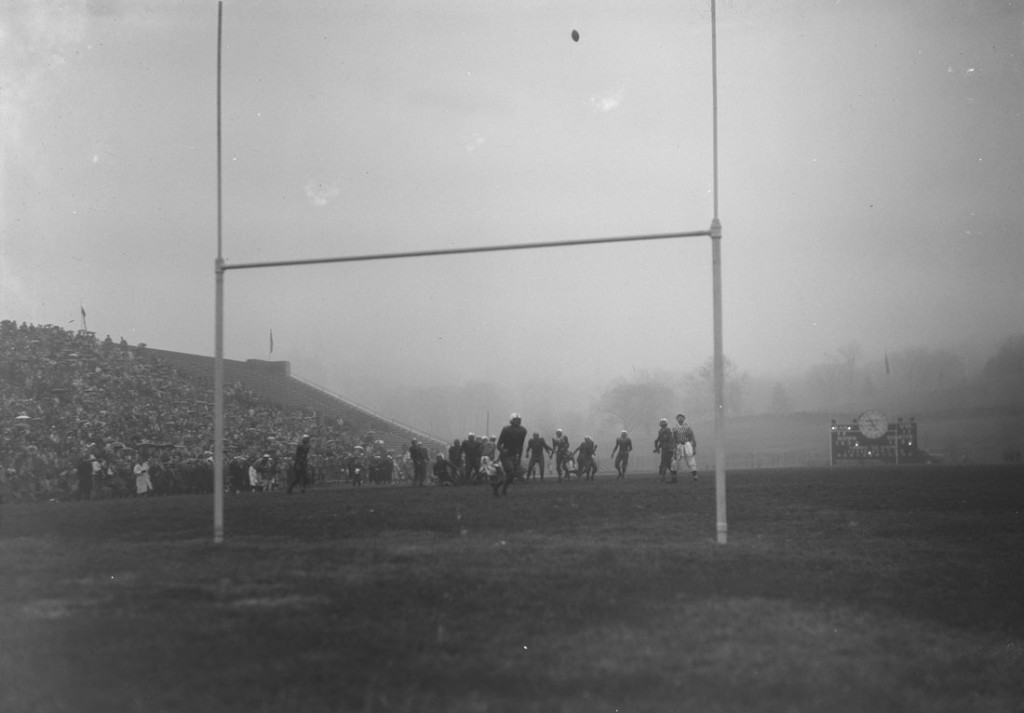 KU's winning field goal against Oklahoma on November 9, 1946.
Photograph by Duke D'Ambra. University Archives Photos.
Call Number: RG 66/14 1946 Games Oklahoma: Athletic Department: Football (Photos).
Click image to enlarge (redirect to Spencer's digital collections).
Information on the back of the photograph describes what happened.
At the KU-Oklahoma game in Lawrence, Kans. in 1946 it was foggy, dark, gloomy – and the score was 13-13 – and only one minute and 20 seconds remaining. With K.U. in possession, Paul Turner, an unknown, came on the field and kicked a field goal to win for Kansas. See the ball over the bars?
A May 22, 1972, article in the Lawrence Journal-World announced D'Ambra's death and further described the scene captured in the photograph. As the article also noted, D'Amdra was a "familiar figure on the sidelines at KU sports events."
One of [D'Ambra's] most famous photos came in November of 1946 when Kansas and Oklahoma were tied 13-all in a league football title showdown. With 75 seconds left, KU's Paul Turner was called on to try an "impossible" field goal from 41 yards out in a driving rain that made Memorial Stadium's field a quagmire.
D'Ambra, with a beat-up box-style Graflex camera was the only photographer to get into place for the shot. Turner did the "impossible" and D'Ambra chronicled the ball passing through the crossbars to give Kansas a 16-13 upset of the powerful Sooners.
Caitlin Donnelly
Head of Public Services
Melissa Kleinschmidt, Megan Sims, and Abbey Ulrich
Public Services Student Assistants
Tags: Abbey Ulrich, Caitlin Donnelly, Duke D'Ambra, KU Football, KU History, Megan Sims, Melissa Kleinschmidt, Memorial Stadium, photographs, Throwback Thursday, University Archives, University history, University of Kansas