April 13th, 2017
Each week we'll be posting a photograph from University Archives that shows a scene from KU's past. We've also scanned more than 34,500 images from KU's University Archives and made them available online; be sure to check them out!
With Student Senate elections taking place today, this week's photograph highlights the election for class officers that took place at KU during the fall semester in 1919.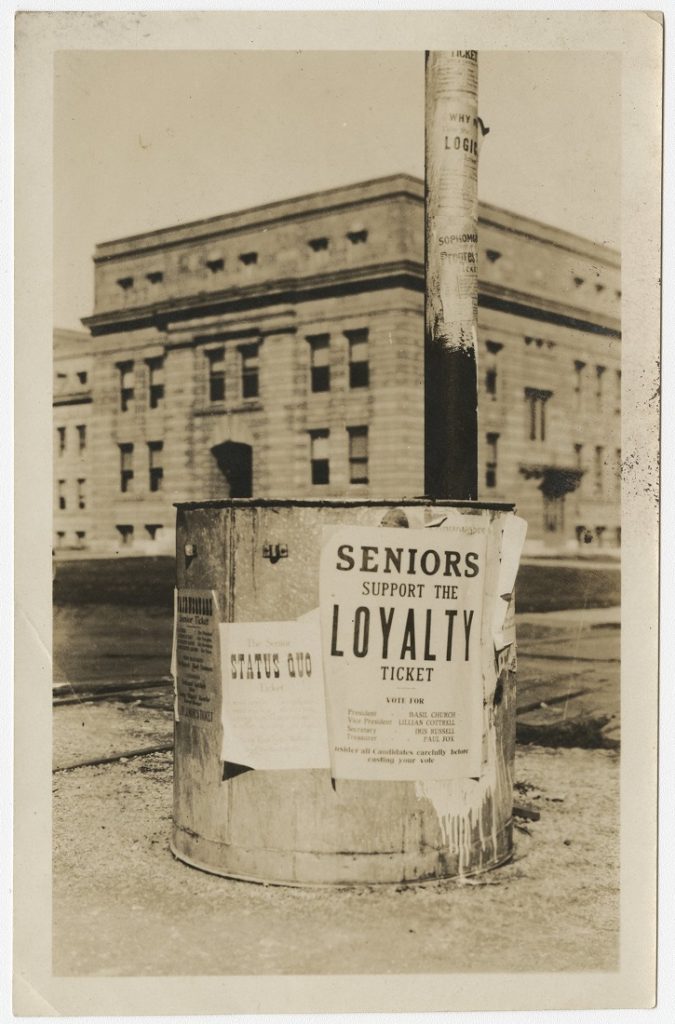 Student election posters, 1919. Strong Hall is
in the background. University Archives Photos.
Call Number: RG 71/0 1911 Prints: Student Activities (Photos).
Click image to enlarge (redirect to Spencer's digital collections).
An advertisement for the Loyalty ticket ran in the Daily Kansan student newspaper on October 16, the day before the election: "Loyalty stands for class spirit, student government, faculty student cooperation, [and] better athletic support."
On October 18, 1919, the day after the election, the Lawrence Daily Journal-World reported the results in a story entitled "Big Vote Was Out at Hill Election."
The "Status Quo" Senior ticket at K. U., meaning "As It Was Before the War" went "over the top" in the class elections yesterday. Wint Smith being elected president of the senior class with a majority of twenty-five votes over Basil T. Church. Both are Lawrence men. Smith's whole ticket carried, Eileen Van Sandt of Chanute for secretary running high with 200 votes. Fred Pausch was elected vice-president on the ticket and Warren Blazier of Lawton, Okla., was elected treasurer…
A larger per cent of the students voted in the elections Friday than in any previous year and showed a great amount of interest where there was a contest. Of 350 seniors 320 voted…
In 1947, senior class president Wint Smith was elected to represent Kansas's (now obsolete) 6th Congressional District. Voters sent Smith to Congress for six more consecutive terms, and he served until 1961.
Caitlin Donnelly
Head of Public Services
Melissa Kleinschmidt and Abbey Ulrich
Public Services Student Assistants