January 30th, 2017
In honor of Langston Hughes's birthday on February 1, we remember his time in Lawrence:
Langston Hughes spent his early boyhood in Lawrence, Kansas. In a presentation at the University of Kansas in 1965 he recalled: "The first place I remember is Lawrence, right here. And the specific street is Alabama Street. And then we moved north, we moved to New York Street shortly thereafter. The first church I remember is the A.M.E. Church on the corner of Ninth, I guess it is, and New York. That is where I went to Sunday School, where I almost became converted, which I tell about in The Big Sea, my autobiography."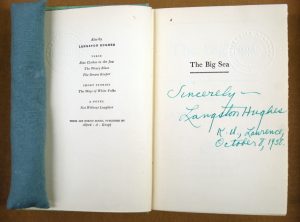 Title page of The Big Sea, by Langston Hughes (first edition, 1940).
Hughes signed this copy for the University of Kansas. Call number RH C7422.
Click image to enlarge.
Hughes lived with his maternal grandmother, Mary Sampson Patterson Leary Langston, at 732 Alabama Street. The house does not exist today. His grandmother was the widow of one of the men killed with John Brown at Harpers Ferry (Lewis Sheridan Leary), and later married Hughes's grandfather, the ardent abolitionist Charles Howard Langston.
Langston's years in Lawrence with his grandmother were lonely and frugal. In 1909 he entered the second grade at Pinckney School, having started school in Topeka, KS, while living briefly with his mother. He was placed with other African American children in a separate room for his education. At various times between 1909 and 1915 Langston and his grandmother lived with friends James W. and Mary Reed at 731 New York Street. Hughes also attended New York School, and Central School, where he was reportedly a good student. Langston lived with the Reeds after his grandmother's death in March 1915, and left Lawrence to join his mother in Illinois later in the year.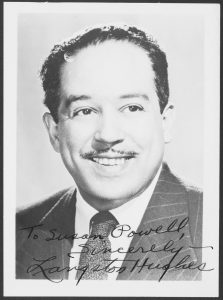 Photograph of Langston Hughes. Call number RH PH P2790.
Click image to enlarge (redirect to Spencer's digital collections).
As he writes in The Big Sea:
"The ideas for my first novel had been in my head for a long time. I wanted to write about a typical Negro family in the Middle West, about people like those I had known in Kansas. But mine was not a typical Negro family. My grandmother never took in washing or worked in service or went much to church. She had lived in Oberlin and spoke perfect English, without a trace of dialect. She looked like an Indian. My mother was a newspaper woman and a stenographer then. My father lived in Mexico City. My granduncle had been a congressman. And there were heroic memories of John Brown's raid and the underground railroad in the family storehouse. But I thought maybe I had been a typical Negro boy. I grew up with the other Negro children of Lawrence, sons and daughters of family friends. I had an uncle of sorts who ran a barber shop in Kansas City. And later I had a stepfather who was a wanderer. We were poor – but different. For purposes of the novel, however, I created around myself what seemed to me a family more typical of Negro life in Kansas than my own had been. I gave myself aunts that I didn't have, modeled after other children's aunts whom I had known. But I put in a real cyclone that had blown my grandmother's front porch away."
Sheryl Williams
Curator, Kansas Collection
Adapted from the Spencer Research Library exhibit, Langston Hughes: A Voice for All People.