August 3rd, 2017
Each week we'll be posting a photograph from University Archives that shows a scene from KU's past. We've also scanned more than 34,800 images from KU's University Archives and made them available online; be sure to check them out!
The new school year is just around the corner, but there's still time for travel and vacation. When you go, be sure to take along some KU gear – just like the faculty members and their families in this week's photograph did in 1921.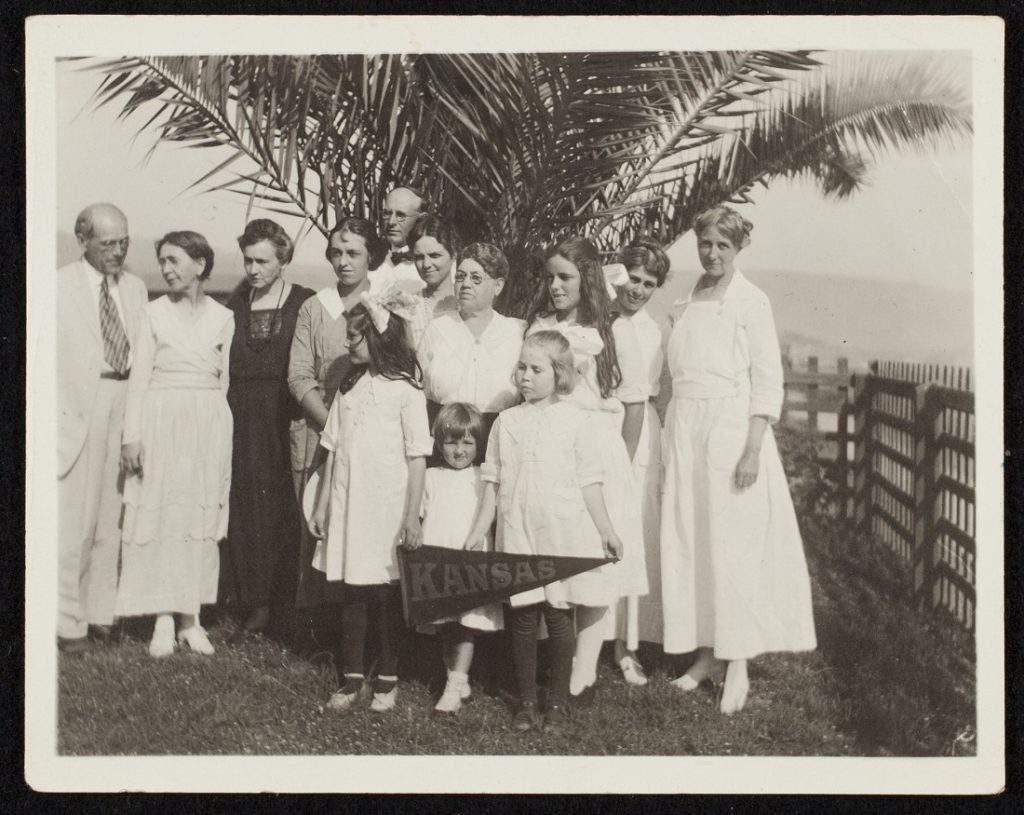 A group of KU faculty members with their wives and children in
Laguna Beach, California, 1921. University Archives Photos.
Call Number: RG 41/0 Faculty 1921 Prints (Photos).
Click image to enlarge (redirect to Spencer's digital collections).
Back row: Frederick Billings.
Second Row: William Chase Stevens, Mrs. William C. [Ada E. Pugh] Stevens, Harriet Greissinger, Lucinda Griffith, Mrs. William A. [Ida Greeley Smith] Griffith, Carrie Watson, Jane Griffith, Mrs. Frederick [Louise M.] Billings, Mary Maud Smelser.
Front Row: Bertha Mae Billings, Ida Griffith Jr., Francis Billings.
Here is some additional information about each faculty member.
Frederick H. Billings (circa 1869-1964): Billings taught in the department of bacteriology (1907 to 1917) and served as its first chairman. He was then at the University of Redlands in southern California, where he was a professor of biology and bacteriology for nineteen years, until his retirement in 1940.
Harriett Greissinger (1876-1941): A KU alumna (1895), Greissinger was an Instructor (1902-1907) and Assistant Professor (1907-1921) of piano at the university. It appears she married John Wallace Brown around 1921 and moved to Santa Barbara, California, where she lived for the rest of her life.
William Alexander Griffith (1866-1940): Griffith came to KU in 1899 to establish the department of drawing and painting. During his tenure at the university, Griffith lobbied Sallie Casey Thayer to donate her art collection to KU; it forms the basis of what is today the Spencer Museum of Art. Griffith resigned his position at KU in 1920, relocating to Laguna Beach, California, to focus full time on landscape painting.
Mary Maud Smelser (1873-1960): Smelser studied music at KU (1891-1894) and returned to the university in 1903 to continue her studies. She worked at KU Libraries for fifty years as a reference assistant (1903-1905); an accessions librarian and, in her spare time, a collector of Kansas historical materials (1905-1950); and the head of the Kansas Historical Collections, which became the foundation of Spencer's Kansas Collection (1950-1953).
William Chase Stevens (1861-1955): Stevens received his B.S. (1885) and M.S. (1893) at KU. He taught botany at his alma mater for forty-eight years, from 1889 to 1937. "I will do botanical work as long as I am able to wiggle," Stevens declared to the University Daily Kansan on his eighty-seventh birthday (February 24, 1948).
Carrie Watson (1858-1943): Watson survived Quantrill's Raid on Lawrence as a young child and went on to study at KU, earning degrees in 1878 and 1880. She was hired as an Assistant Librarian in 1878 and promoted to Head Librarian in 1887, a position she held until her retirement in 1921. Known as a disciplinarian, the Kansas City Star once reported that Watson "quieted [unruly students] with a chiding eye" and always insisted that "the library was a place for study rather than flirting."
Caitlin Donnelly
Head of Public Services