February 21st, 2014
Charles Scott, a prominent attorney in Topeka, Kansas, was born in 1921. He served in the U.S. Army during World War II, and later graduated from Washburn Law School. He joined the law firm established by his father, Elisha Scott, Sr., a well-known trial lawyer in the region. During his early years in practice Charles Scott and his father were successful in securing racial integration of elementary schools in South Park, Johnson County, Kansas. With his brother John H. Scott, he represented plaintiffs in several cases that sought to establish the right of access to swimming pools, theaters, and restaurants in Topeka for African Americans.
In 1954 Charles Scott was one of several attorneys who filed and presented the initial case for the plaintiffs in the landmark Supreme Court case Oliver Brown v. the Board of Education of Topeka. He also appeared as counselor for the plaintiffs before the United States Supreme Court, whose ruling ended segregation in public schools.
The Scott Collection includes personal and professional papers that reflect Mr. Scott's lifelong pursuit of civil rights issues.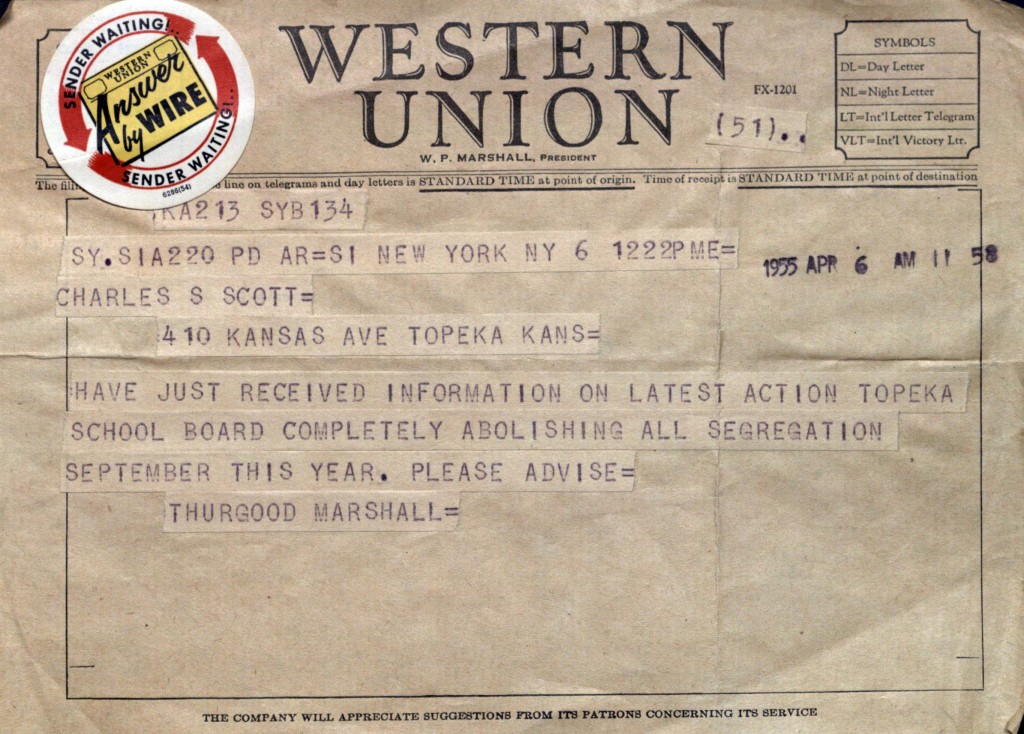 Telegram to Charles Scott from Thurgood Marshall, April 6, 1955. Charles Scott Papers.
Call Number: RH MS 1145, Box 2, Folder 29. Click image to enlarge.
Among Scott's papers is the above telegram from Thurgood Marshall. Marshall, then serving as Director-Counsel of the NAACP Legal Defense Fund, contacted Scott to receive confirmation of a timetable for desegregation of Topeka schools following the 1954 Supreme Court ruling ending school segregation.
This April, the University of Kansas will host a series of events to mark the 60th anniversary of the Brown v. Board of Education case.  These will include a KU Libraries exhibition opening (Lasting Impact: Brown vs the Board of Education) on the evening of April 11th and a daylong seminar on April 12th. Both events will consider the legacy of the case and its implications.  For additional information, please see the following news release.
Sheryl Williams
Curator of Collections and Kansas Collection Curator