April 10th, 2017
Last week collections conservator Roberta Woodrick and I, together with our colleague Sonya Barron, conservator at Iowa State University, had the pleasure of presenting our half-day workshop Exhibit Support Basics: Solutions for Small Institutions and Small Budgets at the 2017 annual meeting of the Midwest Archives Conference (MAC) in Omaha. We had a lot of fun bringing this hands-on workshop to our colleagues in the allied professions, all of whom kept the session lively with their curiosity, great questions, and good humor.
This workshop originated from our wish to share basic exhibit preparation skills with archivists and museum professionals who work in smaller institutions and are responsible for mounting exhibits but who have limited staff and resources to devote to their exhibit programs. Our participants were archivists, librarians, and curators from a range of institutions across the Midwest: small college and university libraries and archives, historical societies, local museums, even corporate and congregational archives.
Our morning began with a brief presentation covering the exhibit support structures and materials we would be working with that day, along with some related variations on those structures meant to inspire participants' creativity and boost their confidence. As instructors, we wanted to emphasize that effective exhibit supports don't have to be complicated or costly.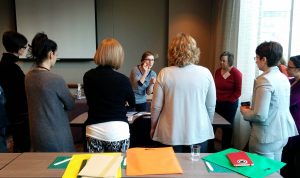 Sonya demonstrates how to make flat supports.
Click image to enlarge.
Following the presentation, Sonya demonstrated two simple methods for mounting flat artifacts. As she worked, she also discussed some basic tool safety tips, and we talked about the different materials we were using. After her demonstration the participants tried out the mounting methods for themselves; we three instructors observed their progress and offered guidance as needed, but this was a very focused group – they immersed themselves in the task and were very self-directed!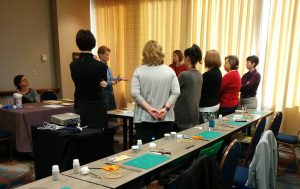 Our students watch Roberta's book cradle demonstration.
Click image to enlarge.

By this time we were ready for a quick break before regrouping for Roberta's demonstration of a basic mat board book cradle. With all of her years of experience training student employees, Roberta is a pro at demos! The group watched and took notes intently as she built one cradle, and then they worked on their own cradles along with her as she made a second one. As with the morning's first activity, our students jumped right in. Despite their claims of having little experience working on such projects, they impressed us with their hand skills and adaptability, and everyone completed their projects with time to spare for discussion at the end of the session.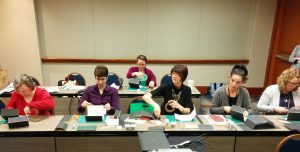 Workshop participants hard at work.
Click image to enlarge.
Samples of finished cradles from the workshop. They did an excellent job!
Click image to enlarge.
As instructors, we couldn't have asked for a better group of participants; they were a cheerful and engaged group who worked very well together and created a friendly atmosphere in the room. Roberta, Sonya, and I are grateful to MAC for the opportunity to bring this workshop to their members, and we are hopeful it won't be the last time we are able to work together!
Angela Andres
Special Collections Conservator
Conservation Services