December 19th, 2016
This year I spent some time upgrading the housings for Spencer's N-size (very large!) items. I reviewed their current state with a curator and we identified those items that were most in need of housing improvement. Among these items was a very long and narrow broadside with a correspondingly long title: State procession from the Queen's palace to the western door of Westminster Abbey, on the 28th of June, the day of Her Majesty's coronation [1838?].

At the time of our review, this item was stored in a very large folder just like its neighbors in the N section. Unlike the other N's, however, which are mostly oversize maps, this very skinny piece only occupies a small amount of the folder interior. It's too big to fit in any of our map cases, but it didn't feel quite right floating about inside the large folder, and it seemed quite unwieldy to retrieve and transport.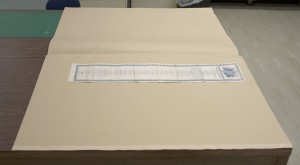 We decided to rehouse this item in a more efficient and user-friendly manner by fitting out the inside of a standard cubic-foot box with an archival cardboard tube that rests on two cradle supports on either side and can be easily lifted out of the box.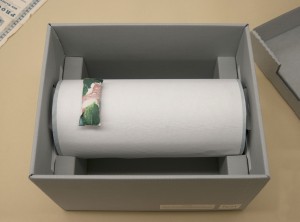 I rolled the broadside around the tube (followed by a protective layer of polyester film) and placed the tube back into the box. When this item is paged, it will be much easier for staff to carry – no more juggling a huge floppy folder. The item can be easily unrolled in the reading room when needed, and just as easily rolled back up onto the tube. And because the box is a standard size, it will fit well into existing shelf space.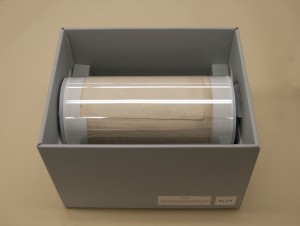 Angela Andres
Special Collections Conservator
Conservation Services