January 22nd, 2021
All the way back in October 2019, I wrote about starting on the treatment of MS E279, Historia flagellantium…De recto et perverso flagrorum usu apud Christianos…Ex antiquis Scripturæ, patrum, pontificum, conciliorum, & scriptorum profanorum monumentis cum curâ & fide expressa, by Jacques Boileau. This volume is the manuscript, dated 1691 and with annotations believed to be in the author's own hand, for the printed version of the same title published in 1700. Spencer also holds a copy of the printed edition at Summerfield B2655.
The volume was weakened by past water and mold damage and so required especially careful handling throughout the treatment process. After photographing the volume in its pre-treatment condition, I first cleaned the residual mold using soft brushes and low-suction HEPA vacuum, working in our bio-safety cabinet to reduce my exposure to the mold (and prevent contamination of other collection material). After the volume was cleaned, I removed the damaged binding and took apart the sewing.

The most time-consuming part of the treatment involved mending tears, filling losses, and guarding the sections (adding a reinforcing strip of thin Japanese tissue along the fold to strengthen it prior to sewing). The manuscript also has numerous notes and additions pasted in which needed reinforcement or reattaching. Once all the mending was complete, the volume was ready to be sewn and bound. In discussions with Special Collections curator Karen Cook, we considered different options for rebinding the book and settled on a conservation paper case binding, which would provide gentle support for the fragile text.
I sewed the volume with fine linen thread over three cords, adding new endpapers, and added sewn endbands of the same linen thread around rolled paper cores. After lining the spine with Japanese paper, Western laid paper, and linen, I attached a new case of medium-weight handmade paper. The case is attached only by the linen spine linings and by the sewing and endband supports which are laced through the case. The result has an appearance that is similar to and visually compatible with historic limp bindings. This structure has the added benefit of being easily removed if future caretakers of this volume wish to rebind it in a different fashion.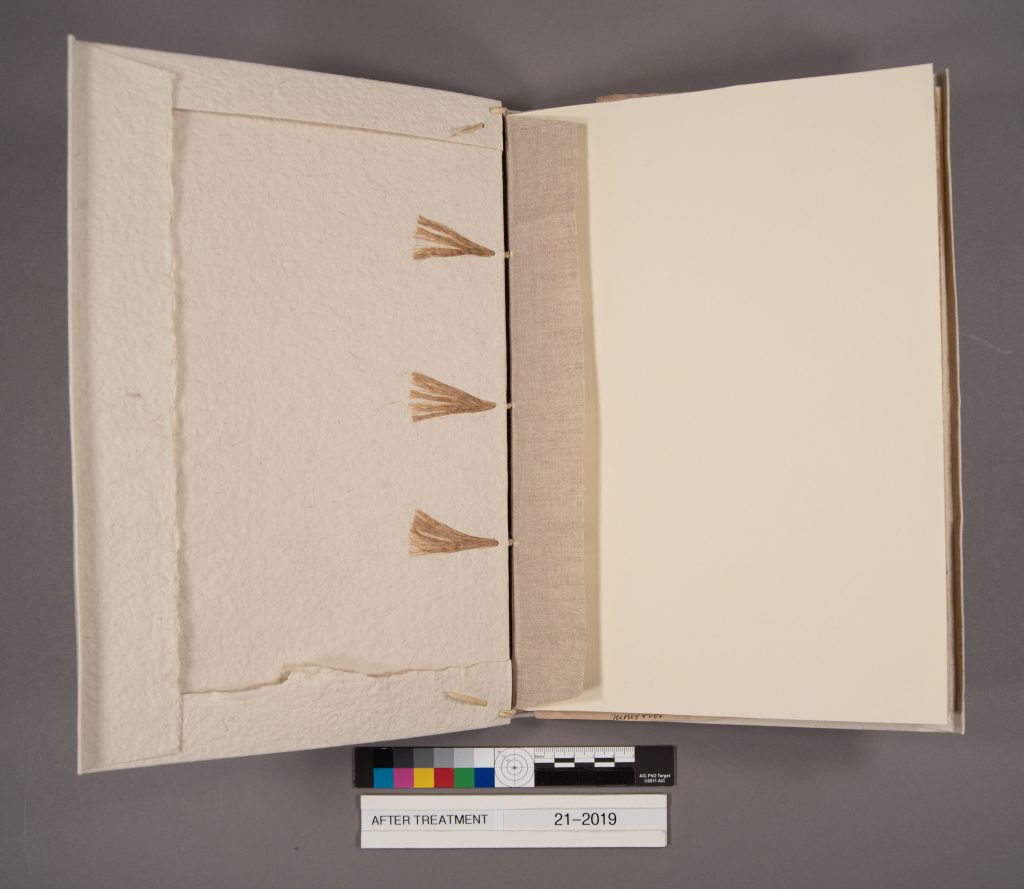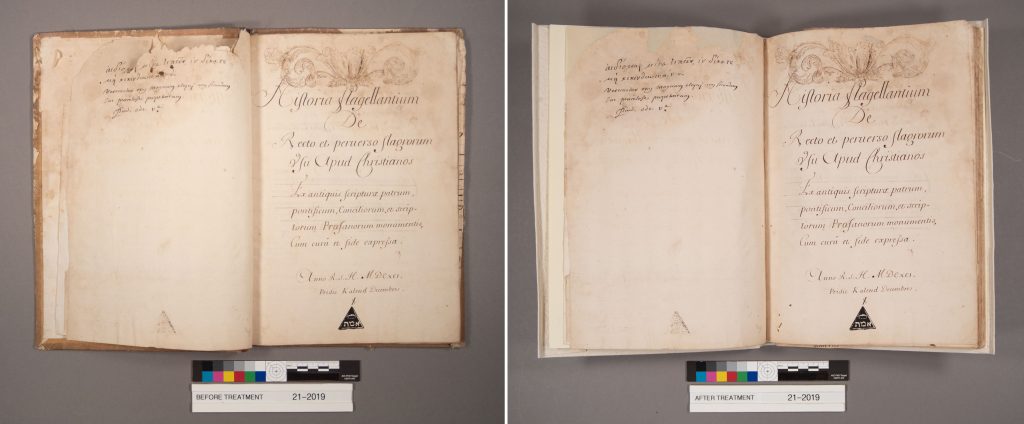 The newly-bound volume is housed in a clamshell box along with the old boards. While this manuscript is still fragile, the repairs and new binding will allow it to be consulted by researchers in the reading room, which was not possible in its prior condition. To view this manuscript or any of Spencer's collections, you may make an appointment to visit the reading room during our updated hours.