Manuscript Monday Quick Pics: John Beach's Selection of Airs and Marches
Today I want to share a quick before-and-after of a treatment I recently completed on MS E23, John Beach's Selection of Airs, Marches, etc., with Instructions for the Violin, German Flute, Clarionett, Hautboy, French Horn, Bass Viol, Bassoon, Piano Forte, & Guitar (whew!). A patron request brought this volume to a curator's attention, and the curator in turn sent it my way.
This book, a collection of manuscript musical pieces, had been lovingly assembled and clearly experienced significant use in its lifetime. The volume required stabilization in a number of areas in order to support use and handling. Its boards were both detached, its spine was missing, sewing threads were broken, and many of the gatherings, which had been made by adhering separate sheets together near the spine fold, were detached or damaged along that spine seam. In addition, there was a good deal of particulate matter (dirt) accumulated in the spine folds.
The treatment involved taking down the sewing, cleaning and mending the gatherings, and sewing it back up over new cords, which were pasted under the pastedowns to reattach the boards. I also added a replacement paper spine piece to protect the spine and give the book a more complete appearance. In its improved condition, this book can be safely used by researchers without the risk of further damage.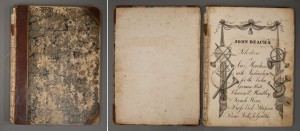 ME E23, before treatment. Click image to enlarge.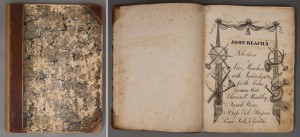 MS E23, after treatment. Click image to enlarge.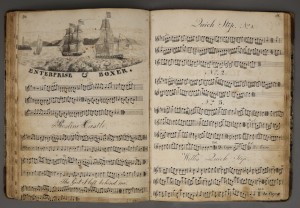 Hand-drawn illustration in MS E23, possibly copied from printed sheet music. Click image to enlarge.
Angela Andres
Special Collections Conservator
Conservation Services
Tags: Angela Andres, conservation treatment, John Beach, manuscript, music score