Throwback Thursday: Sorority Recruitment Edition
Each week we'll be posting a photograph from University Archives that shows a scene from KU's past. We've also scanned more than 6,000 images from KU's University Archives and made them available online; be sure to check them out!
It's Recruitment Week for KU's sororities and fraternities, so today's post features helpful and humorous information for freshmen girls deciding on which chapter to join. It's from the 1916 Jayhawker yearbook, which covered the 1915-1916 academic year.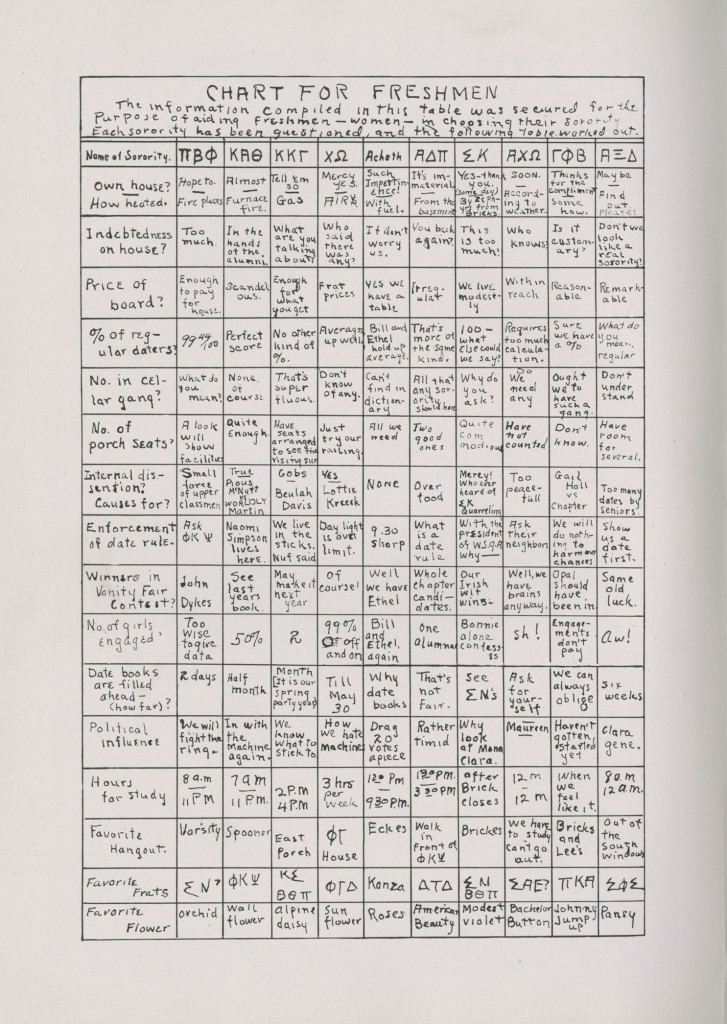 "Chart for Freshmen" in the Jayhawker, 1916. From left to right,
the sororities listed are Pi Beta Phi, Kappa Alpha Theta,
Kappa Kappa Gamma, Chi Omega, Achoth, Alpha Delta Pi,
Sigma Kappa, Alpha Chi Omega, Gamma Phi Beta,
and Alpha Xi Delta. University Archives.
Call Number: LD 2697 .J3 1916. Click image to enlarge.
Caitlin Donnelly
Head of Public Services
Melissa Kleinschmidt, Megan Sims, and Abbey Ulrich
Public Services Student Assistants
Tags: Abbey Ulrich, Caitlin Donnelly, Jayhawker, KU History, Megan Sims, Melissa Kleinschmidt, Sororities, Throwback Thursday, University Archives, University history, University of Kansas