Throwback Thursday: Snyder Book Collecting Contest Edition
Each week we'll be posting a photograph from University Archives that shows a scene from KU's past. We've also scanned more than 34,800 images from KU's University Archives and made them available online; be sure to check them out!
Bibliophiles rejoice! It's that time of year when KU students have the opportunity to translate their passion for collecting books into cold hard cash by entering the Snyder Book Collecting Contest.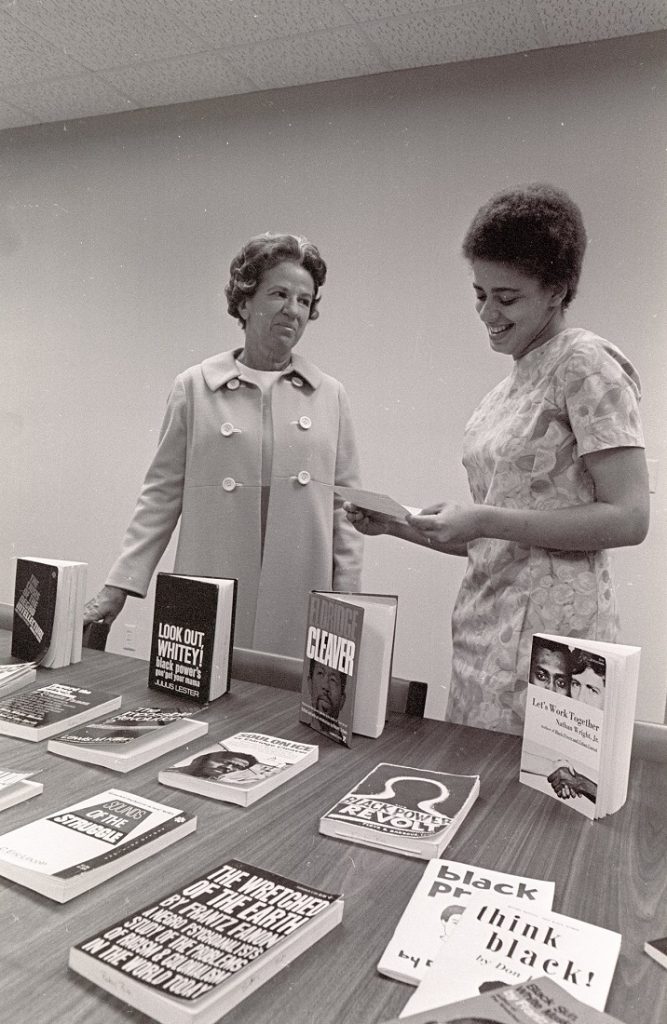 Elizabeth M. Snyder (left) and Betty Ann Bush (right)
examining Bush's winning collection, 1969.
University Archives Photos. Call Number: RG 32/40 1969 Negatives:
University of Kansas Libraries: Book Contests (Photos).
Click image to enlarge (redirect to Spencer's digital collections).
This week's photo looks back to the 1969 competition and features Betty Ann Bush (right) with her winning collection, "Writings from the Black Revolution." Also pictured is Elizabeth M. Snyder, who founded in the contest in 1957 to recognize and cultivate student interest in books and book collecting. At the time of the 1969 contest, first place garnered $100.
Earn your place in KU history by entering your collection in this year's competition! Winners of the 2018 (62nd Annual) Snyder Book Collecting Contest will be selected in both graduate and undergraduate divisions, with the following awards:
First Prize: $600
Second Prize: $400
Honorable Mention: $100
Each winner will also receive a gift card in the following amounts from contest co-sponsor Jayhawk Ink, a division of KU Bookstore:
First Prize: $100
Second Prize: $50
Honorable Mention: $25
The first place winners in each division are eligible for the National Collegiate Book Collecting Contest, which awards a top prize of $2,500.
Start scanning your shelves since entries to the Snyder Book Collecting Contest are due by 11:59pm on Sunday, February 25, 2018.
To learn more about the contest and how to enter, please visit the contest page on the KU Libraries website. There you will find the contest rules, a handy FAQ, as well as selected essays, bibliographies, and a sample collection to help you on your way.
Elspeth Healey
Special Collections Librarian
Tags: Betty Ann Bush, Book Collecting Contests, Elizabeth M. Snyder, Elspeth Healey, KU History, KU Libraries, photographs, Snyder Book Collecting Contest, Throwback Thursday, University Archives, University history, University of Kansas