World War I Letters of Forrest W. Bassett: February 12-18, 1918
In honor of the centennial of World War I, we're going to follow the experiences of one American soldier: nineteen-year-old Forrest W. Bassett, whose letters are held in Spencer's Kansas Collection. Each Monday we'll post a new entry, which will feature selected letters from Forrest to thirteen-year-old Ava Marie Shaw from that following week, one hundred years after he wrote them.
Forrest W. Bassett was born in Beloit, Wisconsin, on December 21, 1897 to Daniel F. and Ida V. Bassett. On July 20, 1917 he was sworn into military service at Jefferson Barracks near St. Louis, Missouri. Soon after, he was transferred to Fort Leavenworth, Kansas, for training as a radio operator in Company A of the U. S. Signal Corps' 6th Field Battalion.
Ava Marie Shaw was born in Chicago, Illinois, on October 12, 1903 to Robert and Esther Shaw. Both of Marie's parents – and her three older siblings – were born in Wisconsin. By 1910 the family was living in Woodstock, Illinois, northwest of Chicago. By 1917 they were in Beloit.
Frequently mentioned in the letters are Forrest's older half-sister Blanche Treadway (born 1883), who had married Arthur Poquette in 1904, and Marie's older sister Ethel (born 1896).
Highlights from this week's letters include Forrest's ride through a trench tunnel like an amusement park ride.
Tuesday, Feb. 12, 1918.
Dear Marie,
I am on a "light occupation" today, acting as Room Orderly at the Cantonment Y.M.C.A. The Company is on guard except a half a dozen, who are hauling coal, and others on special duty.
Yesterday, I passed the wigwag test with a perfect copy. I know I will have no trouble with the Radio or Acetylene lantern tests[.] Sunday afternoon, Sgt. Brown, Fritchie and Cp'l. Sundberg & I went out for some wigwag and semaphore practice. We got over a mile apart and used Sig. Cps. binoculars. After an hour of this, we looked over the Engineer's new trenches. (These are shown in the 5×7 pictures of the radio men in the field, that I sent Mother. One tunnel is boarded on sides, roof & floor and has a track on which they run a little car to carry out the dirt. The tunnel is about 150 feet long and goes down hill. Sunberg & I got the car at the top and rode down the full length of the tunnel. We had a flashlight so we could tell when we were nearing the sandbags at the end of the tracks. When we were coming back, Fritchie surprised me with the remark, "This reminds me of riding the "figure 8" at Harlem Park." I never had any idea he had ever been near Rockford. Do you remember riding the "dizzy dips" last summer. Gee, I wish we could have those good times again this year.
We have been having some great weather lately, and today is one perfect Spring day.
Most of us would give three months pay if we could have our horses back again.
We are spending nearly all of our time now with our technical work, radio and visual signaling. It sure is interesting. After the Battalion field maneuvers, of which I told you, Captain Murphy complimented the performance of Co. "A-6." And, this morning Lt. Butler told us we were the best trained Radio Company in the Army. Class to us, huh. We are going to lose him as he has been promoted. Believe me, we are all sorry to see him go too.
I haven't heard from Stock yet but I suppose he is very busy getting down to business at Urbana.
With love,
Forrest.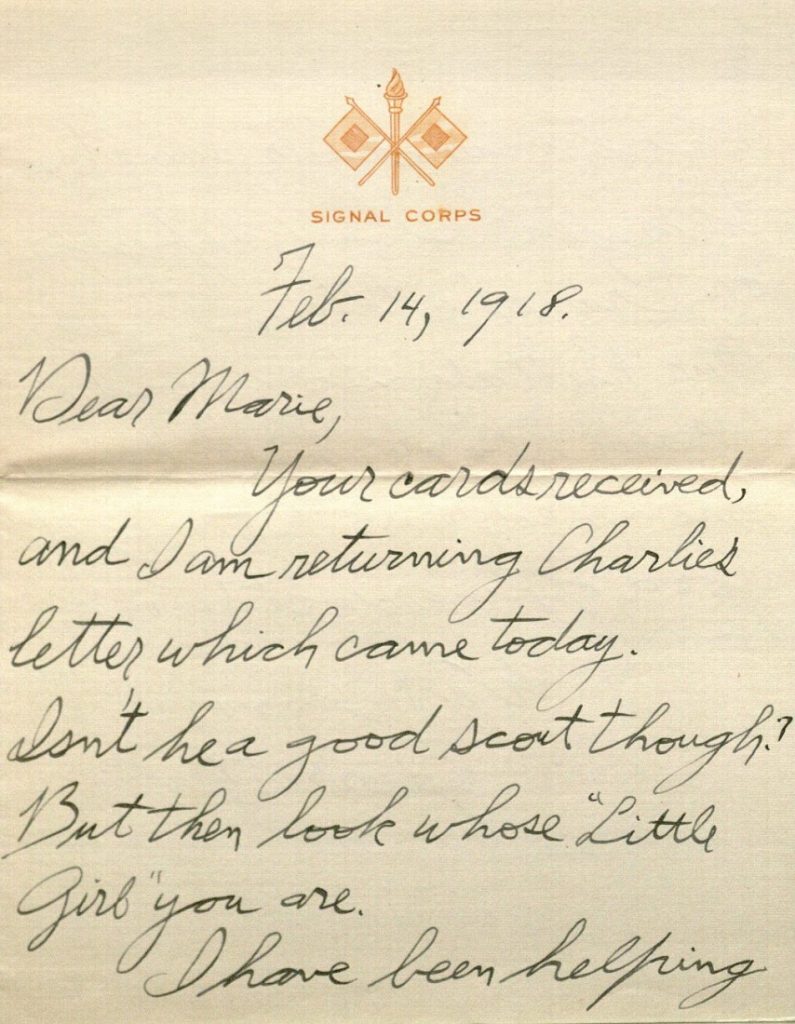 Click images to enlarge.
Feb. 14, 1918.
Dear Marie,
Your cards received, and I am returning Charlie's letter which came today. Isn't he a good scout though? But then look whose "Little Girl" you are.
I have been helping the Company Clerk and Supply Sergeant check up ordnance and clothing equipment yesterday and today: You have no idea of the enormous amount of "junk" it takes to outfit a Signal Company.
Everything is being straightened out ready for a "French Leave," which may occur sometime this year. (?) It all depends on transportation.
Our Battalion Commander, Major Moore, has been promoted; another mighty good officer lost to us.
With love,
Forrest.
Meredith Huff
Public Services
Emma Piazza
Public Services Student Assistant
Tags: Ava Marie Shaw, correspondence, Emma Piazza, Forrest W. Bassett, Fort Leavenworth, Kansas Collection, Meredith Huff, World War I