Throwback Thursday: Game Time Edition
Each week we'll be posting a photograph from University Archives that shows a scene from KU's past. We've also scanned more than 6,000 images from KU's University Archives and made them available online; be sure to check them out!
We're excited that Jayhawk football returns this Saturday, so this week we're sharing a really fun and early view of Memorial Stadium. This photograph was taken during the annual Thanksgiving football game against the University of Missouri on November 24, 1921. KU won, 15-9, in front of 15,480 fans.
This was the second game ever played at the (still incomplete) stadium; note the construction materials piled up on the left side of the photo. Construction had begun on July 16, 1921. Only the east and west sides were initially built; due to financial constraints, rounding off the U was not possible until 1927.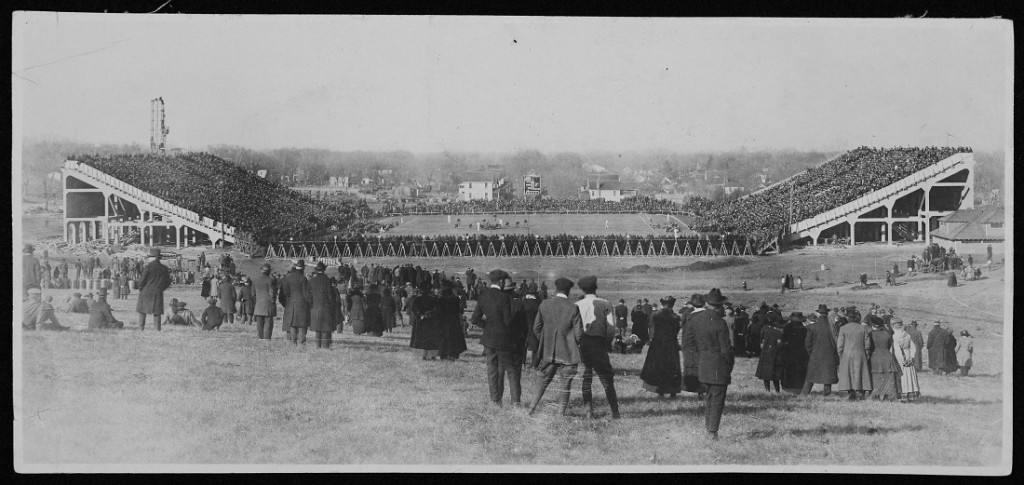 View of Memorial Stadium, 1921. University Archives Photos.
Call Number: RG 66/14 1921: Athletic Department: Football (Photos).
Click on image to enlarge (redirect to Spencer's digital collections).
Caitlin Donnelly
Head of Public Services
Melissa Kleinschmidt, Megan Sims, and Abbey Ulrich
Public Services Student Assistants
Tags: Abbey Ulrich, Caitlin Donnelly, KU Football, KU History, Megan Sims, Melissa Kleinschmidt, Memorial Stadium, photographs, Throwback Thursday, University Archives, University history, University of Kansas