Throwback Thursday: Game Day Travel Edition
Each week we'll be posting a photograph from University Archives that shows a scene from KU's past. We've also scanned more than 10,100 images from KU's University Archives and made them available online; be sure to check them out!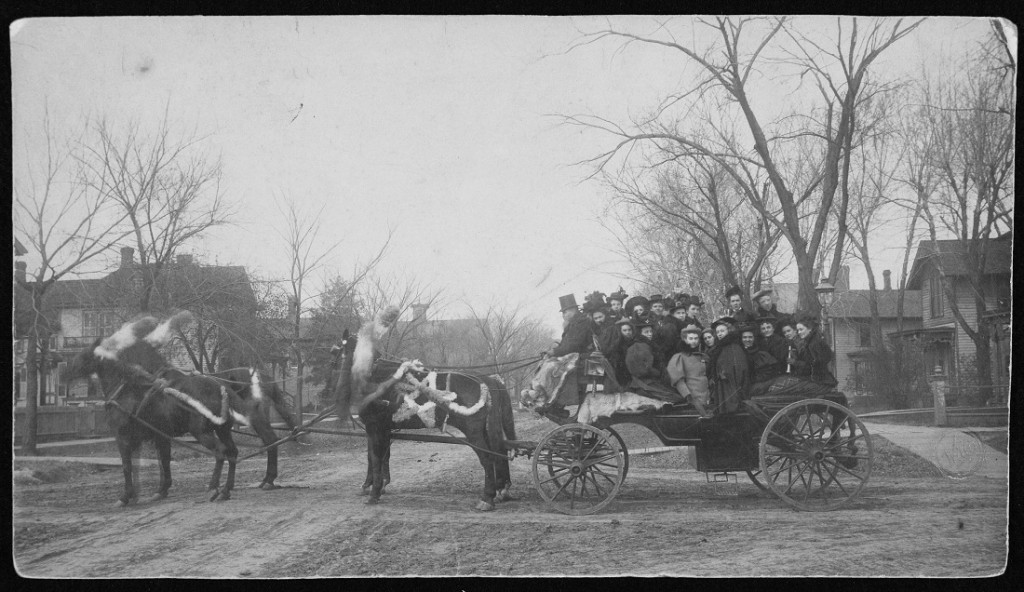 KU fans taking a carriage to a football game, 1895. University Archives Photos.
Call Number: RG 71/66/14 1895: Student Activities: Sports: Football (Photos).
Click image to enlarge (redirect to Spencer's digital collections).
The caption on the back of the photograph states that it shows members of "Kappa Alpha Theta going to a football game in the 'Jim Donnelley Talley Ho'. black and gold trimmings on the horse."
James Donnelly (1842-1918) was born in Ireland and arrived in Lawrence with his siblings in 1857. A 1909 article in the Lawrence Daily Journal described him as a "fixture in this town [who] has always been one of our best citizens." James, partnered with his brother Neill, managed a livery stable – where horses and vehicles are cared for or rented out for pay – under the name Donnelly Brothers. The 1909 article, which reported the sale of the business due to James's poor health, stated that the "livery stable has a reputation all over the state. It has always been a favorite with the students. The firm always kept high grade rigs and accommodated the public." The livery stable was located on New Hampshire Street at Winthrop (now 7th Street).
Caitlin Donnelly (no known relation to James)
Head of Public Services
Melissa Kleinschmidt, Megan Sims, and Abbey Ulrich
Public Services Student Assistants
Tags: Abbey Ulrich, Caitlin Donnelly, James Donnelly, KU Football, KU History, Lawrence KS, Megan Sims, Melissa Kleinschmidt, photographs, Throwback Thursday, University Archives, University history, University of Kansas