Throwback Thursday: First Jayhawk Edition
Each week we'll be posting a photograph from University Archives that shows a scene from KU's past. We've also scanned more than 34,800 images from KU's University Archives and made them available online; be sure to check them out!
This week's image is the first Jayhawk drawing to appear in print.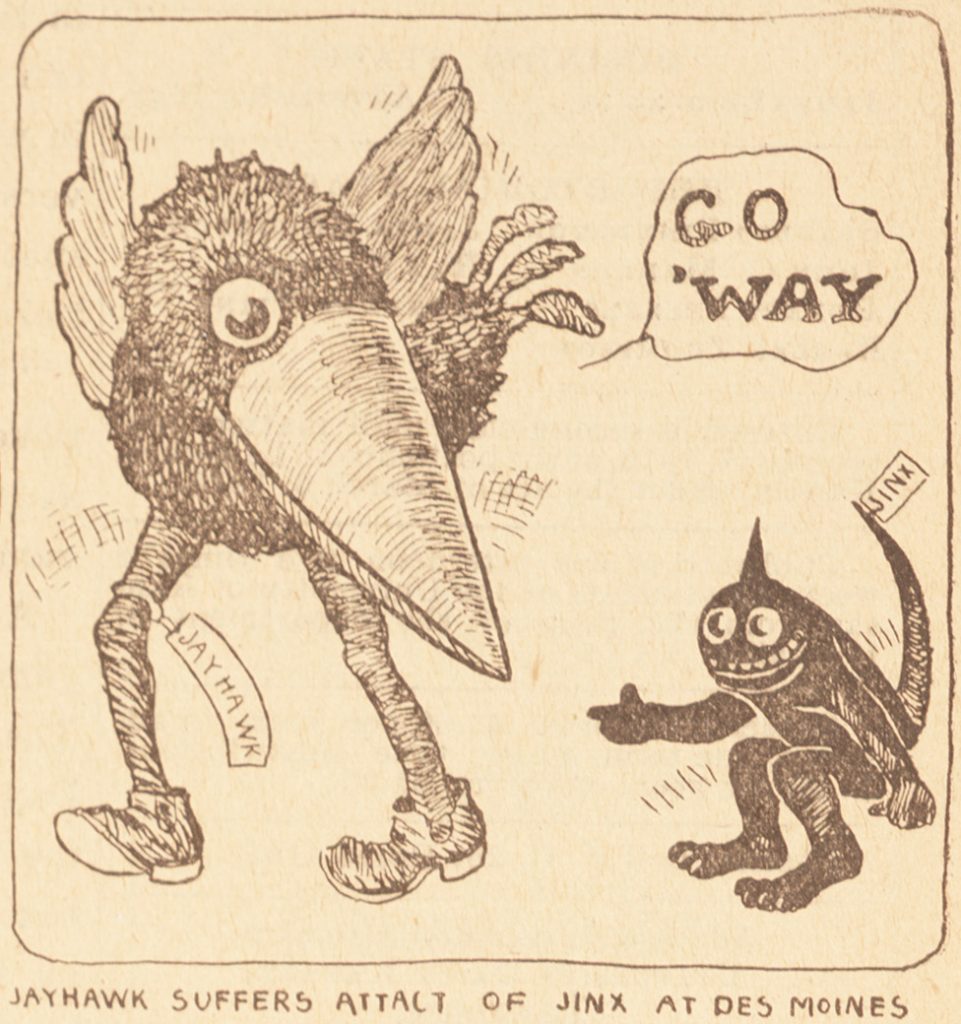 The Spencer Research Library exhibit "100 Years of the Jayhawk" notes that
KU student Daniel Henry "Hank" Maloy drew what became the first "signature" Jayhawk. In recollections of his college years, Maloy remembered that he first had the idea of drawing the Jayhawk as a bird in October of 1912 when he saw a stuffed chickenhawk in the Squires photography studio [in downtown Lawrence]. He went home and drew a long-legged Jayhawk with big, heavy shoes so that he "could administer more effective justice" towards athletic opponents.
The term Jayhawker has been associated with Kansas since the pre-Civil War era and eventually became the symbol for the University of Kansas. In 1886, the term Jayhawk was incorporated into [KU's] world-famous college yell "Rock Chalk Jayhawk KU," although it was not yet portrayed as a bird. In a pre-Maloy drawing in the 1908 Jayhawker yearbook, a rather prehistoric looking bird is perched on a goalpost heckled a miserable looking Missouri Tiger.
Caitlin Donnelly
Head of Public Services
Tags: Caitlin Donnelly, Daniel Henry "Hank" Maloy, Drake University, Jayhawk, KU Football, KU History, Throwback Thursday, University Archives, University Daily Kansan, University history, University of Kansas