Lucy McLinden: KU Student Nurse During the 1918 Flu Pandemic
In the fall of 1918, the University of Kansas was swept up in the flu pandemic that was raging across the country and world. Out of a student population of approximately 3,000, it is estimated that there were as many as 1,000 cases of flu on campus, with up to 750 of those being ill at the same time. In addition to the main campus hospital, make-shift infirmaries were set up on campus to handle the vast number of servicemen and students who were getting sick. Doctors, nurses and volunteers worked tirelessly to care for them. One of the volunteers was Lucy McLinden. From my research, I estimate that thirty-two deaths actually occurred on campus, all of those male except for one, that being Lucy.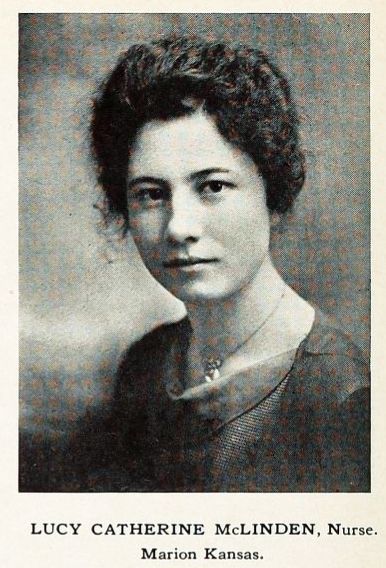 Lucy was born on July 6, 1897, and lived in Cedar Point, Kansas. In the fall of 1918, she was a sophomore at KU. She was working her way through school as a librarian in the Physiology Library. When volunteers were needed, she was among the first to sign up. She worked in the Student Army Training Corps (S.A.T.C.) hospital almost as soon as the epidemic started. She continued to nurse the sick even after she began to develop flu symptoms herself. When she finally succumbed to the illness, her mother and father came to care for her. Sadly, Lucy developed pneumonia and died on Saturday, November 9, 1918. She was twenty-one years old.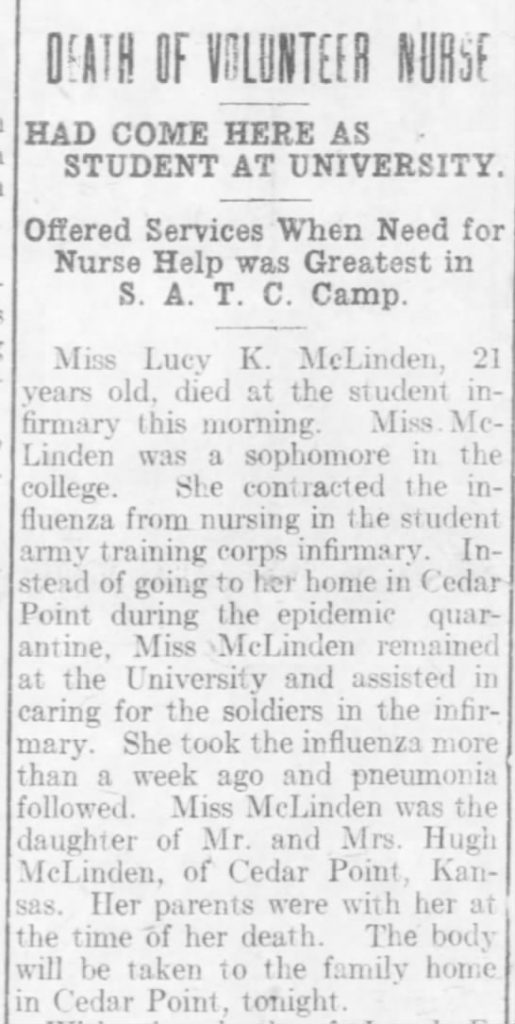 Want to learn more about this topic? Explore our online exhibition, "The 1918 Influenza Epidemic at KU."
Kathy Lafferty
Public Services
Tags: Influenza epidemic, Kansas Collection, Kathy Lafferty, KU History, Lucy McLinden, University Archives, University history, University of Kansas