November 12th, 2020
Each week we'll be posting a photograph from University Archives that shows a scene from KU's past. We've also scanned more than 34,800 images from KU's University Archives and made them available online; be sure to check them out!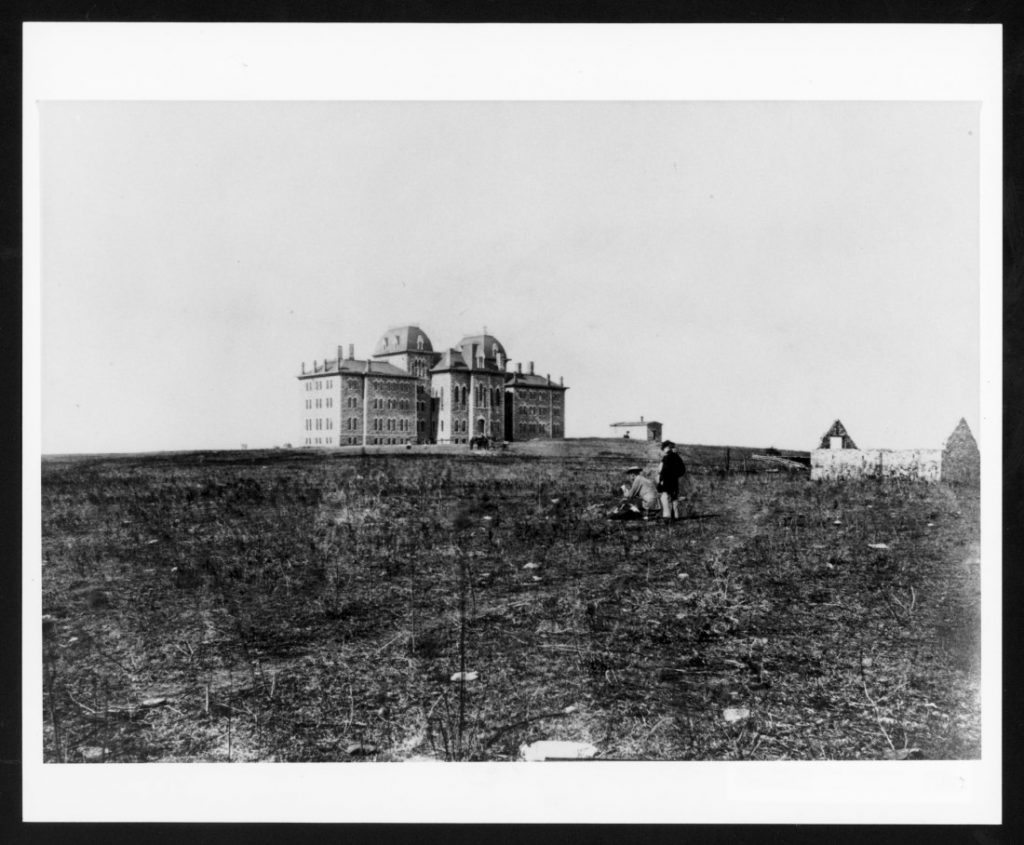 Opened in 1872, the "New Building" was KU's second building. According to an article on the KU History website, "when John Fraser, KU's second chancellor, took office in 1868, he found the school's 122 students crammed into a single, 11-room building [North College] with no central heating, although each room did have its own stove." North College does not appear to be visible in the above photo.
By comparison, the majestic "New Building" boasted the most modern of nineteenth-century amenities:
The entire structure, noted the Fort Scott Daily Monitor on June 6, 1872, "will be heated with steam and lighted with gas, and every room will be supplied with water." And although electric lights did not appear at KU until 1888, the building featured electrically powered clocks in each room. In addition, mechanically inclined students would also be able to work with steam-driven engines, lathes and other machinery. Being 300 feet long, 100 feet wide, and rising four stories, it was spacious enough to house the entire University: departmental and administrative offices, laboratories, classrooms, the library, a student reading room, even a large, second-floor auditorium.
"New Building" became officially known as University Hall in 1879. KU changed the name of the building to Fraser Hall in 1897 to honor John Fraser, the building's champion. "Old" Fraser Hall was razed in August 1965 to make way for the "New" Fraser Hall that stands on Mount Oread today.
Caitlin Donnelly
Head of Public Services