December 8th, 2016
Each week we'll be posting a photograph from University Archives that shows a scene from KU's past. We've also scanned more than 32,900 images from KU's University Archives and made them available online; be sure to check them out!
We were excited about yesterday's snow – the first of the year – even though it wasn't enough for the type of fun shown in this week's photograph.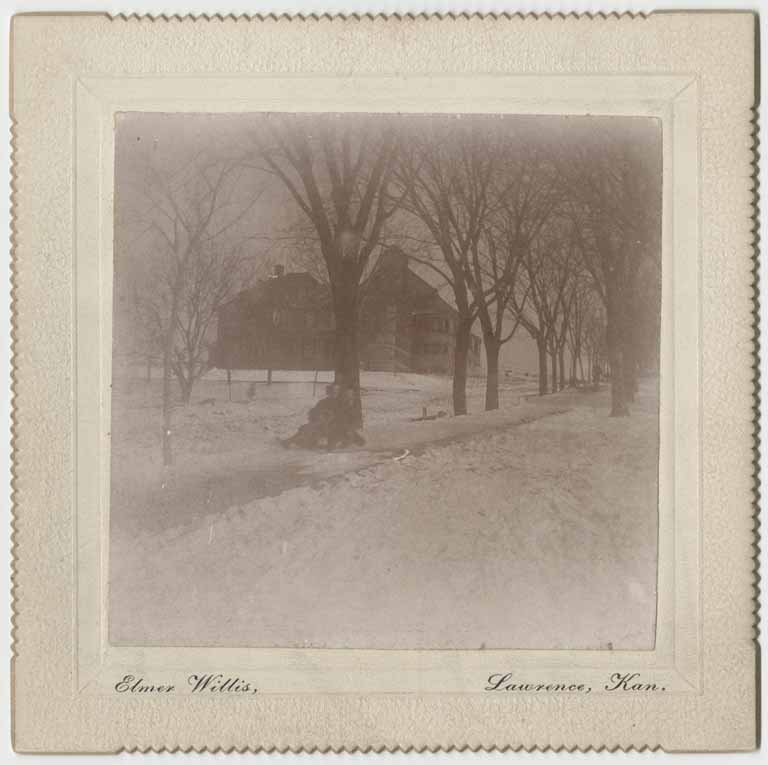 Sledding on campus, 1900s. University Archives Photos.
Call Number: RG 0/24/1 Snow 1900s Prints: Campus: Areas and Objects (Photos).
Click image to enlarge (redirect to Spencer's digital collections).
In the background of the photograph are the old chancellor's residence (left) – located at 1345 Louisiana, where Douthart Scholarship Hall now stands – and Spooner Hall, then the campus library (right).
Notation on the back of the photograph indicates that one of the children on the sled is Evelyn Strong, the daughter of Chancellor Frank Strong and his wife Mary. Evelyn was born around 1896 and graduated from KU in 1917. With her is Elfriede Fischer (1896-1992), who was also a 1917 KU graduate; she donated the photo to Spencer Research Library.
Caitlin Donnelly
Head of Public Services
Melissa Kleinschmidt and Abbey Ulrich
Public Services Student Assistants