World War I Letters of Milo H. Main: July 23-29, 1918
In honor of the centennial of World War I, this is the second series in which we follow the experiences of one American soldier: twenty-five year old Milo H. Main, whose letters are held in Spencer's Kansas Collection. On Mondays we'll post a new entry featuring selected letters from Milo to his family from that following week, one hundred years after he wrote them.
Milo Hugh Main was born in or near Pittsfield, Illinois, on November 21, 1892 to William and Rose Ella Henry Main. The family moved to Argonia, Sumner County, Kansas, in 1901. After his mother died in 1906, Milo remained in Argonia with his father and his two sisters Gladys (b. 1890) and June (b. 1899). His youngest sister Fern (b. 1905) was sent to live with relatives in Illinois.
As Milo reported to the Kansas State Historical Society in 1919, after graduating from high school he worked as a store clerk. He resigned in July 1917 and took a position at Standard Oil Company, possibly co-managing a gas station in Argonia.
Milo entered into military service on September 21, 1917. He served as a wagoner – a person who drives a wagon or transports goods by wagon – in Battery F, 130th Field Artillery. He was stationed at Camp Funston (September-October 1917) and Camp Doniphan (October 1917-May 1918). On May 19, 1918, he boarded the ship Ceramic in New York City and departed for Europe.

This week's letters reference exchanges of items, Milo sending "two souvenirs of this foreign land" ("a handkerchief for each of you girls") and thanking his family for toothpicks ("I gave the French lad one just now. He says they are only used by the big gentlemen or the rich class").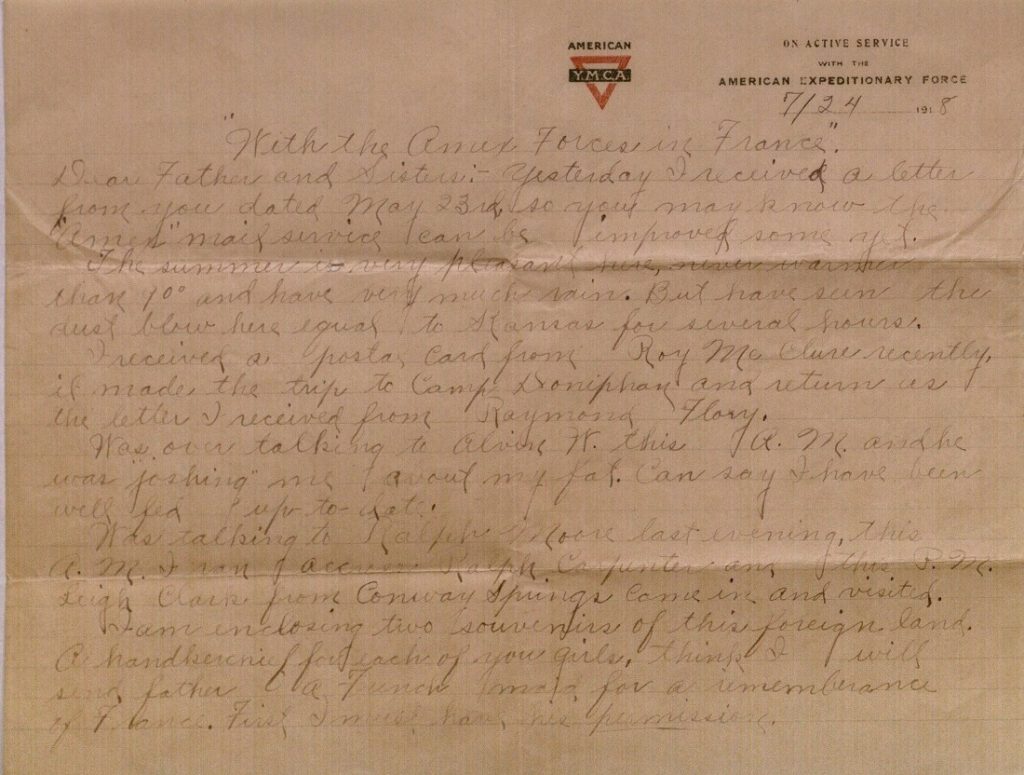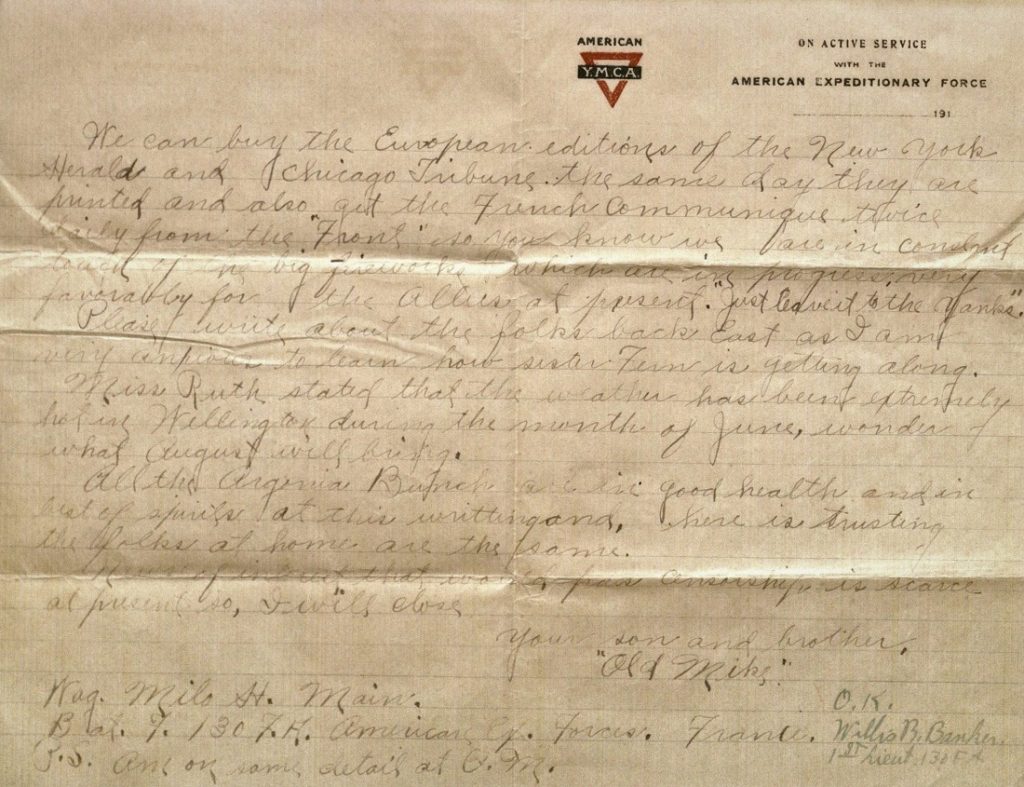 7/24/1918
"With the Amex Forces [American Expeditionary Forces] in France."
Dear Father and Sisters:- Yesterday I received a letter from you dated May 23rd, so you may know the "Amex" mail service can be improved some yet.
The summer is very pleasant here, never warmer than 90° and have very much rain. But have seen the dust blow here equal to Kansas for several hours.
I received a postal card from Roy McClure (1) recently, it made the trip to Camp Doniphan and return as the letter I received from Raymond Flory. (2)
Was over talking to Alvin W. (3) this A.M. and he was "joshing" me about my fat. Can say I have been well fed up to-date.
Was talking to Ralph Moore (4) last evening, this A.M. I ran across Ralph Carpenter (5) and this P.M. Leigh Clark (6) from Conway Springs came in and visited.
I am enclosing two souvenirs of this foreign land. A handkerchief for each of you girls, think I will send father a French maid for a remembrance of France. First, I must have his permission.
We can buy the European editions of the New York Herald and Chicago Tribune the same day they are printed and also get the French Communique twice daily from the "Front" so you know we are in constant touch of the big fireworks which are in progress, very favorably for the Allies at present. "Just leave it to the Yanks."
Please write about the folks back East as I am very anxious to learn how sister Fern [living with relatives in Illinois] is getting along.
Miss Ruth stated that the weather has been extremely hot in Wellington during the month of June, wonder what August will bring.
All the Argonia Bunch are in good health and in best of spirits at this writting and, here is trusting the folks at home are the same.
News of interest that would pass censorship is scarce at present so, I will close
Your son and brother,
"Old Mike"
Wag. Milo H. Main.
Bat. F. 130 F.A. American Ex. Forces. France.
P.S. Am on same detail at O.M.
O.K.
Willis R. Banker. [censor]
1st Lieut. 130 F.A.
(1) According to his obituary, Charles Leroy McClure was born in Sumner County on September 1, 1892. His mother died when he was two years old. He enlisted in the Army on July 6, 1917, and served in Co. D, 7th Engineers, first at Fort Leavenworth and then abroad.
(2) Possibly Alvin Lee Warlow, a farmer in Argonia. According to his World War I draft registration card, he was born in Caldwell, Kansas, on December 8, 1893. Warlow also served in Battery F, 130th Field Artillery.
(3) Milo mentioned Ray Flory in his June 2nd letter. Biographical information about him can be found in that blog post.
(4) Ralph A. Moore was born in Harper County, Kansas, on March 15, 1897. He sailed on the Ceramic with Milo and served with the Headquarters Detachment of the 60th Field Artillery Brigade.
(5) According to his World War I draft registration card, Ralph Virgil Carpenter was born in Sumner County, Kansas, on October 1, 1888. Records suggest his parents divorced before 1900. Carpenter was married and working as a farmer when war broke out, and he served in Battery D, 130th Field Artillery.
(6) According to his World War I draft registration card, Edward Leigh Clark was born in Conway Springs, Kansas, on August 24, 1890. Clark was married and working as a farmer when war broke out, and he served in Battery D, 130th Field Artillery.
July 26th, 1918.
"With the Amex Forces Somewhere in France."
Dear Father and Sisters:-
We are having more rain again to-nite. Being so near coast either by south or west is partly due to so much rainfall.
It sure does not seem possible for the third largest vessel in the world being sunk by a torpedo. We were in N.Y. harbor docked near it just before our departure and I thought it the most beautiful vessel I had seen and when we got in the rough sea some 300 miles from Greenland this big transport could be seen sailing as smoothly as a river steamboat. It was not far from where it was sunk where we had our battle with a sub, coming over. (1)
Chris gave me an Argosy [Argonia newspaper] dated 7/6 yesterday. I have failed to receive any editions from Scottie yet, but possibly will later.
For pastime yesterday afternoon eight of we boys around the kitchen overpowered a French lad of 16 and mowed his first crop of whiskers. He shed many tears when we cut his mustache off, for a French man takes more pride in growing a little black mustache than a Kansas Farmer would in raising 90 acres of corn.
This improved his appearance so much we then decided to give him a hair cut but, we had no clippers or shears. I got out my Red Cross scissors and the first cook tried his hand. Well, we go off quite a quantity of hair, but it resembled a flight of stairs more than anything else. Altho after we gave him a shampoo and powdered him up he looked much more like an American.
July 30th. Tues. 3 P.M.
Finishing a letter four days from the time I started it shows you how energetic I am. Could write every-day as far as having time would concern it. But, don't think we are not more than anxious to receive a letter from home.
To-day I received four letters from you dated July 8th, 9th, 12th and the 13th. Also one from Ruth sent on the 11th. You would be very much surprised to see the expression on the boys' faces whom receive no mail on mail day. I want to thank you for writing so regularly to me. Don't think F.A. Smiths are doing George right, it is no fault of his, it all lies with the Amex mail service.
Yes, I remember Mrs. Gulick. Ruth wrote about meeting Mrs. Colin at the store. Ruth said she spoke well of me.
No extreme heat in this part of France. Very pleasant all the time. In fact I am bleached out like never before. Very little do I get out in the sun at any time. We don't wear our broad brimmed champaine hat now, just the little skill caps with out a bill.
Arthur Knox (2) and I were down the road Monday eve taking in the sights as we passed by the many wine and beer shops. Chinese and Algerian labors were to be seen along the road in big numbers.
Think I wrote you about serving fried chicken, lobster salad and champagne with many side dishes on the Fourth. Big field meet and boxing contest being held near by. I have not drank any French liquors either since that day. Champagne being my choice after giving them all a fair test.
Alvin's [Alvin Warlow? – see above] estimate on the women and wine shops was not exaggerated at all. I would put it about four saloons to the block and as many French women as you wanted. Some of these French women are beautiful, while the pheasant class taken as whole have big feet and ankles caused by wearing wooden shoes. But the more one learns about the French maids the less you care about them. They are not to be compared with the girls in the good old U.S.A.
In the States we called our money "Bill," but "over here" it is "Franc" and "Sou." I have had no difficulty in getting American money exchanged. The "franc" is the unit of French money. its present value is 5.7 francs to the U.S. dollar. It seemed rather strange to hear the people speaking about the value of horse as 1500 francs. At present there is very much paper franc notes in circulation same as "scrip" in the U.S.
Thanks for the toothpicks. I gave the French lad one just now. He says they are only used by the big gentlemen or the rich class.
As to being homesick, never take time for that. Am making this a vacation trip. My hardest battle was at Camp Doniphan.
I have never written [sister] Fern yet, but have a handkerchief to send her so may write to her soon.
I received a second letter from Raymond Flory a few days ago. He is in England yet. Says he takes a wild ride in planes occasionally. And is working on them daily.
What do you think of the Yanks' fighting spirit now? They all are anxious to get it over and believe me they have the Boches on the run now.
The effect upon the French caused by the presence of American troops here will be great. They are learning and progressing fast, but they cannot keep up the pace that Yanks are taking.
All the Argonia bunch are in good health and we wish the folks at home the best of health and prosperity.
Sorry to hear of Chas. Fisher's (3) death.
Will close for to- day.
I am
Your son and brother,
Milo H. Main
Bat. F. 130 F.A.
Amex Forces.
France.
(1) It's unclear which ship Milo is referring to, as several were torpedoed in July 1918.
(2) Milo mentioned Arthur Knox in his July 7th letter. Biographical information about his can be found in that blog post.
(3) From the Argonia Argosy newspaper, July 11th: "Charles B. Fisher has been in a very serious condition for several weeks, died at his home in Argonia, Sunday evening, July 7, 1918, at the age of 68 years, four months and 22 days. Mr. Fisher has lived in this vicinity for several years and is well known by a large number of his friends. He has been confined to his home for the past three months, and his death was not unexpected, although it was a great shock to his many relatives and friends."
Meredith Huff
Public Services
Emma Piazza
Public Services Student Assistant
Tags: correspondence, Emma Piazza, Kansas Collection, Meredith Huff, Milo H. Main, World War I