World War I Letters of Milo H. Main: July 2-8, 1918
In honor of the centennial of World War I, this is the second series in which we follow the experiences of one American soldier: twenty-five year old Milo H. Main, whose letters are held in Spencer's Kansas Collection. On Mondays we'll post a new entry featuring selected letters from Milo to his family from that following week, one hundred years after he wrote them.
Milo Hugh Main was born in or near Pittsfield, Illinois, on November 21, 1892 to William and Rose Ella Henry Main. The family moved to Argonia, Sumner County, Kansas, in 1901. After his mother died in 1906, Milo remained in Argonia with his father and his two sisters Gladys (b. 1890) and June (b. 1899). His youngest sister Fern (b. 1905) was sent to live with relatives in Illinois.
As Milo reported to the Kansas State Historical Society in 1919, after graduating from high school he worked as a store clerk. He resigned in July 1917 and took a position at Standard Oil Company, possibly co-managing a gas station in Argonia.
Milo entered into military service on September 21, 1917. He served as a wagoner – a person who drives a wagon or transports goods by wagon – in Battery F, 130th Field Artillery. He was stationed at Camp Funston (September-October 1917) and Camp Doniphan (October 1917-May 1918). On May 19, 1918, he boarded the ship Ceramic in New York City and departed for Europe.

In this week's letter, Milo describes French women and expresses his desire to visit Spain before leaving Europe and returning home to Kansas.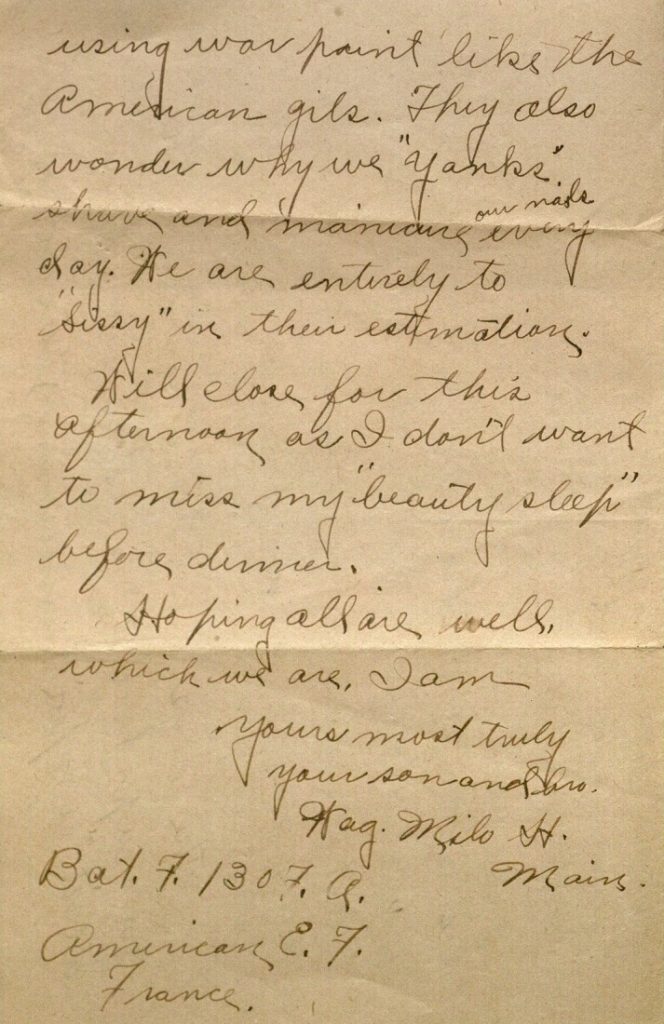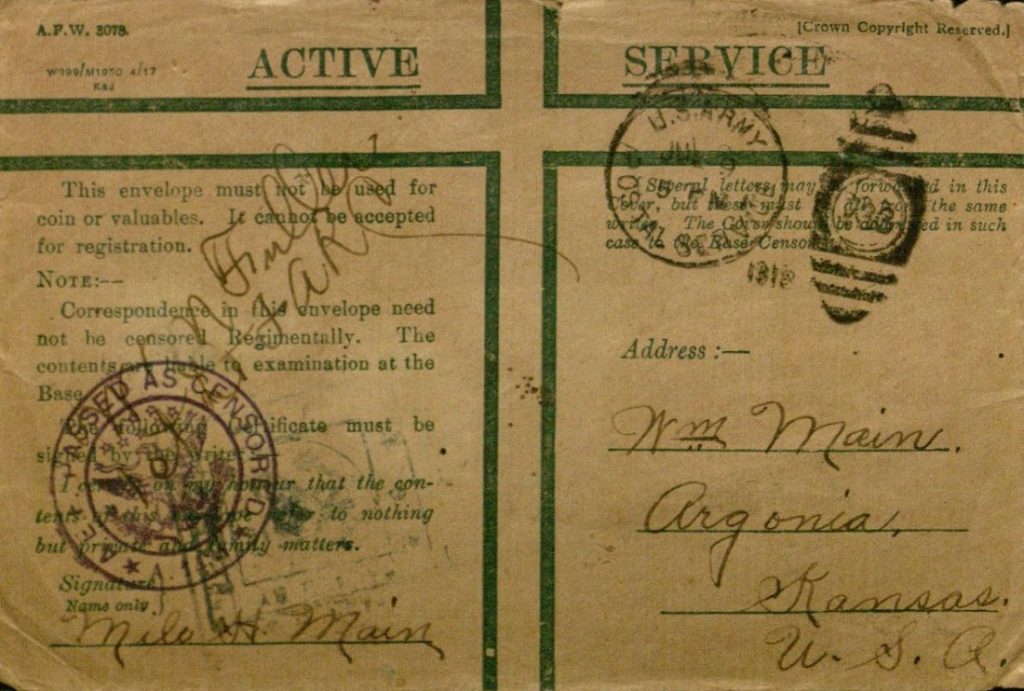 July 7th 1918
Dear Father and Sisters:-
This is a beautiful Sunday afternoon, warm enough for a June day in the States.
We served lunch at 1:P.M. to-day and nothing more doing until 6:30 dinner. After dinner I am going to ride a bicycle down to see Warlow and the bunch. The distance being about 5 kilometers from here.
Sure have the best of roads here, but their course is a winding one, no section cross roads; but find signs at every turn.
Fishing and bicycling are the sports of the season here. But the bunch from Camp Doniphan take more to "promenading" or walking with the many fair mademoiselles. We being the first American Soldiers in this section of France, we seem very attractive to them.
Well, the Allies are romping on the Dutch [Germans] now and the dope [inside information] is, "we will be back in the States within 6 months." But I hope to have the pleasure of visiting Spain before my return. It is not every year that we have the opportunity to see these foreign lands and I want to go around the "globe" and take them all in if possible.
We had Regimental Sunday School just across the street this A.M. Arthur Knox and Bugler Hess* from South Haven [Sumner County, Kansas] were over. Most all natives are Catholics that I have seen and the church bells ring almost constantly.
The boys have been powdering the girls up here this afternoon. They don't "compra" (understand) the art of using war paint [makeup] like the American girls. They also wonder why we "Yanks" shave and manicure our nails every day. We are entirely to "Sissy" in their estimation.
Will close for this afternoon as I don't want to miss my "beauty sleep" before dinner.
Hoping all are well, which we are. I am
yours most truly
your son and bro.
Wag. Milo H. Main
Bat. F. 130 F. A.
American E. F.
France.
*These two soldiers appear to have been Milo's neighbors. According to his World War I draft registration card, Arthur Miller Knox was born in Nardin, Oklahoma, on September 19, 1895. Bugler Hess was likely Claude Homer Hess. According to his World War I draft registration card, he was born in Mannington, West Virginia, on October 3, 1895. In 1917, Knox and Hess were farming in Sumner County, Kansas.
Meredith Huff
Public Services
Emma Piazza
Public Services Student Assistant
Tags: correspondence, Emma Piazza, Kansas Collection, Meredith Huff, Milo H. Main, World War I