Throwback Thursday: Winter Solstice Edition
Each week we'll be posting a photograph from University Archives that shows a scene from KU's past. We've also scanned more than 15,100 images from KU's University Archives and made them available online; be sure to check them out!
There's no snow on Mount Oread yet, but this snowy picture seems fitting for the Winter Solstice next Tuesday; it's the shortest day and longest night of the year and the first day of winter. Here's hoping for a snow day in the new year!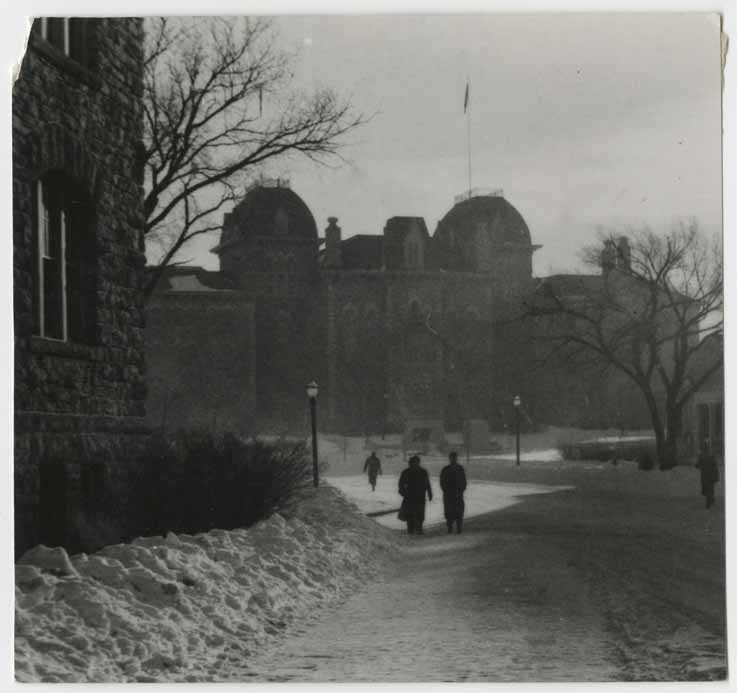 Snow-covered Jayhawk Boulevard looking towards Old Fraser Hall,
located approximately where modern Fraser Hall stands, 1939/1940.
The building on the left is the corner of Bailey Hall. The pair of signs visible just above
the walkers' heads is located in front of Watson Library.
University Archives Photos. Call Number: RG 0/24/1 Snow 1939/40 Prints: Campus:
Areas and Objects (Photos). Click image to enlarge (redirect to Spencer's digital collections).
Caitlin Donnelly
Head of Public Services
Melissa Kleinschmidt, Megan Sims, and Abbey Ulrich
Public Services Student Assistants
Tags: Abbey Ulrich, Bailey Hall, Caitlin Donnelly, Fraser Hall (Old), Jayhawk Boulevard, KU History, Megan Sims, Melissa Kleinschmidt, photographs, Snow, Throwback Thursday, University Archives, University history, University of Kansas