Throwback Thursday: Wilt Chamberlain Edition
Each week we'll be posting a photograph from University Archives that shows a scene from KU's past. We've also scanned more than 33,500 images from KU's University Archives and made them available online; be sure to check them out!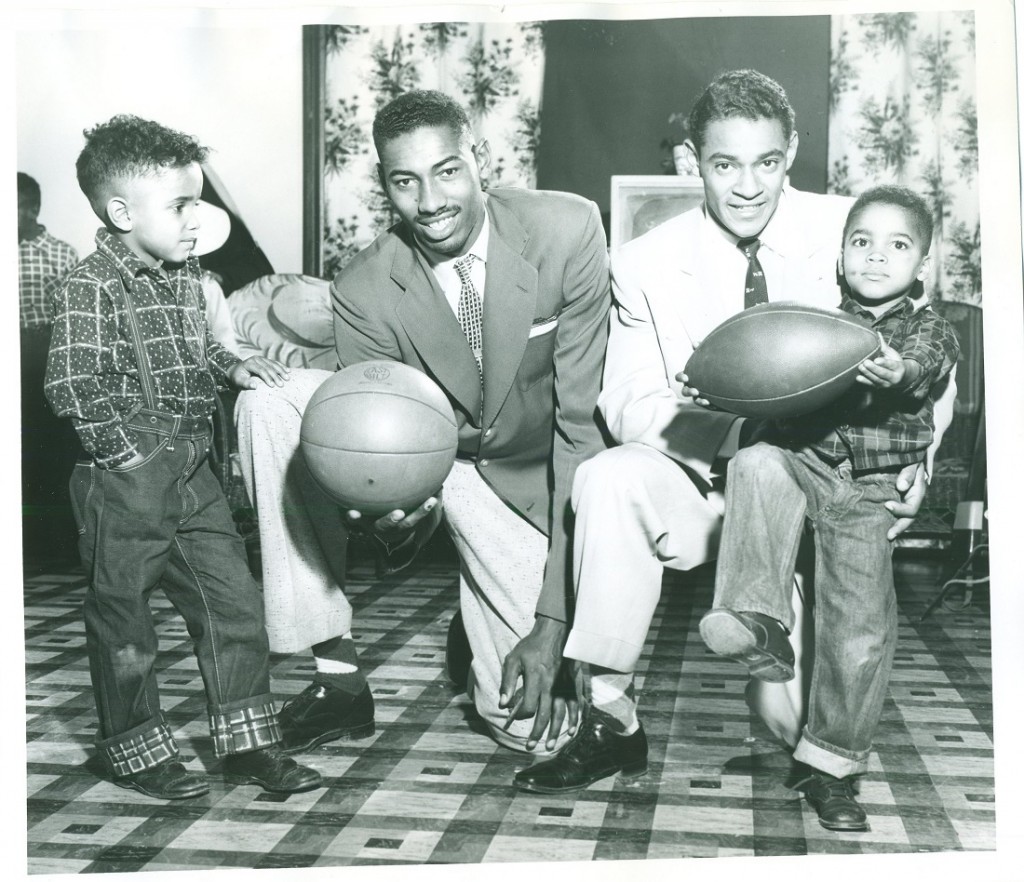 KU athletes Wilt Chamberlain and John Traylor, December 1955.
Lawrence Journal-World Photo Collection, University Archives Photos.
Call Number: RG LJW 66/13 Chamberlain, Wilt: Athletic Department: Basketball:
Players (Photos). Click image to enlarge (redirect to Spencer's digital collections).
This photograph appeared in the Lawrence Journal-World on Monday, December 19, 1955. The caption read as follows:
Two Reasons for the Party's Success
Saturday afternoon's Christmas party for about 30 youngsters at the Leavenworth Guardian Angel Home, a Catholic-operated orphan institution, was a raging success primarily because of the appearance of seven-foot Wilt Chamberlain, K. U. freshman basketball star, and John Traylor, 155-pound sophomore halfback for the 1955 Jayhawker football team. Basil Green, Lawrence contractor, planned the party and presented the kiddies with gifts, as well as arranging for the Kansas athletes to be on hand to present the group with some athletic gear. Left to right here are six-year-old Eddie Penrice, Chamberlain, Traylor, and four-year-old Paul Wiley. The youngsters were quick to befriend the two distinguished visitors and soon were bombarding them with all sorts of questions.
According to Lyanne Candy Ruff's dissertation, Thrown on the Cold Charity of the World: Kansas Cares for Its Orphans, 1859-1919, the Guardian Angel Home was the oldest Catholic orphanage for African American children west of the Mississippi River (pp. 189-208).
You can see additional pictures of Wilt Chamberlain and John Traylor at the Guardian Angel Home Christmas party via Spencer's online collection of University Archives photographs.
Caitlin Donnelly
Head of Public Services
Melissa Kleinschmidt and Abbey Ulrich
Public Services Student Assistants
Tags: Abbey Ulrich, African American life, Caitlin Donnelly, Christmas, Guardian Angel Home, John Traylor, KU Basketball, KU Football, KU History, Leavenworth KS, Melissa Kleinschmidt, Throwback Thursday, University Archives, University history, University of Kansas, Wilt Chamberlain