Throwback Thursday: Veterans Day Edition
Each week we'll be posting a photograph from University Archives that shows a scene from KU's past. We've also scanned more than 1,700 images from KU's University Archives and made them available online; be sure to check them out!
We selected this week's photograph in honor of Veterans Day, next Tuesday, November 11. For more information about this commemorative day and its origins at the end of World War I, see "History of Veterans Day," provided by the U.S. Department of Veterans Affairs. Want to know more about how the Great War was felt on KU's campus? Explore the online version of Spencer's exhibit To Make the World Safe for Democracy: Kansas and the Great War.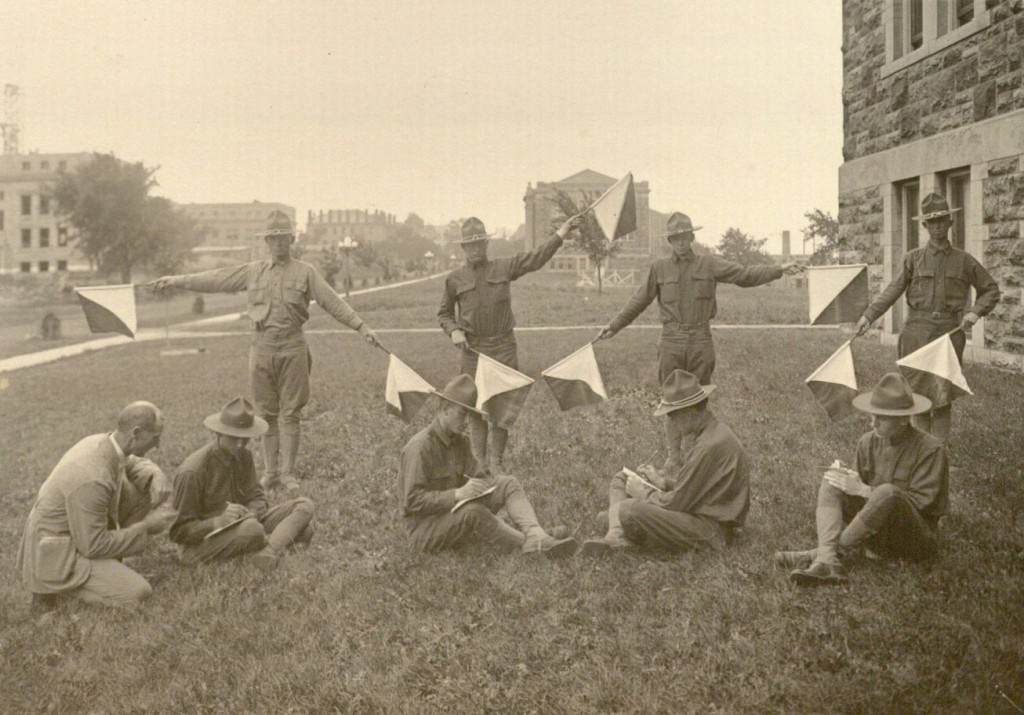 Technical School for Drafted Men, Second Detachment, August 15-October 15, 1918.
Class in signalling, or "telegraphers wigwagging." University Archives Photos.
Call Number: RG 29/0 1918 Prints: Military Service and ROTC (Photos).
Click image to enlarge (redirect to Spencer's digital collections).
The student-soldiers in this photograph were part of the Student Army Training Corps (SATC), established at more than 500 colleges and universities across the country, including KU. Describing the SATC on campus, the 1919 Jayhawker yearbook stated that "students, after entering the University by voluntary induction, became soldiers in the United States Army, were uniformed and subject to military discipline with the pay of a private. Housing and subsistence was furnished by the government. They were given military instruction under officers of the Army and watched very closely to determine their qualifications as officer-candidates" (244).
Caitlin Donnelly
Head of Public Services
Brian Nomura
Public Services Student Assistant
Tags: Brian Nomura, Caitlin Donnelly, KU History, photographs, Student Army Training Corps, Students, Technical School for Drafted Men, Throwback Thursday, University Archives, University history, University of Kansas, Veterans Day, World War I