Throwback Thursday: Team-Building Edition
Each week we'll be posting a photograph from University Archives that shows a scene from KU's past. We've also scanned more than 23,200 images from KU's University Archives and made them available online; be sure to check them out!
Good luck to the KU baseball team as it kicks off the 2016 season on Sunday. Rock Chalk!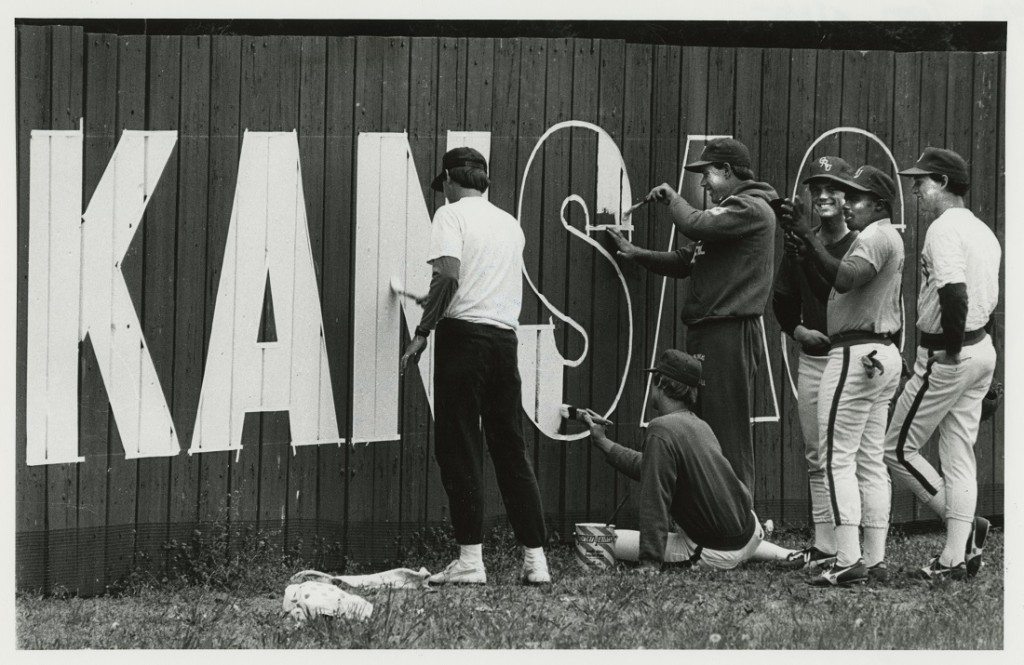 KU baseball players painting "KANSAS" on a fence, 1984-1985.
This is possibly the outfield wall at Hoglund Ballpark.
Photo by John Lechliter, Kansas Alumni magazine.
University Archives Photos. Call Number: RG 66/12 1984/1985:
Athletic Department: Baseball Games and Teams (Photos).
Click image to enlarge (redirect to Spencer's digital collections).
Caitlin Donnelly
Head of Public Services
Melissa Kleinschmidt, Megan Sims, and Abbey Ulrich
Public Services Student Assistants
Tags: Abbey Ulrich, Caitlin Donnelly, KU Baseball, KU History, Megan Sims, Melissa Kleinschmidt, photographs, Throwback Thursday, University Archives, University history, University of Kansas