Throwback Thursday: Spencer Dedication Edition
Each week we'll be posting a photograph from University Archives that shows a scene from KU's past. We've also scanned more than 9,800 images from KU's University Archives and made them available online; be sure to check them out!
If you've ever visited Spencer Research Library, you may have noticed a plaque adjacent to our third-floor entrance: "This research library is a gift of Helen Foresman Spencer in memory of her husband Kenneth Aldred Spencer, November 8, 1968." That was date, forty-seven years ago Sunday, that the library was dedicated in a private ceremony attended by several hundred of Mrs. Spencer's friends and educators from across the country. It marked the completion of the library's construction, which took nearly two years. A public opening occurred one week later.
A story about the new library in the December 1968/January 1969 Kansas Alumni magazine noted that "Mrs. Spencer waxed and polished the furnishings and the floor of the Spencer Room [memorial office] herself before the opening and created floral arrangements for many of the rooms" (12).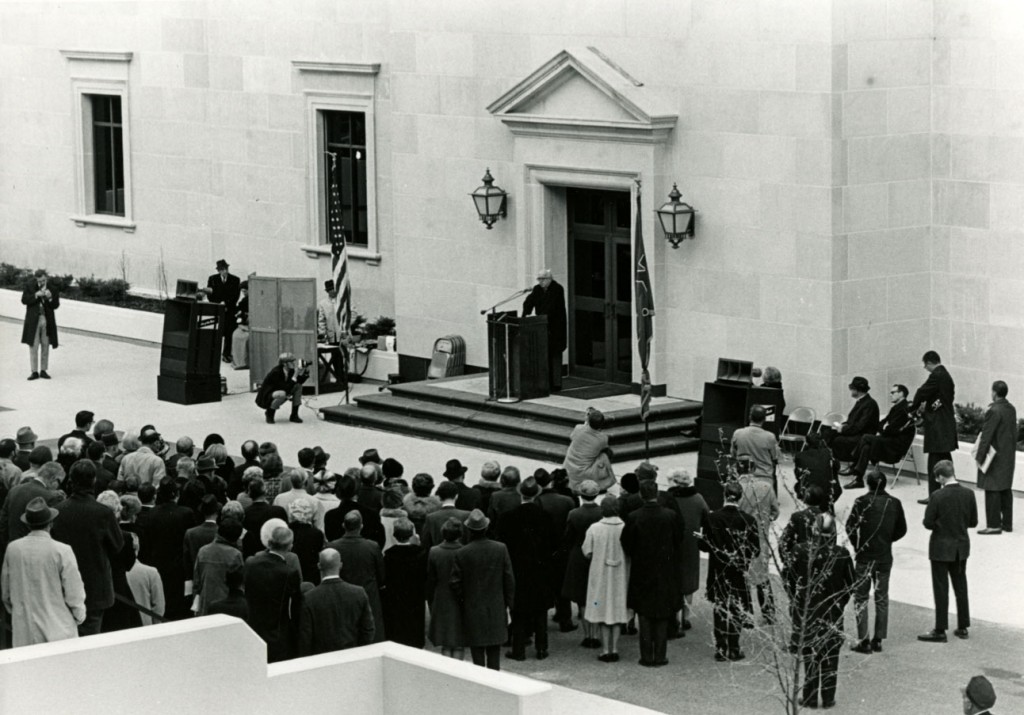 Spencer Research Library dedication ceremony on the terrace, November 8, 1968.
British novelist, scientist, and government official Sir Charles Percy Snow is at the rostrum.
Mrs. Spencer is shown sitting to the right of the entrance, behind the speaker.
University Archives Photos. Call Number: RG 0/22/82 1968 Dedication Prints:
Campus: Buildings: Spencer Research Library (Photos). Click image to enlarge.
We look forward to sharing more photographs and documents about Spencer Research Library's beginning and early years as we approach our fiftieth anniversary in 2018!
Caitlin Donnelly
Head of Public Services
Melissa Kleinschmidt, Megan Sims, and Abbey Ulrich
Public Services Student Assistants
Tags: Abbey Ulrich, Caitlin Donnelly, Kenneth Spencer Research Library, KU History, KU Libraries, Megan Sims, Melissa Kleinschmidt, photographs, University Archives, University history, University of Kansas