Throwback Thursday: Hobo Day Edition
Each week we'll be posting a photograph from University Archives that shows a scene from KU's past. We've also scanned more than 1,700 images from KU's University Archives and made them available online; be sure to check them out!
This week we're highlighting an old and disbanded fall tradition at KU: Hobo Day.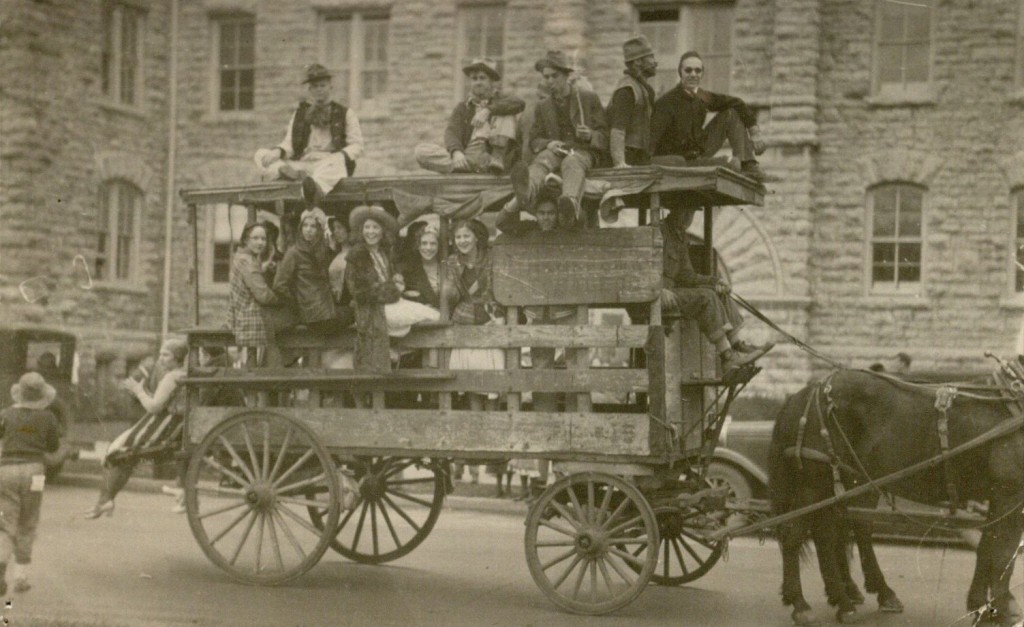 Students dressed up for Hobo Day, 1930-1931. University Archives Photos.
Call Number: RG 71/9 1930-1931 Prints: Student Activities: Hobo Day (Photos).
Click image to enlarge (redirect to Spencer's digital collections).
Kevin Armitage from KU's Department of History describes the event in "No More Hobohemia" on the KU History website:
Enterprising students soon developed the idea of combining the [then-annual] beer bust [in Kansas City] with a special event that featured old clothes, and Hobo Day was born. Prohibition briefly derailed the celebration, but in 1923 students reinvented the tradition as a massive pep rally held before the annual Kansas-Missouri football game.
The rehabilitated event featured students dressed in outlandish Hobo costumes, pep rallies, dances, bonfires and, at times, property damage and fisticuffs between students and professors. An article in the Kansan described the required outfit: "Old clothes, the older the better, plenty of paint, burnt cork, and…a corn-cob pipe are the main essential of makeup of a good 'hobo.'" A red bandana carrying one's worldly possession was recommended, but not considered absolutely essential.
Hobo Day was inadvertently discontinued in November 1939 so students could attend the national cornhusking championship near Lawrence.
Caitlin Donnelly
Head of Public Services
Brian Nomura
Public Services Student Assistant
Tags: Brian Nomura, Caitlin Donnelly, Hobo Day, Homecoming, KU History, photographs, Students, Throwback Thursday, Traditions, University Archives, University history, University of Kansas