Throwback Thursday: Final Four Edition
Each week we'll be posting a photograph from University Archives that shows a scene from KU's past. We've also scanned more than 34,800 images from KU's University Archives and made them available online; be sure to check them out!
We're super excited about Saturday's game against Villanova. Rock Chalk!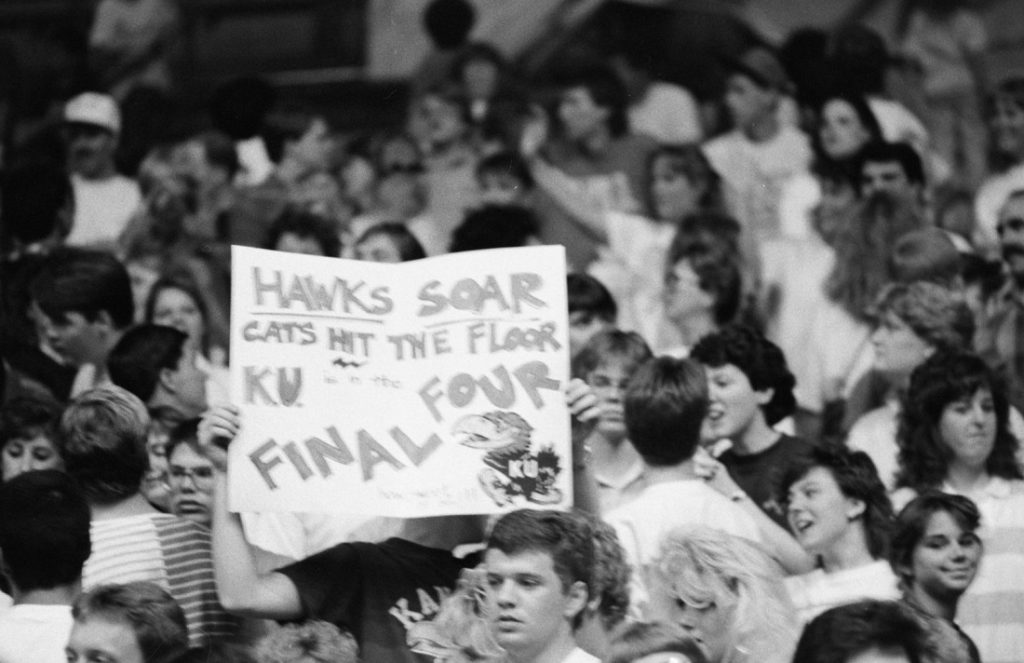 KU basketball fans during the NCAA tournament, 1988.
The sign reads "Hawks soar cats hit the floor KU is in the final four."
University Archives Photos. Call Number: RG 71/66/13 1988-04 Negatives:
Student Activities: Sports: Basketball (Photos).
Click image to enlarge (redirect to Spencer's digital collections).
As many fans likely remember, KU defeated Kansas State in the Midwest regional final of the 1988 NCAA tournament. The Jayhawks then beat Duke in the Final Four and won the championship with a win over Oklahoma.
Caitlin Donnelly
Head of Public Services
Tags: Basketball, Caitlin Donnelly, KU Basketball, KU History, photographs, Students, Throwback Thursday, University Archives, University history, University of Kansas