Throwback Thursday: Dance Edition
Each week we'll be posting a photograph from University Archives that shows a scene from KU's past. We've also scanned more than 5,700 images from KU's University Archives and made them available online; be sure to check them out!
Follow the lead of these KU students and put on your dancing shoes; this Saturday is National Dance Day!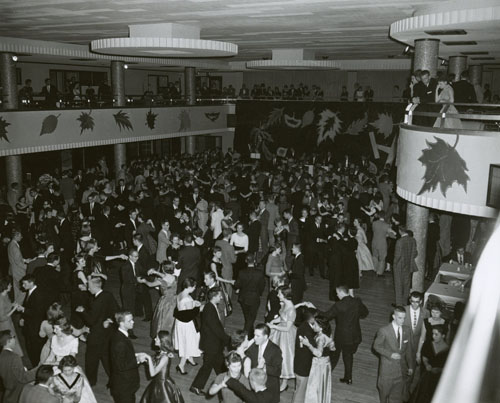 Homecoming dance in the Kansas Union Ballroom, 1956. University Archives Photos.
Call Number: RG 71/1 1956: Student Activities: Homecoming (Photos).
Click on image to enlarge (redirect to Spencer's digital collections).
Popular pianist and bandleader Frankie Carle provided the music at the dance. Watch him perform with his orchestra in 1947, via footage available through YouTube.
Caitlin Donnelly
Head of Public Services
Melissa Kleinschmidt, Megan Sims, and Abbey Ulrich
Public Services Student Assistants
Tags: Abbey Ulrich, Caitlin Donnelly, Dance, Homecoming, Homecoming dance, Kansas Union Ballroom, KU History, Megan Sims, Melissa Kleinschmidt, Memorial Union, photographs, Throwback Thursday, University Archives, University history, University of Kansas