Collection Snapshot: Campront Family Cartulary
When I am asked about my favorite item in the Spencer collection, in addition to praising the glorious Vosper Book of Hours, I always mention a much more humble item, the Campront family cartulary, known by its call number, MS D47. A cartulary is a collection of charters, especially a book holding copies of the charters and title deeds of an estate.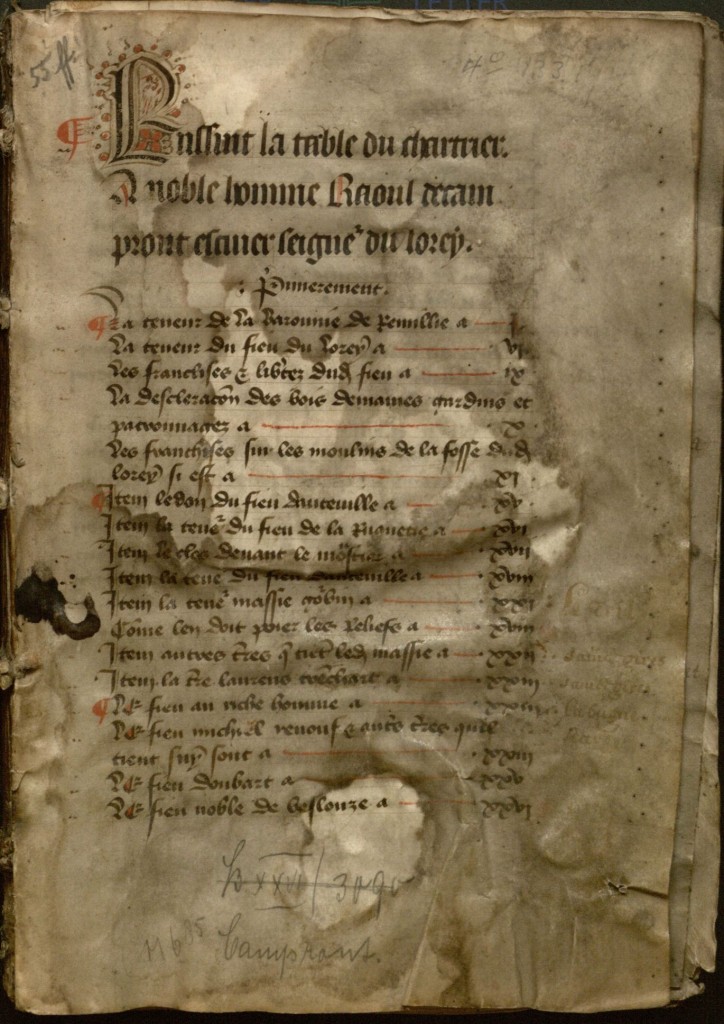 First page of the Campront family papers,
La Manche, 1268-1438. Transcript of legal instruments. France,
copied after 1438. Call Number: MS D47. Click image to enlarge.
This small (23 x 16 cm), rather worn, manuscript contains copies of thirty-nine legal documents related to the Campront family of Normandy, France. Most date from the tumultuous years of the Hundred Years' War (1337-1453), a series of conflicts between the rulers of England and France – with their allies – for control of the latter kingdom, the largest in Western Europe at the time. Land transactions, marriage settlements, and documents detailing contested claims were copied in a clear, functional hand. This was a volume designed not for show, but for its content, or, as we would say now, its "informational value."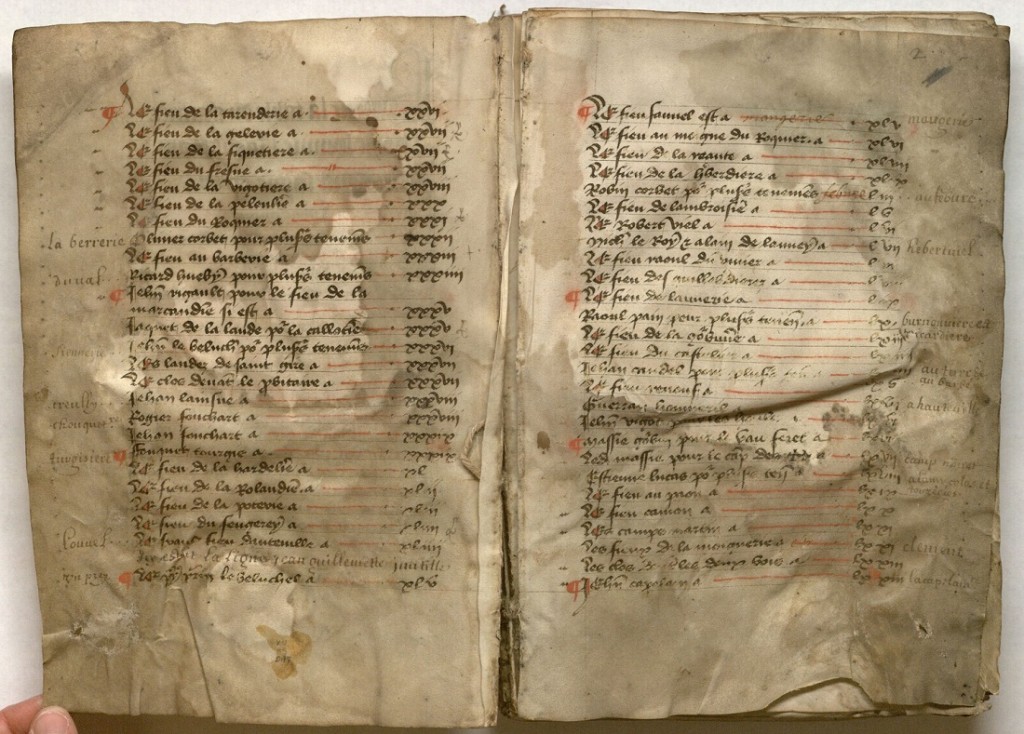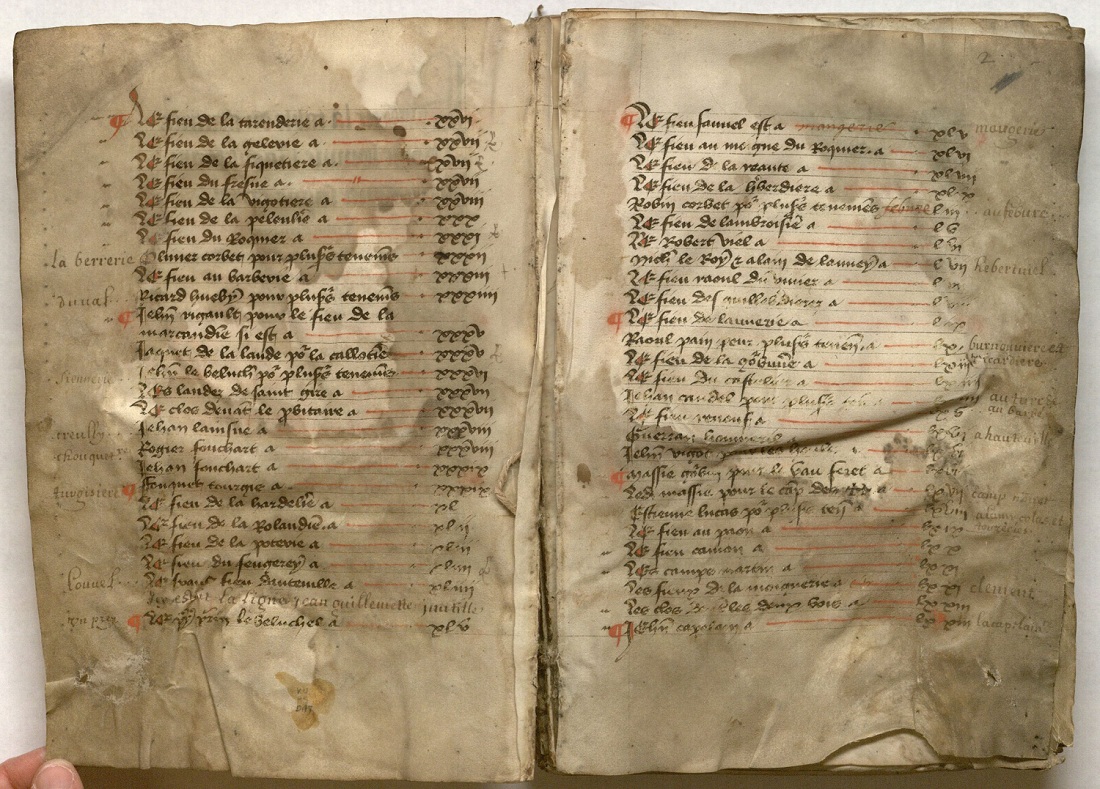 Selected page from the Campront family cartulary. Call Number: MS D47. Click image to enlarge.
I encountered this document as a student at KU. I was thrilled to be able to work with an original manuscript and, although deciphering the old French was a challenge, I excitedly pored over each page, transcribing nearly the entire volume by hand in the days before laptop computers were widespread. I relied heavily on the preliminary work done by the late Ann Hyde, whose exhaustive description was just one example of the legacy she left behind to the Spencer Library. I learned quickly that while I could discover much about the family from this source, it was never intended to be a comprehensive document about the family's affairs, and I was left wanting to know more about the generations of people mentioned in its pages.
Flash forward many years: I had deposited an electronic copy of my master's thesis in the open access repository at The Ohio State University, where I then worked. (It's also available at KU's ScholarWorks, as is the preliminary research that formed my senior thesis.) Through the magic of Google, the current owner of the property in Normandy where the Campront family lived for hundreds of years came across my research while searching for information about his home. The historical documentation I had uncovered was personally exciting to him and, like many people, he wondered how the document ended up in Lawrence, Kansas. This gave me a chance to explain Kenneth Spencer Library and its amazing collections of early manuscripts, preserved here and made available to both amateur and professional scholars.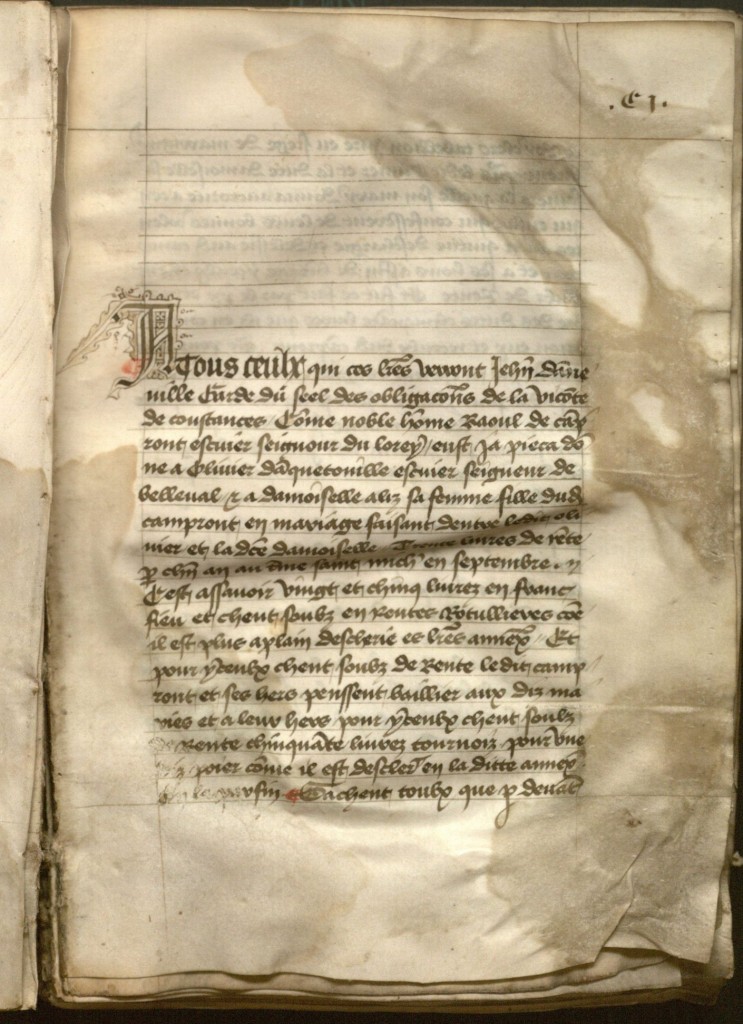 Selected page from the Campront family cartulary.
Call Number: MS D47. Click image to enlarge.
The estate owner placed a copy of a translation of my work into the official archives of La Manche in Lower Normandy, thereby physically and linguistically extending the reach of my work even further. Finally, he offered to host me at this amazing property, parts of which appear not to have changed much from the sixteenth century, should I ever have the chance to visit.
For me, this one humble, centuries-old document, is not only a major signpost along my journey to becoming a librarian. It also captures so richly the power of the written word and the connections we make as human beings.
Beth M. Whittaker
Assistant Dean for Distinctive Collections
Director of Spencer Research Library
Tags: Beth M. Whittaker, Campront family, Campront family cartulary, Legal Documents, medieval manuscripts, Special Collections